Is First Gen an Overlooked Power Play That Deserves a Re-Rating?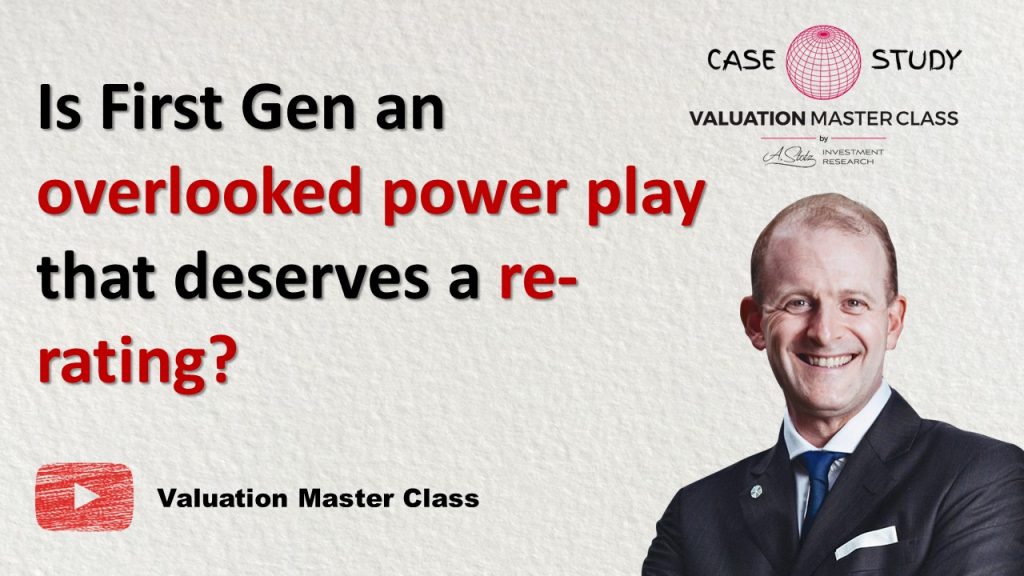 ---
Highlights:
Resolving gas supply issues ensures longevity
A pioneer in renewable energy should be future proof
Undemanding valuation could lead to re-rating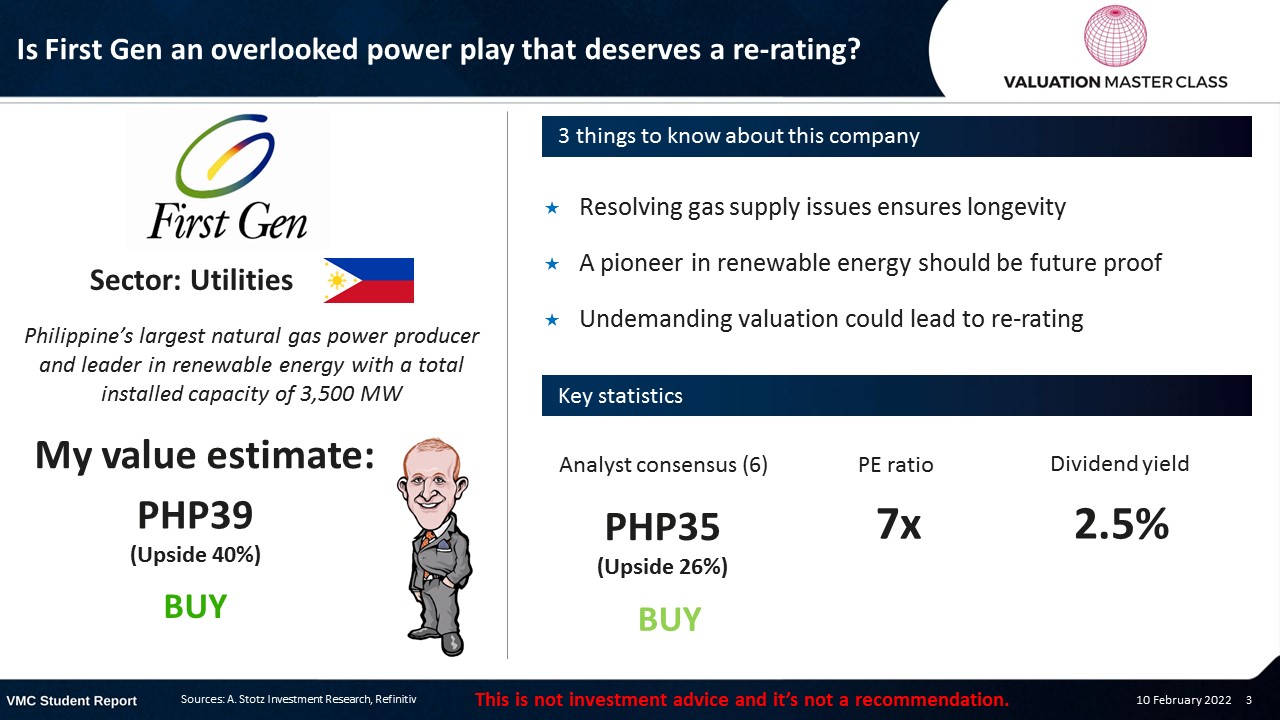 ---
Download the full report as a PDF
---
First Gen's revenue breakdown 2020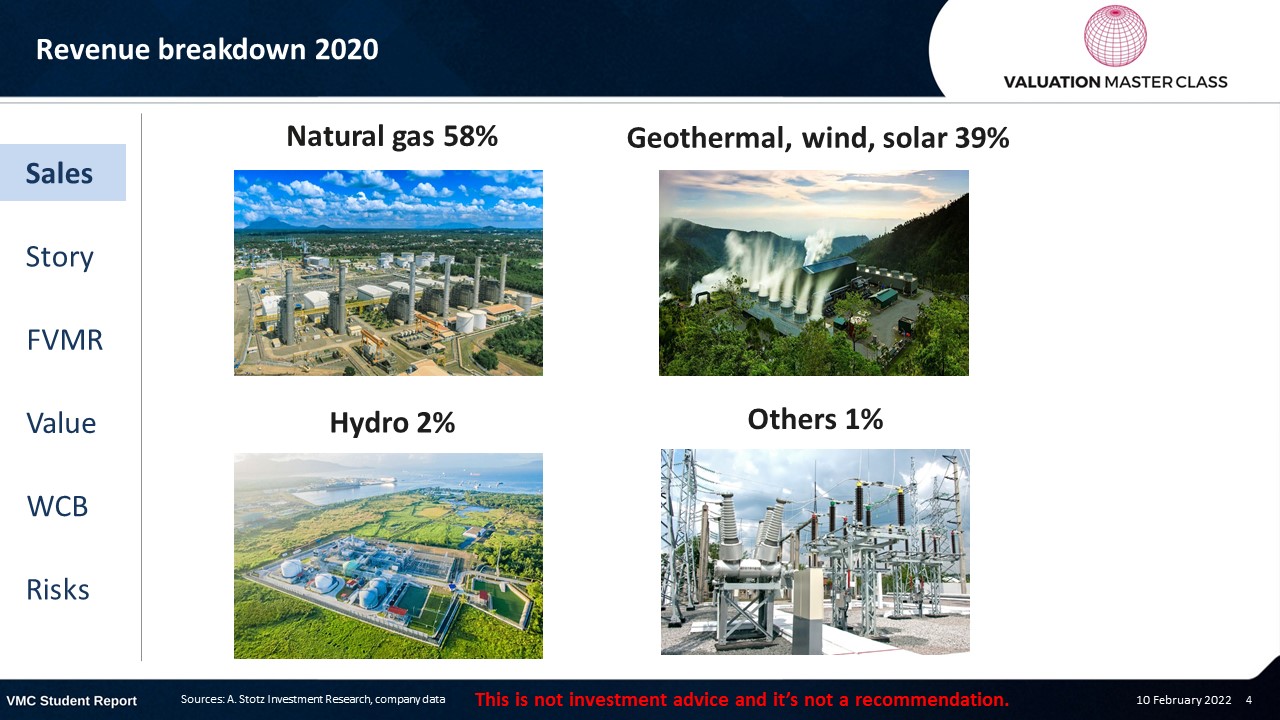 Price and volume turned bearish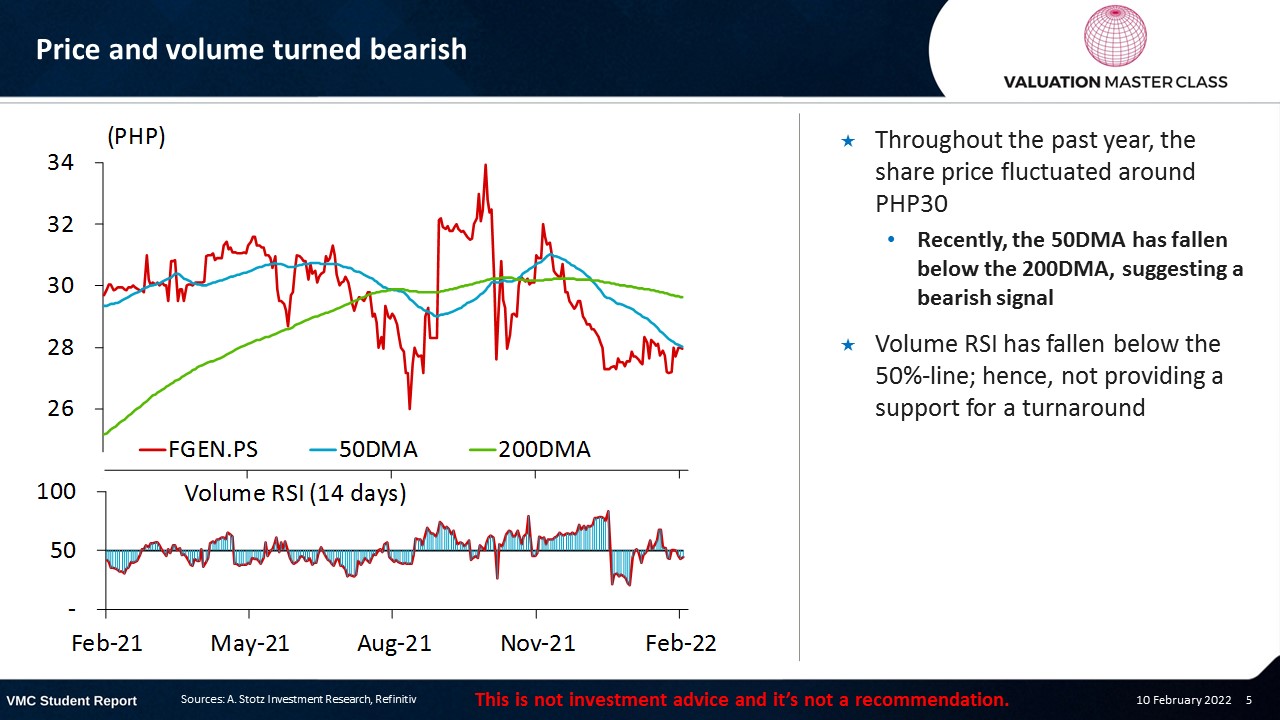 Throughout the past year, the share price fluctuated around PHP30

Recently, the 50DMA has fallen below the 200DMA, suggesting a bearish signal

Volume RSI has fallen below the 50%-line; hence, not providing a support for a turnaround
Resolving gas supply issues ensures longevity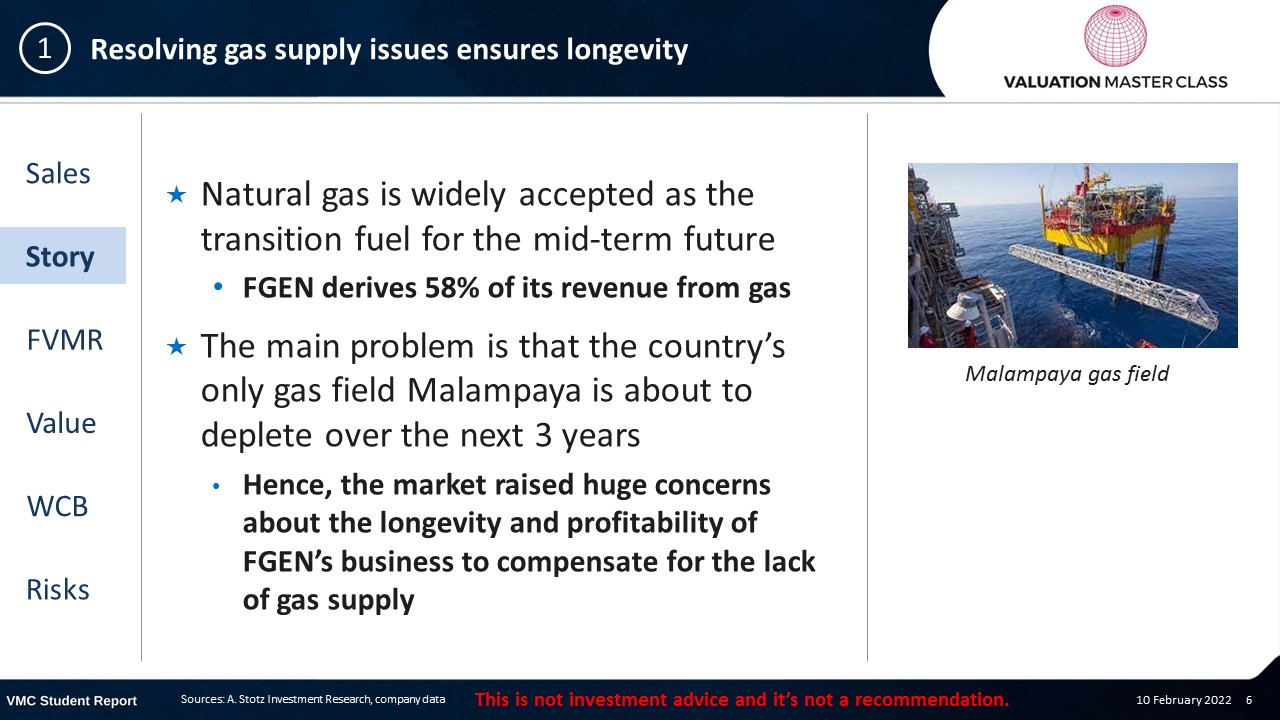 Natural gas is widely accepted as the transition fuel for the mid-term future

FGEN derives 58% of its revenue from gas

The main problem is that the country's only gas field Malampaya is about to deplete over the next 3 years

Hence, the market raised huge concerns about the longevity and profitability of FGEN's business to compensate for the lack of gas supply
FGEN substitutes domestic gas with imported LNG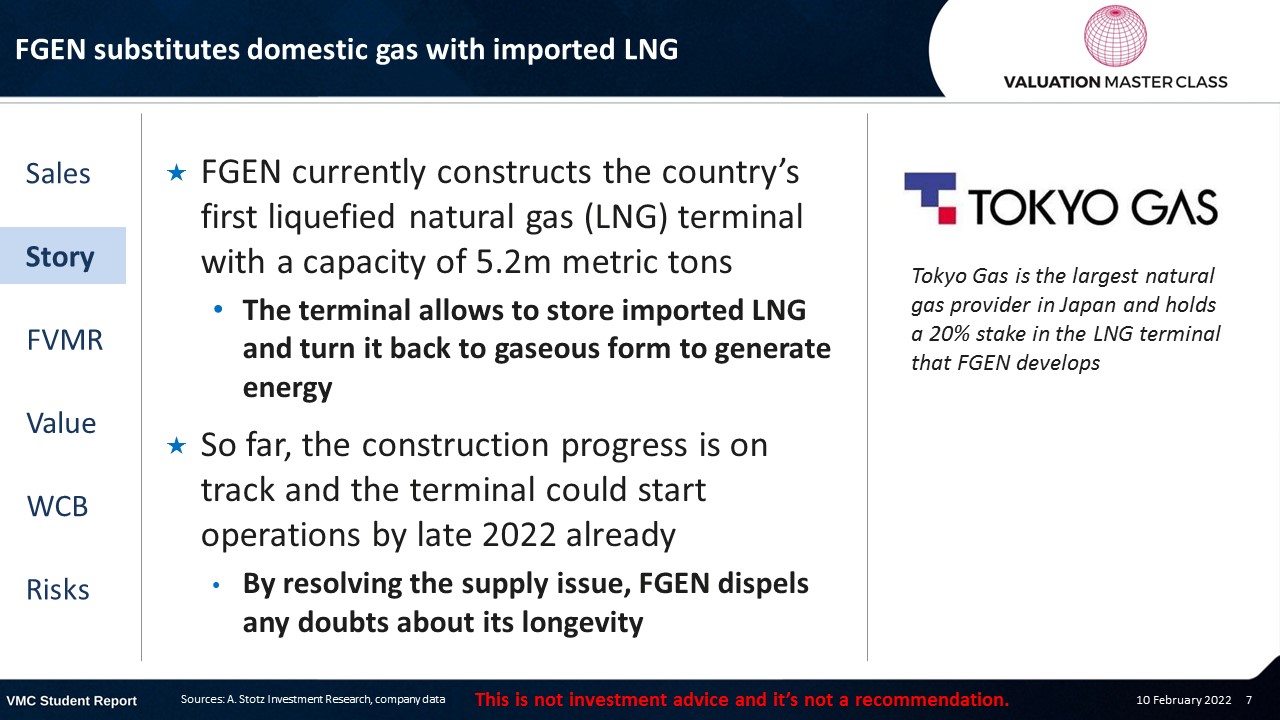 FGEN currently constructs the country's first liquefied natural gas (LNG) terminal with a capacity of 5.2m metric tons

The terminal allows to store imported LNG and turn it back to gaseous form to generate energy

So far, the construction progress is on track and the terminal could start operations by late 2022 already

By resolving the supply issue, FGEN dispels any doubts about its longevity
A pioneer in renewable energy should be future proof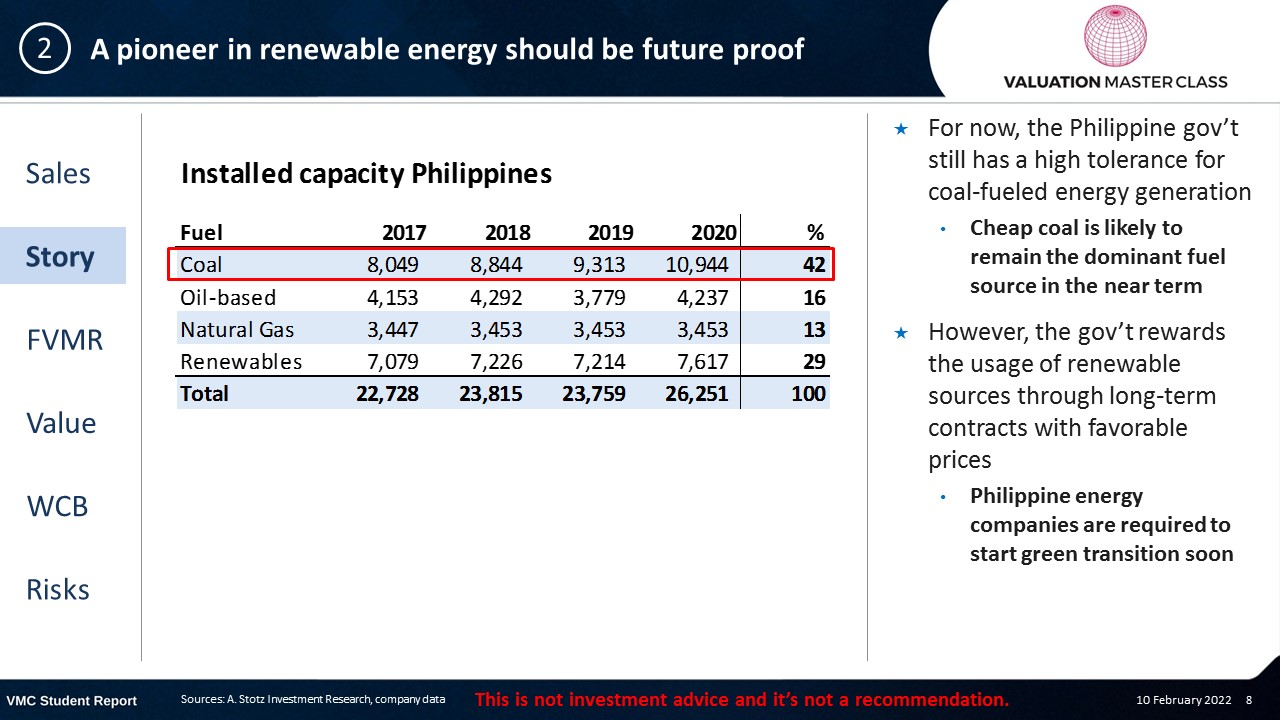 For now, the Philippine gov't still has a high tolerance for coal-fueled energy generation

Cheap coal is likely to remain the dominant fuel source in the near term

However, the gov't rewards the usage of renewable sources through long-term contracts with favorable prices

Philippine energy companies are required to start green transition soon
Largest independent renewable power producer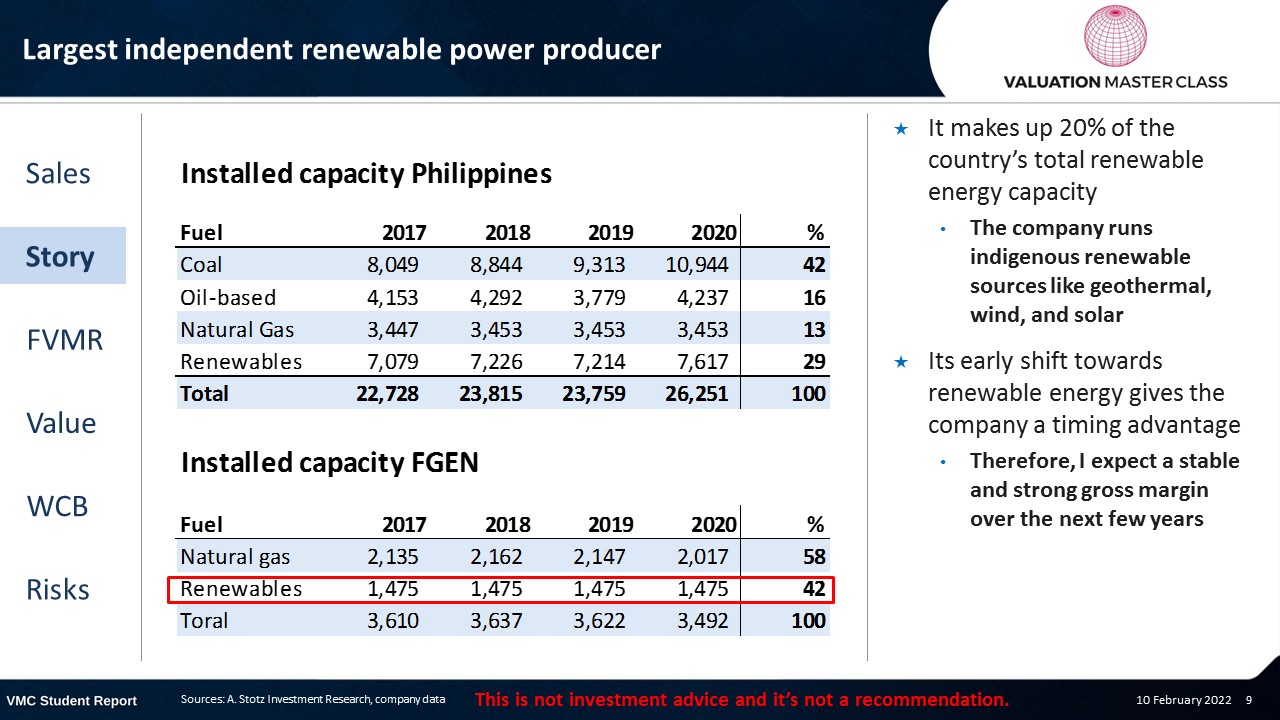 It makes up 20% of the country's total renewable energy capacity

The company runs indigenous renewable sources like geothermal, wind, and solar

Its early shift towards renewable energy gives the company a timing advantage

Therefore, I expect a stable and strong gross margin over the next few years
Undemanding valuation could lead to re-rating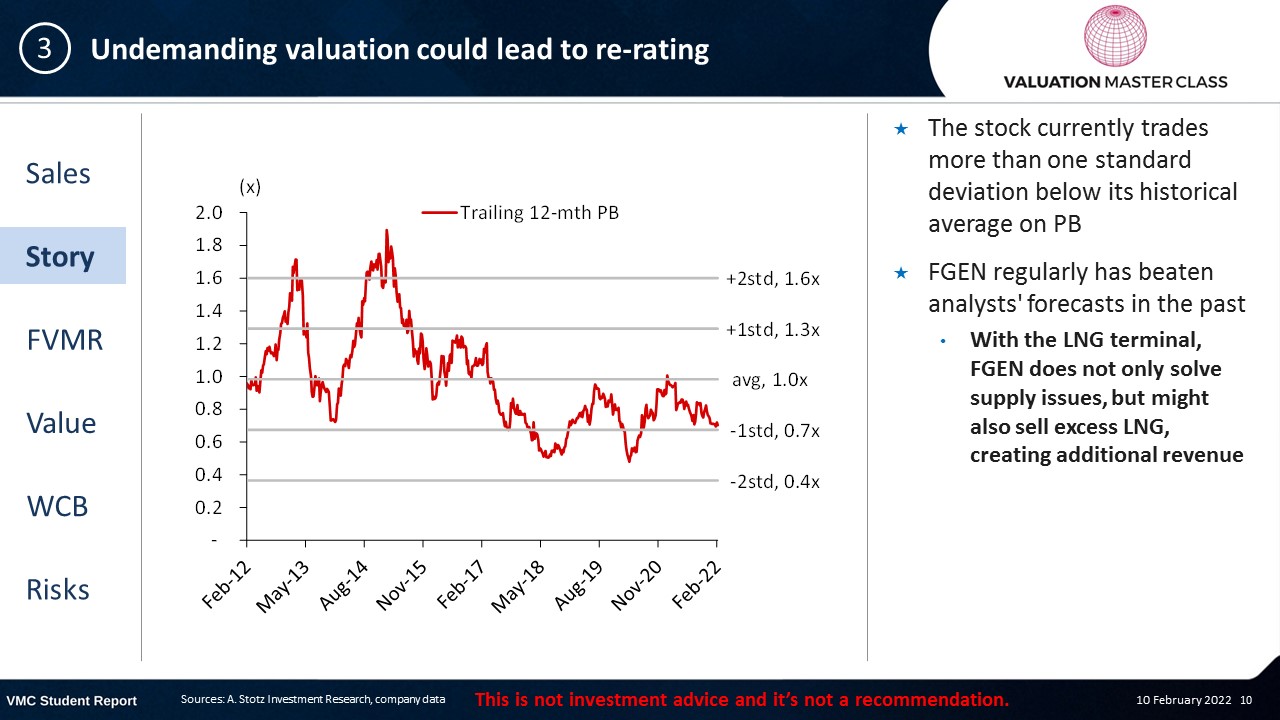 The stock currently trades more than one standard deviation below its historical average on PB
FGEN regularly has beaten analysts' forecasts in the past

With the LNG terminal, FGEN does not only solve supply issues, but might also sell excess LNG, creating additional revenue
Interest of institutional investor could provide support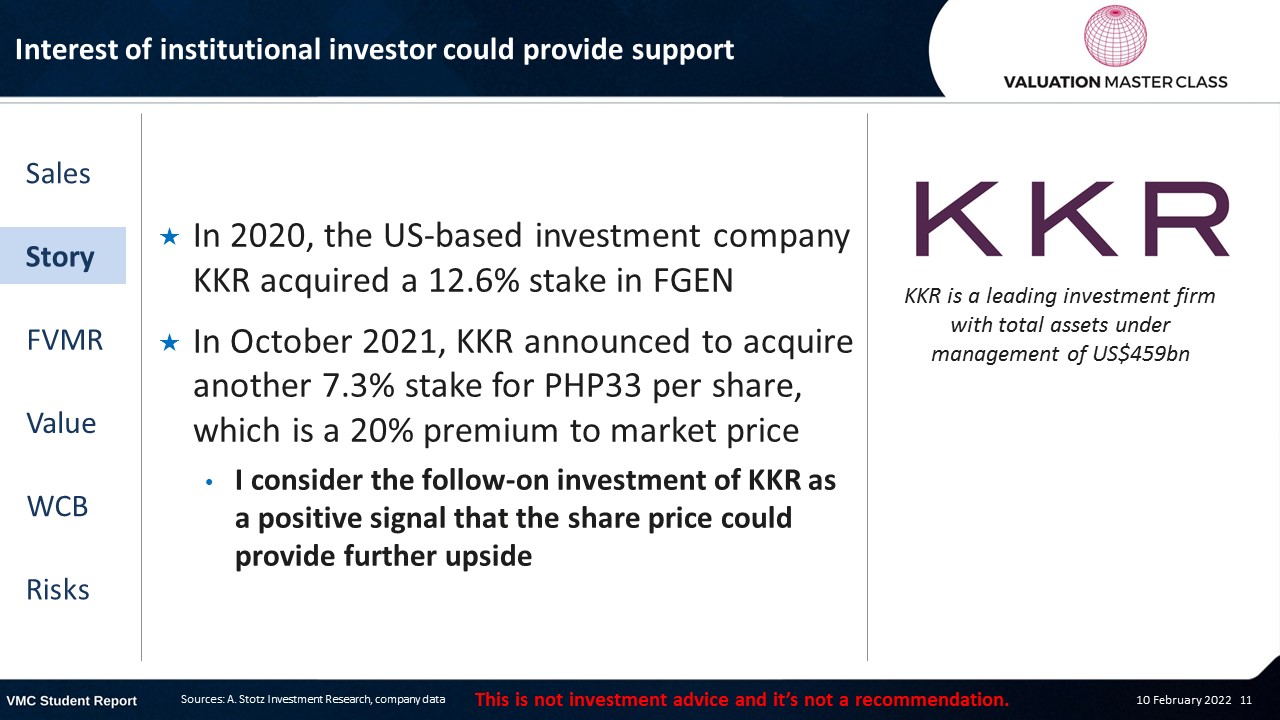 In 2020, the US-based investment company KKR acquired a 12.6% stake in FGEN
In October 2021, KKR announced to acquire another 7.3% stake for PHP33 per share, which is a 20% premium to market price

I consider the follow-on investment of KKR as a positive signal that the share price could provide further upside
FVMR Scorecard – First Gen
A stock's attractiveness relative to stocks in that country or region
Attractiveness is based on four elements

Fundamentals, Valuation, Momentum, and Risk (FVMR)

Scale from 1 (Best) to 10 (Worst)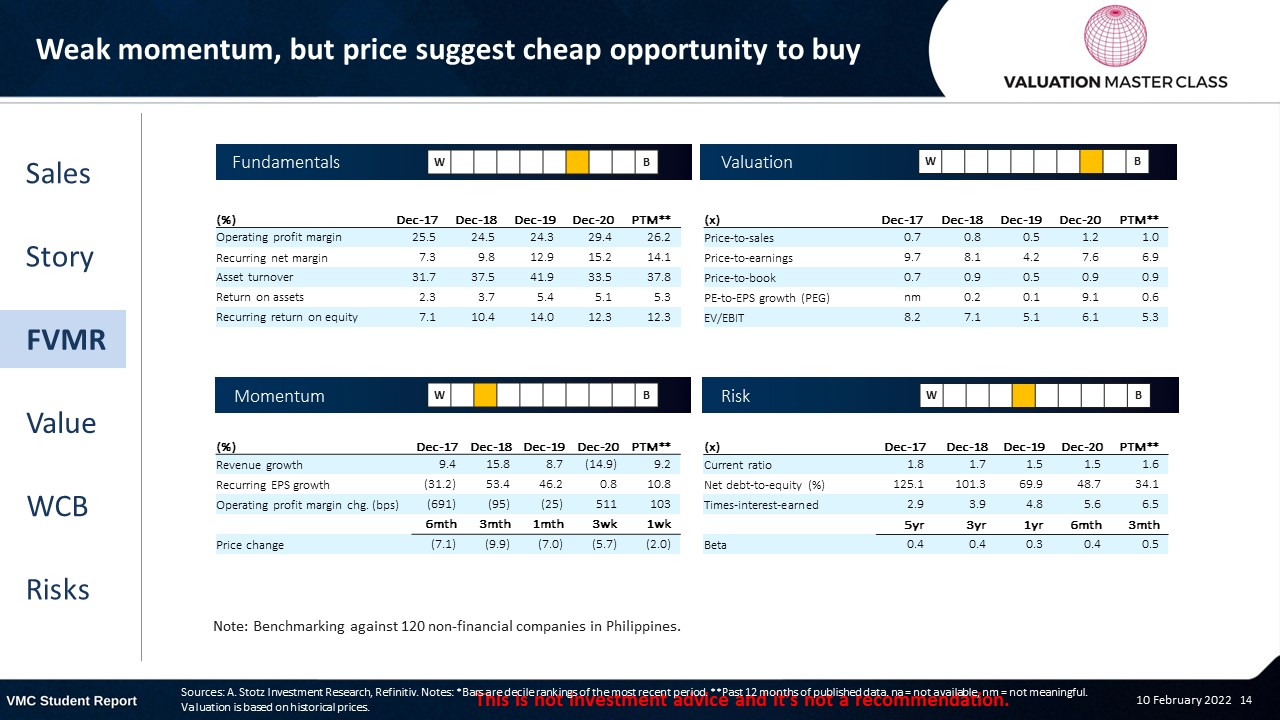 Analysts see strong upside
Almost all analysts have a BUY recommendation, with only 1 analyst staying on HOLD
Consensus expects solid revenue growth for the future given the growing demand for energy

Also, margins are expected to stay stable at a high level, meaning that analysts are positive about the LNG substitution
---
Get financial statements and assumptions in the full report
---
P&L – First Gen
FGEN has delivered remarkably stable profits and there is no reason to assume differently in the future

Long-term take-off agreements ensure stable margins
Balance sheet – First Gen
Currently, there are no concrete expansion plans in place

I believe that FGEN might add a few smaller renewable energy projects over time but does not undergo aggressive acquisitions

Its strong cash flow generation allows FGEN to reduce its debt over time and fund CAPEX internally
Ratios – First Gen
FGEN paid out stable and growing dividends

The small payout ratio of less than 15% still delivers a dividend yield of around 3%, which is above Philippine average
There is potential to pay out more  and it could turn into a dividend play over the next few years

Strong margins translate into stable return on assets
Long-term share price performance potential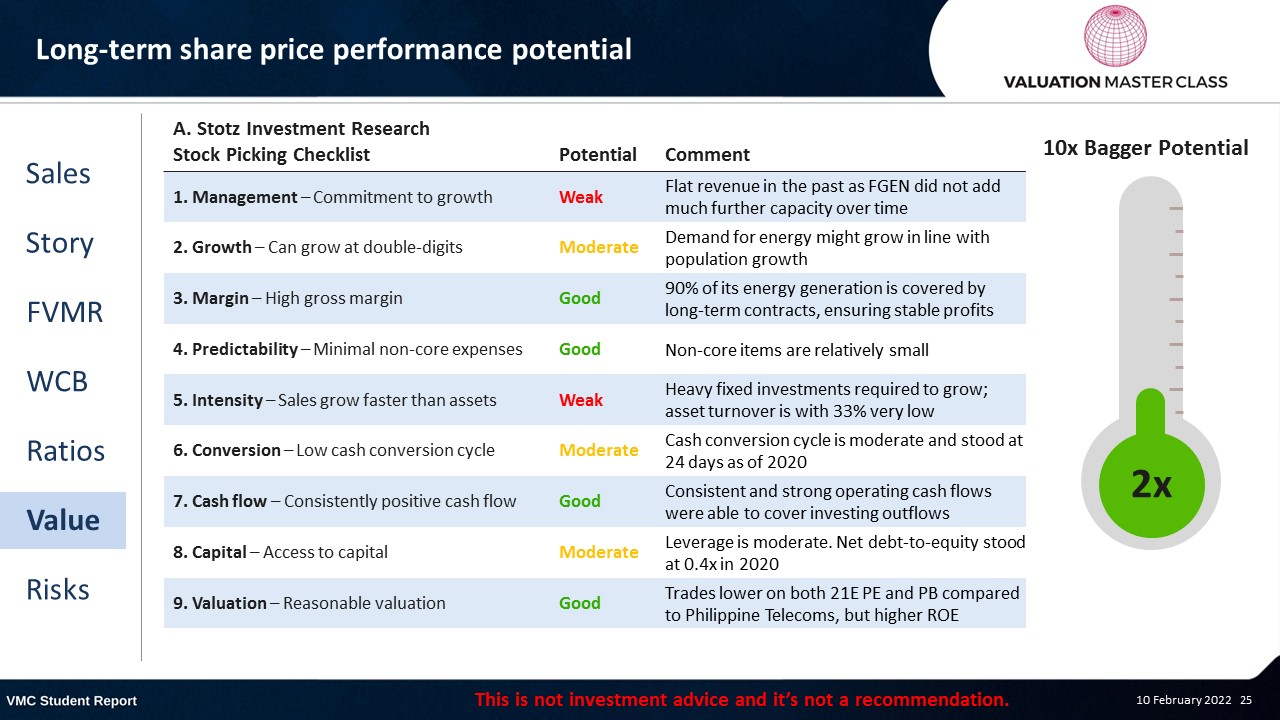 Free cash flow – First Gen
FGEN cash flows on a consistent basis and the market might not have appreciated that fact yet
Value estimate – First Gen
My short-term outlook is roughly in line with consensus
I am bit more optimistic on the long-term future and believe the company to maintain a great ROIC of 10-12% over time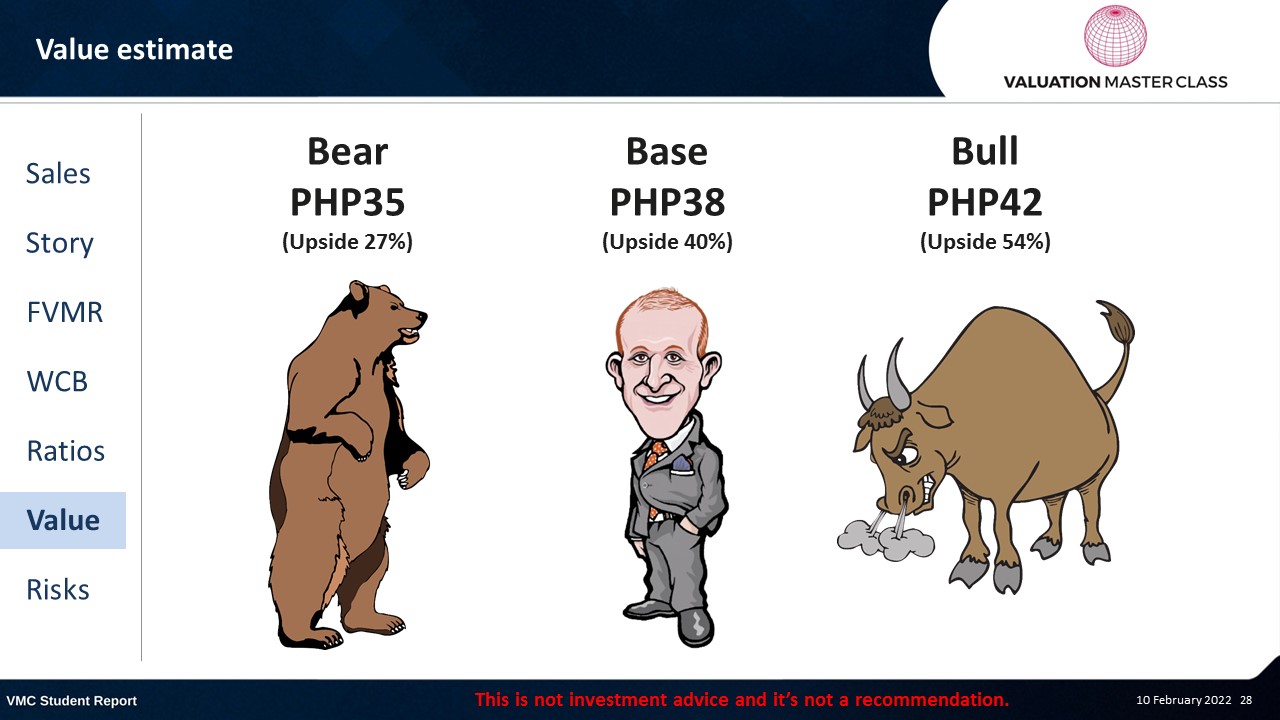 World Class Benchmarking Scorecard – First Gen
Identifies a company's competitive position relative to global peers
Combined, composite rank of profitability and growth, called "Profitable Growth"
Scale from 1 (Best) to 10 (Worst)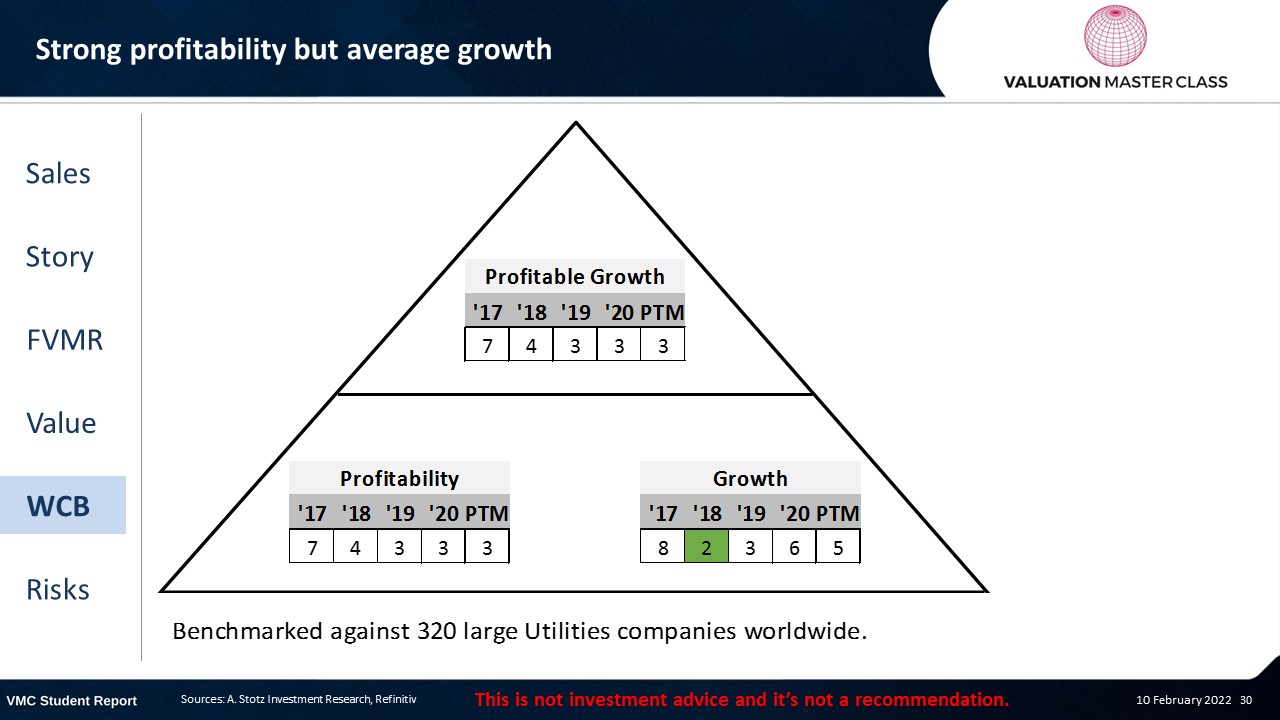 Key risk is delay in resolving gas supply
Delay in building the LNG terminal could disrupt its gas production
Unexpected outages of production (e.g., weather conditions, transmission constraints)
High dependency on Meralco, which makes up 50% of its revenue
Conclusions
FGEN to remain a cash flow machine as supply problem seems to be resolved
Early shift to green energy fives it a timing advantage in a coal-dominant country
Valuation is cheap; institutional interest could unlock upside
---
Download the full report as a PDF
---
DISCLAIMER: This content is for information purposes only. It is not intended to be investment advice. Readers should not consider statements made by the author(s) as formal recommendations and should consult their financial advisor before making any investment decisions. While the information provided is believed to be accurate, it may include errors or inaccuracies. The author(s) cannot be held liable for any actions taken as a result of reading this article.