Will Meta get more of your cash?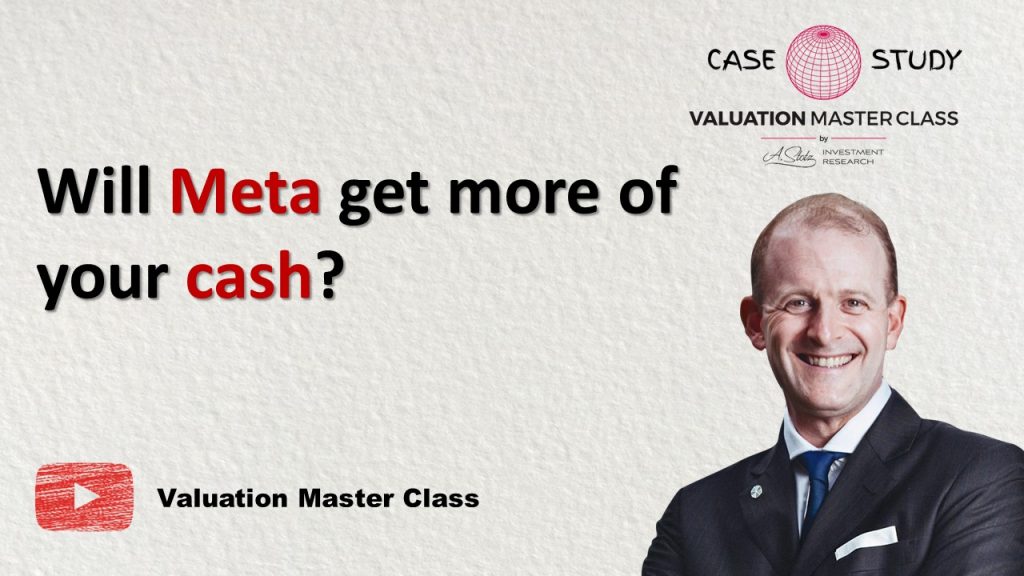 ---
Highlights:
User base might have reached maximum, focus on price
Reality Labs squeeze profits, but could turn big in the future
Competitors grow out of nothing to challenge its dominance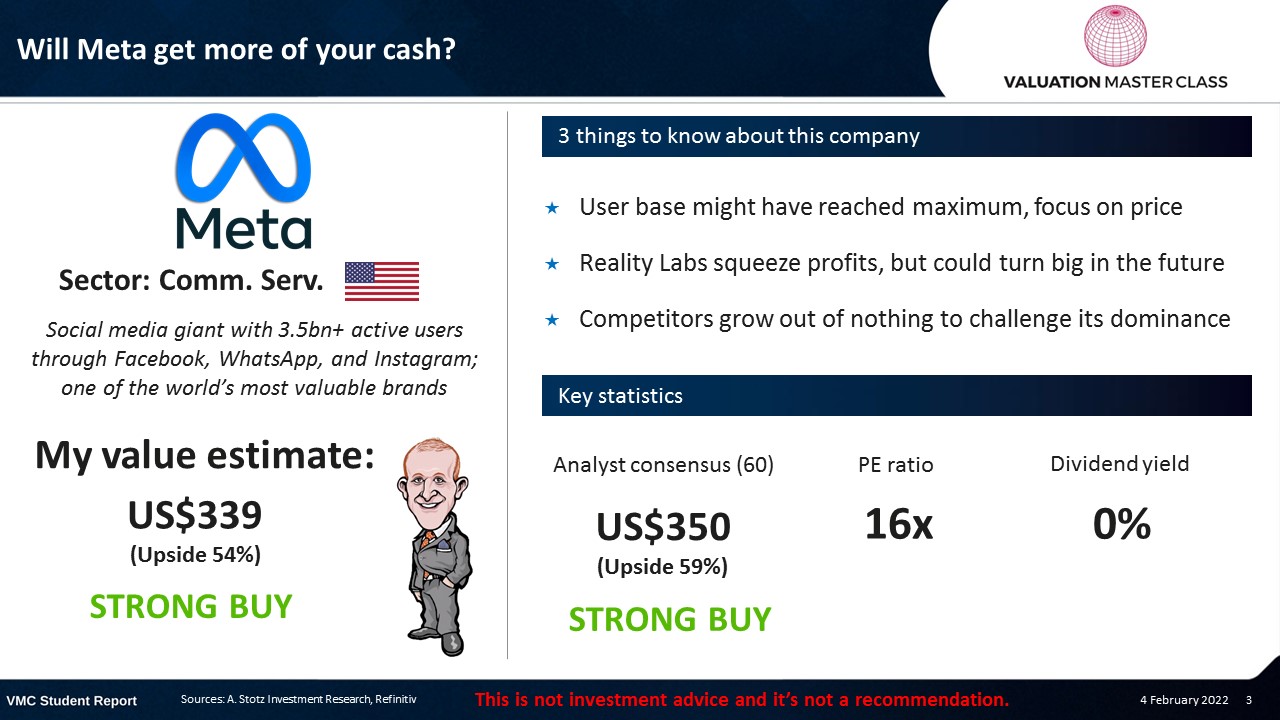 ---
Download the full report as a PDF
---
Meta Platforms' revenue breakdown 2021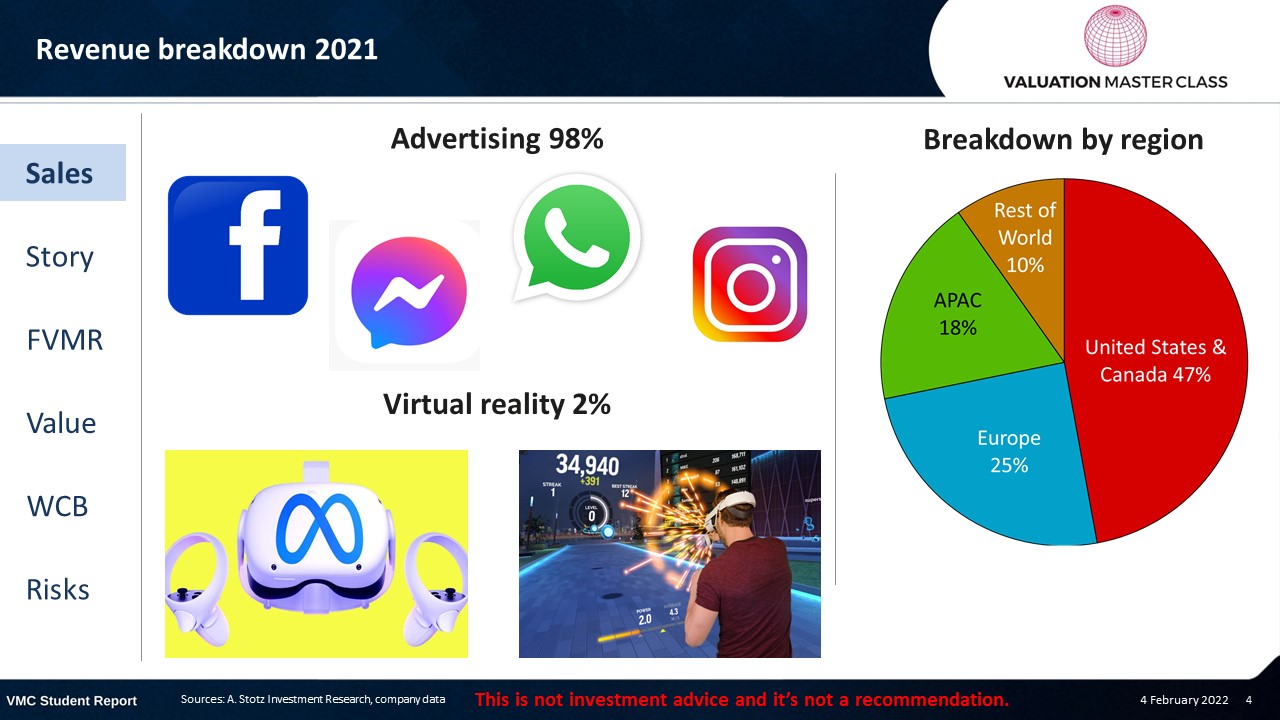 Price turned bearish but could turnaround soon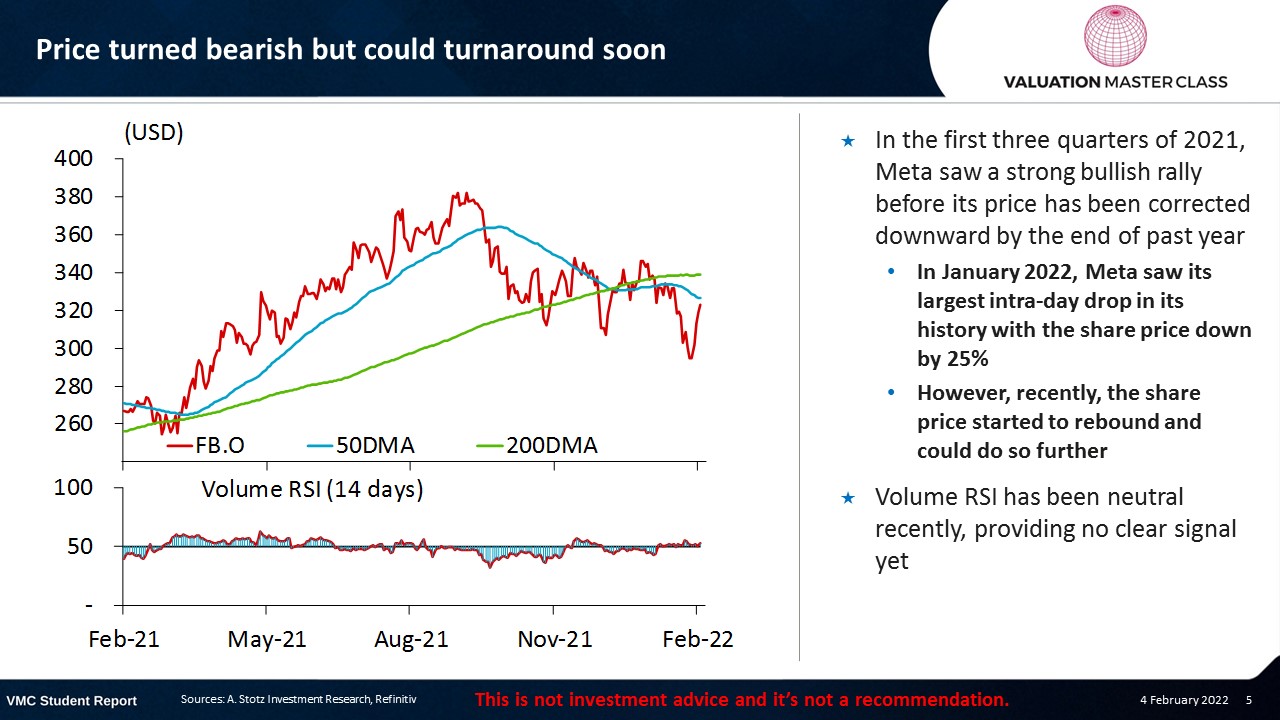 In the first three quarters of 2021, Meta saw a strong bullish rally before its price has been corrected downward by the end of past year

In January 2022, Meta saw its largest intra-day drop in its history with the share price down by 25%
However, recently, the share price started to rebound and could do so further

Volume RSI has been neutral recently, providing no clear signal yet
What did actually happen to Meta's share price?
On 3rd of January, Meta's share price dropped by 25%, equaling around US$230bn in market cap
Here is what happened:

Meta reported a decline in daily active users for the first time
Apple update on iOS devices makes it more difficult to track consumers, dragging Meta's advertising revenue
US$10bn loss from its new Reality Labs business unit
Lower management profit forecast for 2022E
User base might have reached maximum; focus on price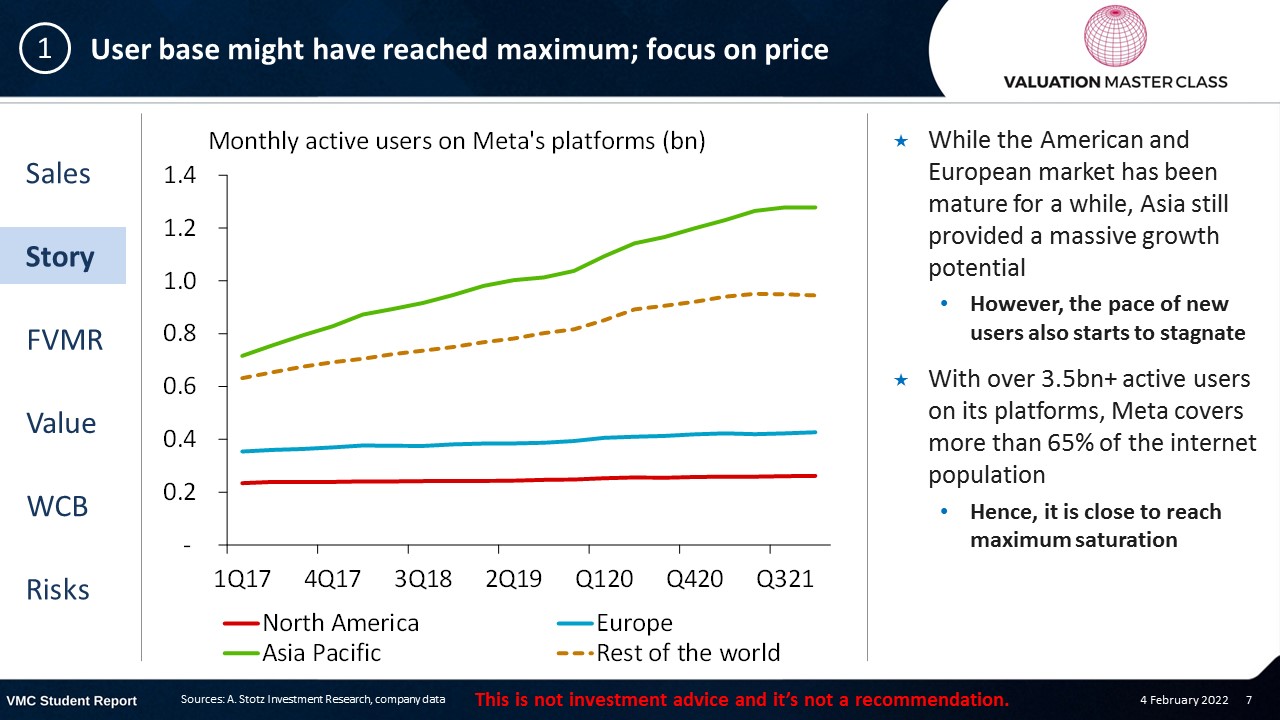 While the American and European market has been mature for a while, Asia still provided a massive growth potential

However, the pace of new users also starts to stagnate

With over 3.5bn+ active users on its platforms, Meta covers more than 65% of the internet population

Hence, it is close to reach maximum saturation
76% market share?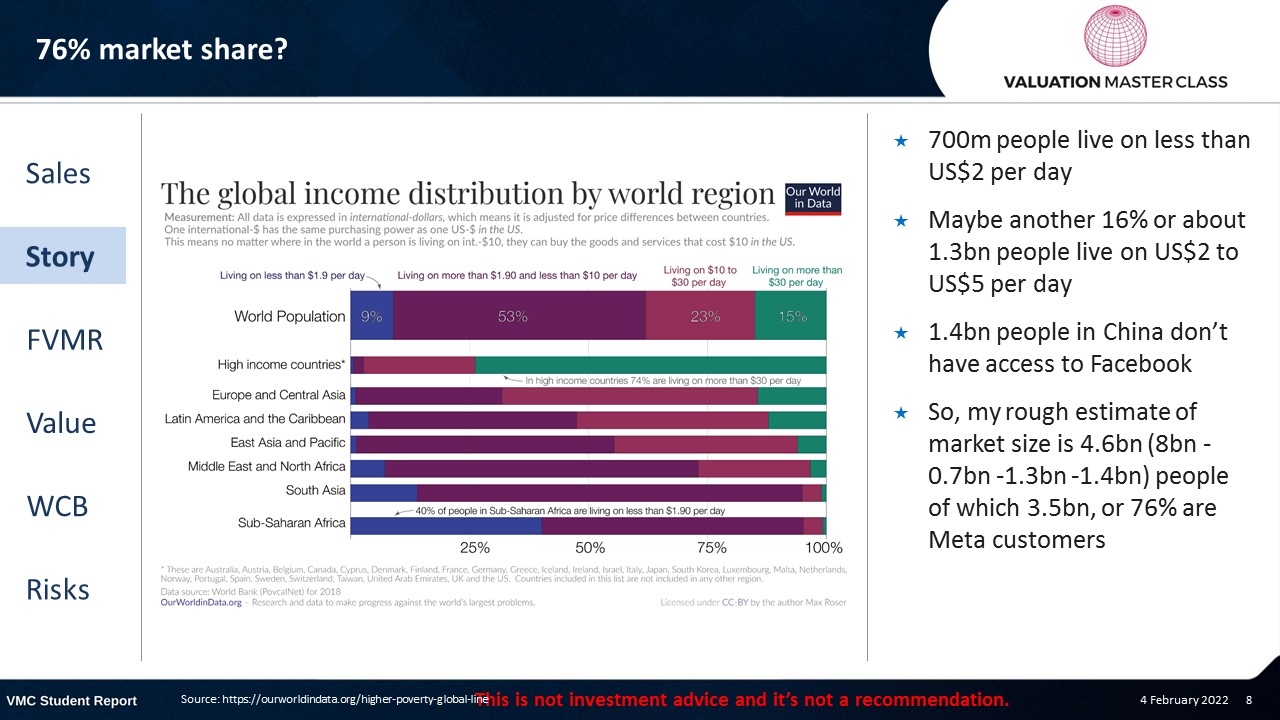 700m people live on less than US$2 per day
Maybe another 16% or about 1.3bn people live on US$2 to US$5 per day
1.4bn people in China don't have access to Facebook
So, my rough estimate of market size is 4.6bn (8bn – 0.7bn -1.3bn -1.4bn) people of which 3.5bn, or 76% are Meta customers
Meta should focus on getting more revenue out of its users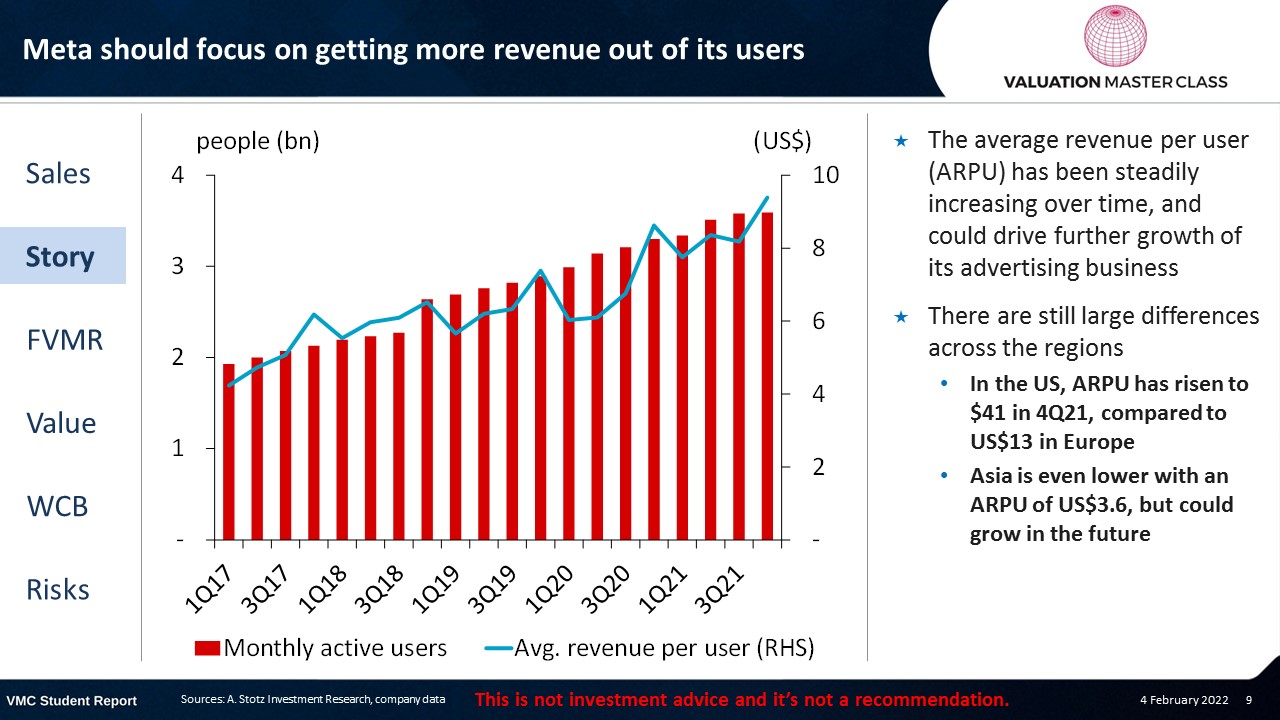 The average revenue per user (ARPU) has been steadily increasing over time, and could drive further growth of its advertising business
There are still large differences across the regions

In the US, ARPU has risen to $41 in 4Q21, compared to US$13 in Europe
Asia is even lower with an ARPU of US$3.6, but could grow in the future
How I incorporated the story in my forecast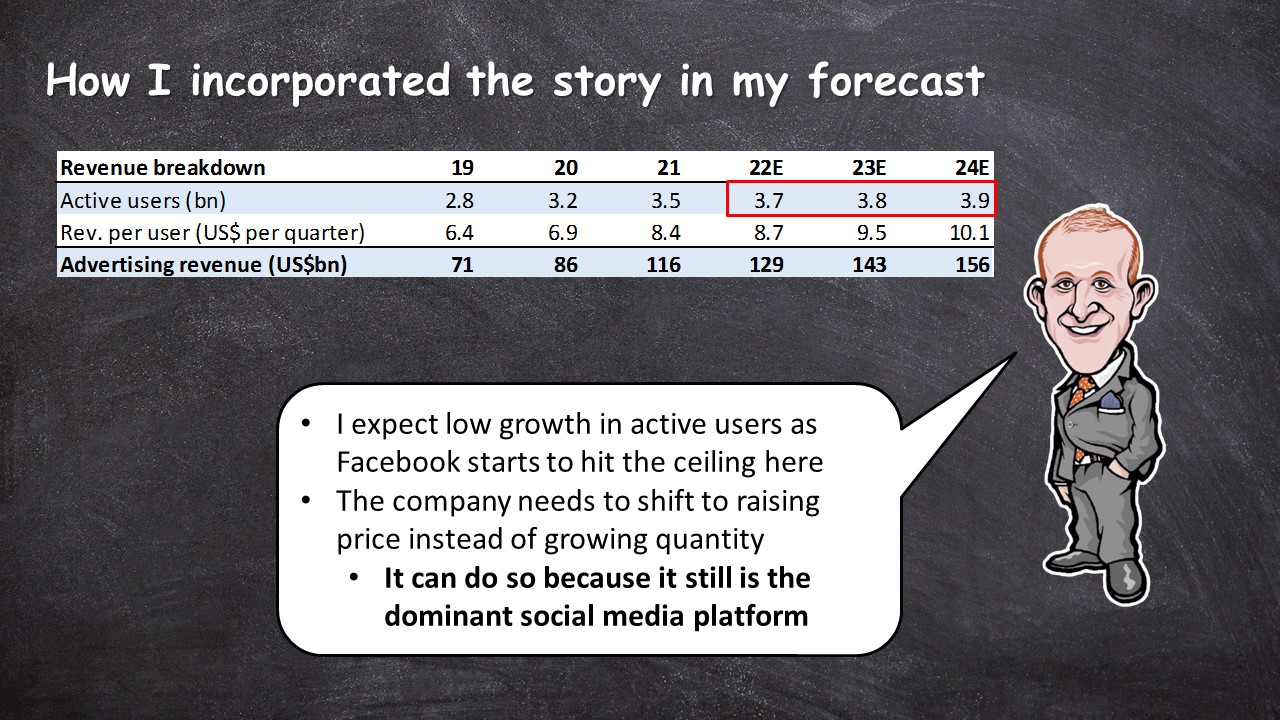 I expect low growth in active users as Facebook starts to hit the ceiling here
The company needs to shift to raising price instead of growing quantity

It can do so because it still is the dominant social media platform
Reality Labs squeeze profits, but could turn big in the future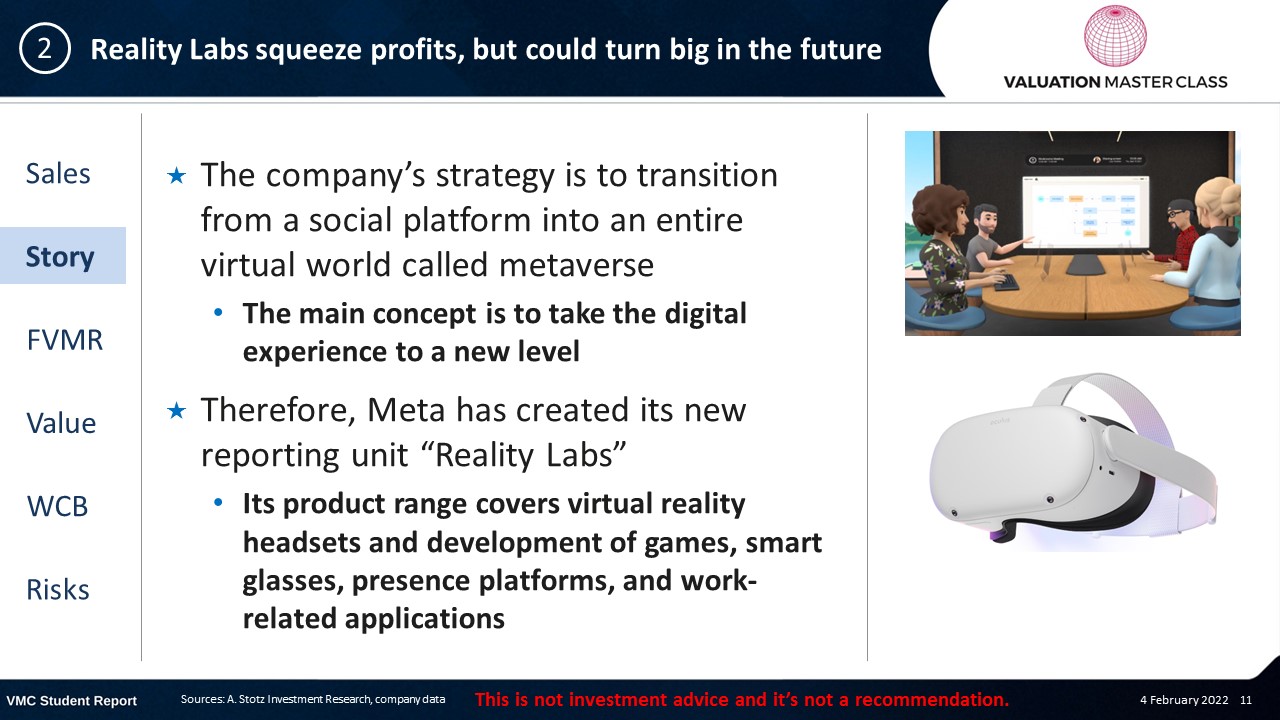 The company's strategy is to transition from a social platform into an entire virtual world called metaverse

The main concept is to take the digital experience to a new level

Therefore, Meta has created its new reporting unit "Reality Labs"

Its product range covers virtual reality headsets and development of games, smart glasses, presence platforms, and work-related applications
Operating losses from new business unit could worsen further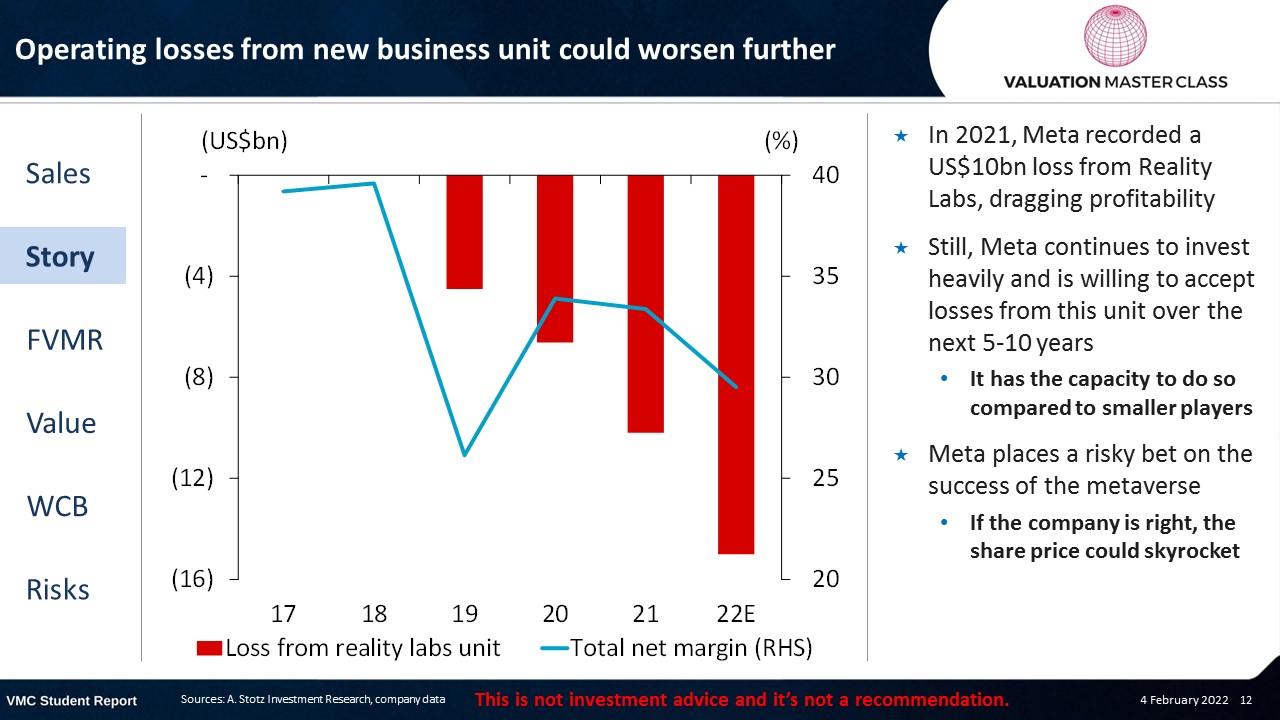 In 2021, Meta recorded a US$10bn loss from Reality Labs, dragging profitability
Still, Meta continues to invest heavily and is willing to accept losses from this unit over the next 5-10 years

It has the capacity to do so compared to smaller players

Meta places a risky bet on the success of the metaverse

If the company is right, the share price could skyrocket
How I incorporated the story in my forecast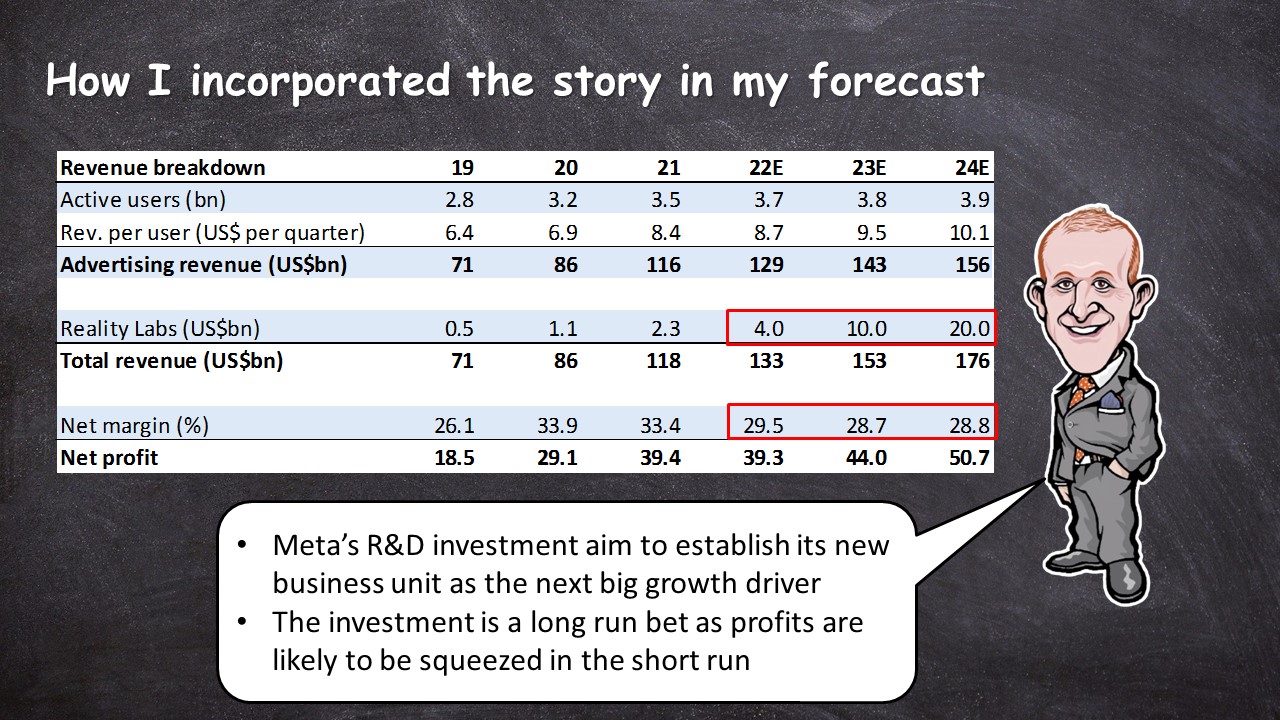 Meta's R&D investment aim to establish its new business unit as the next big growth driver
The investment is a long run bet as profits are likely to be squeezed in the short run
Competitors grow out of nothing to challenge its dominance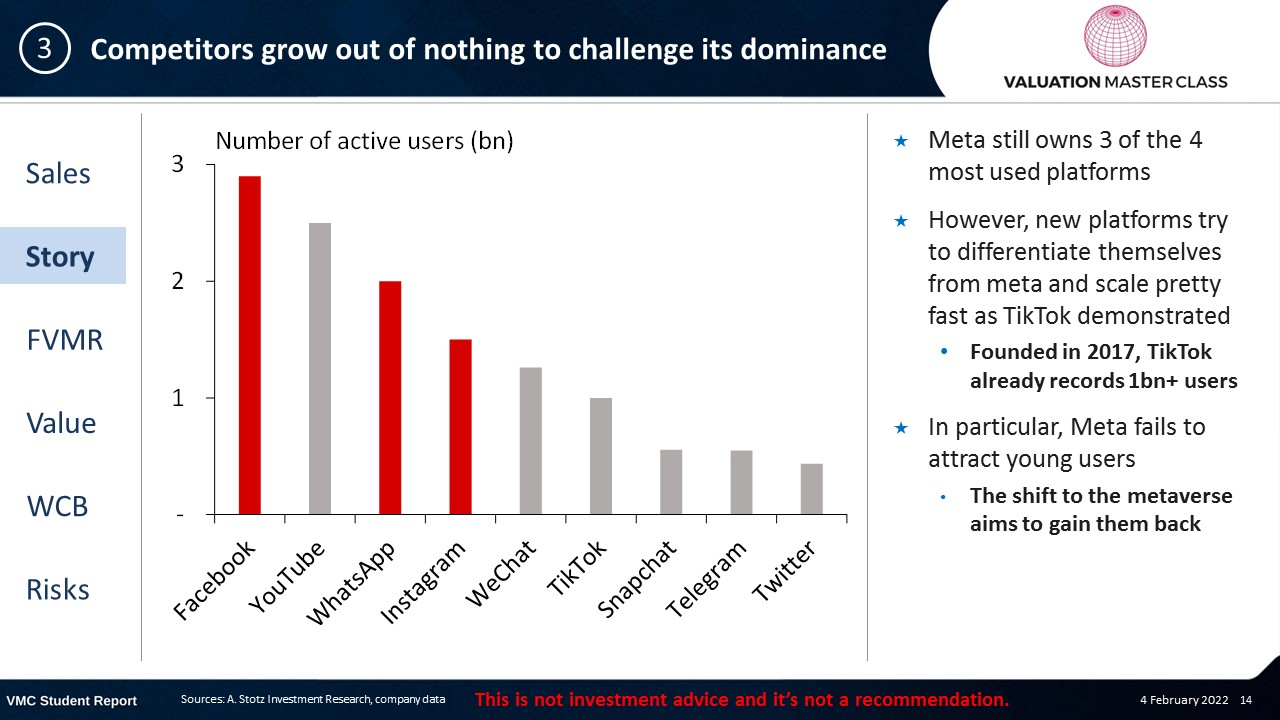 Meta still owns 3 of the 4 most used platforms
However, new platforms try to differentiate themselves from meta and scale pretty fast as TikTok demonstrated

Founded in 2017, TikTok already records 1bn+ users

In particular, Meta fails to attract young users

The shift to the metaverse aims to gain them back
Copycats are nipping at their heels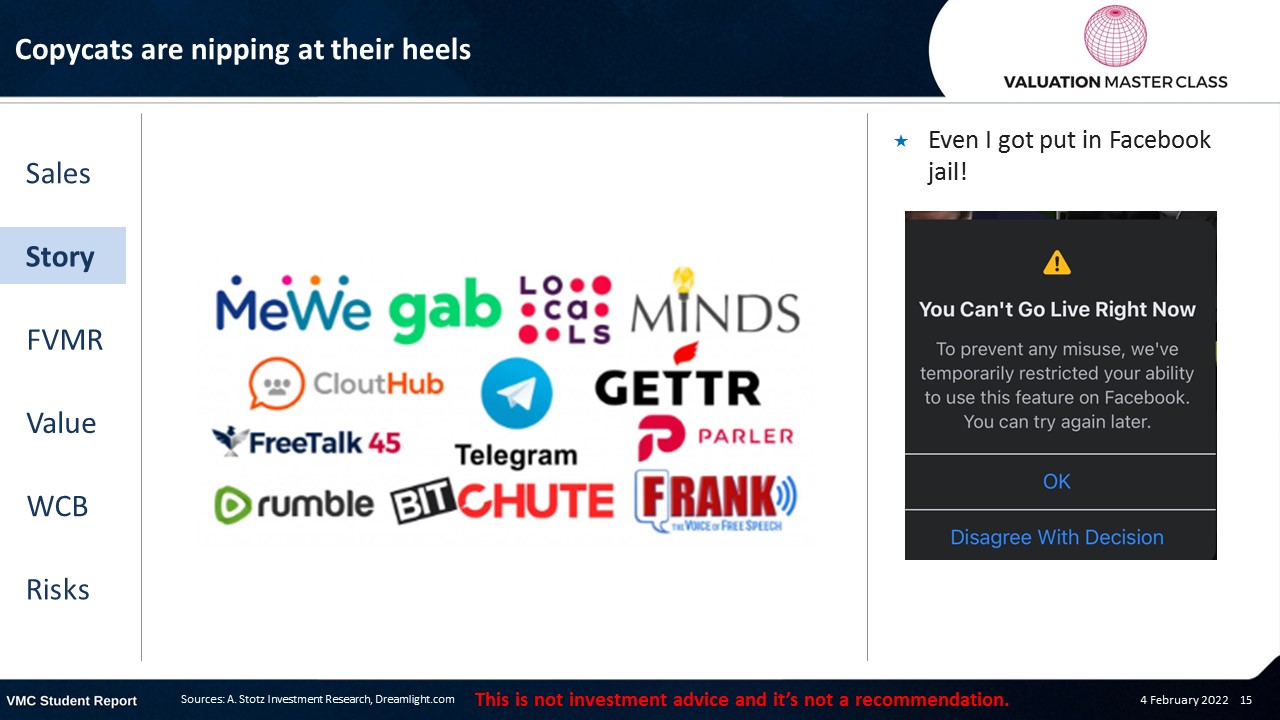 Even I got put in Facebook jail!
Recent negative news could make it attractive to tap in now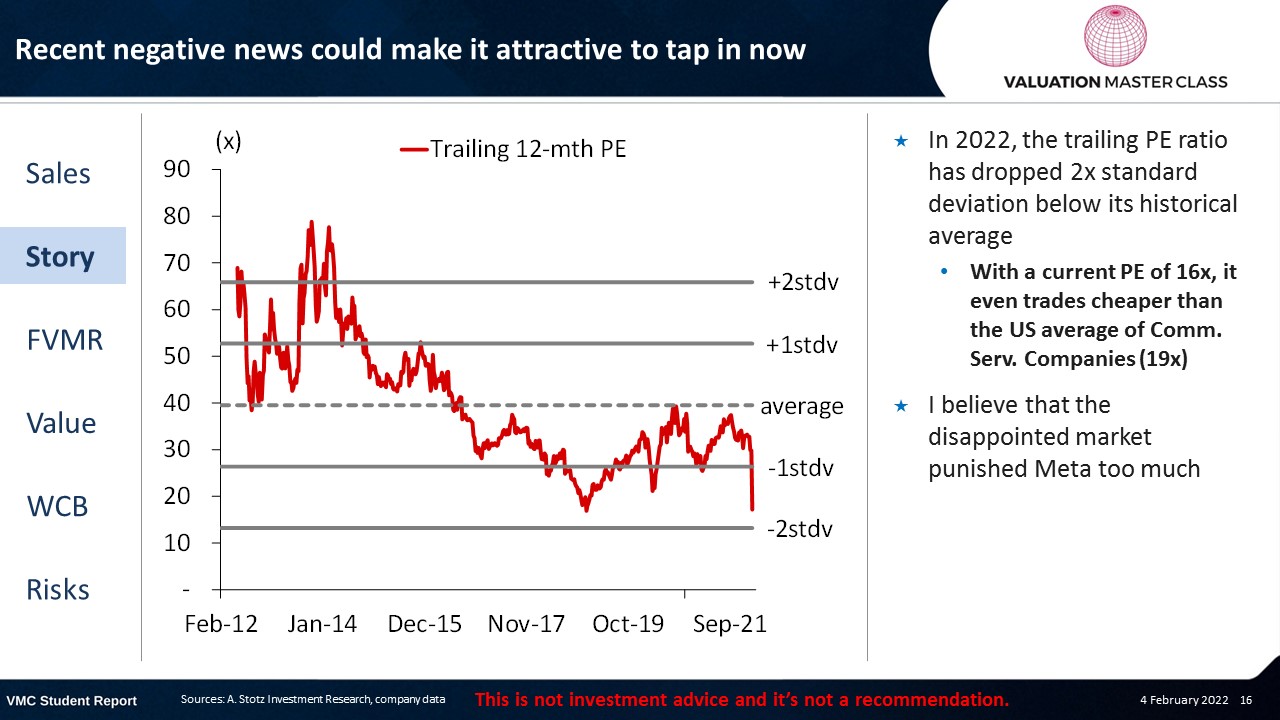 In 2022, the trailing PE ratio has dropped 2x standard deviation below its historical average

With a current PE of 16x, it even trades cheaper than the US average of Comm. Serv. Companies (19x)

I believe that the disappointed market punished Meta too much
Forward looking PE does not look expensive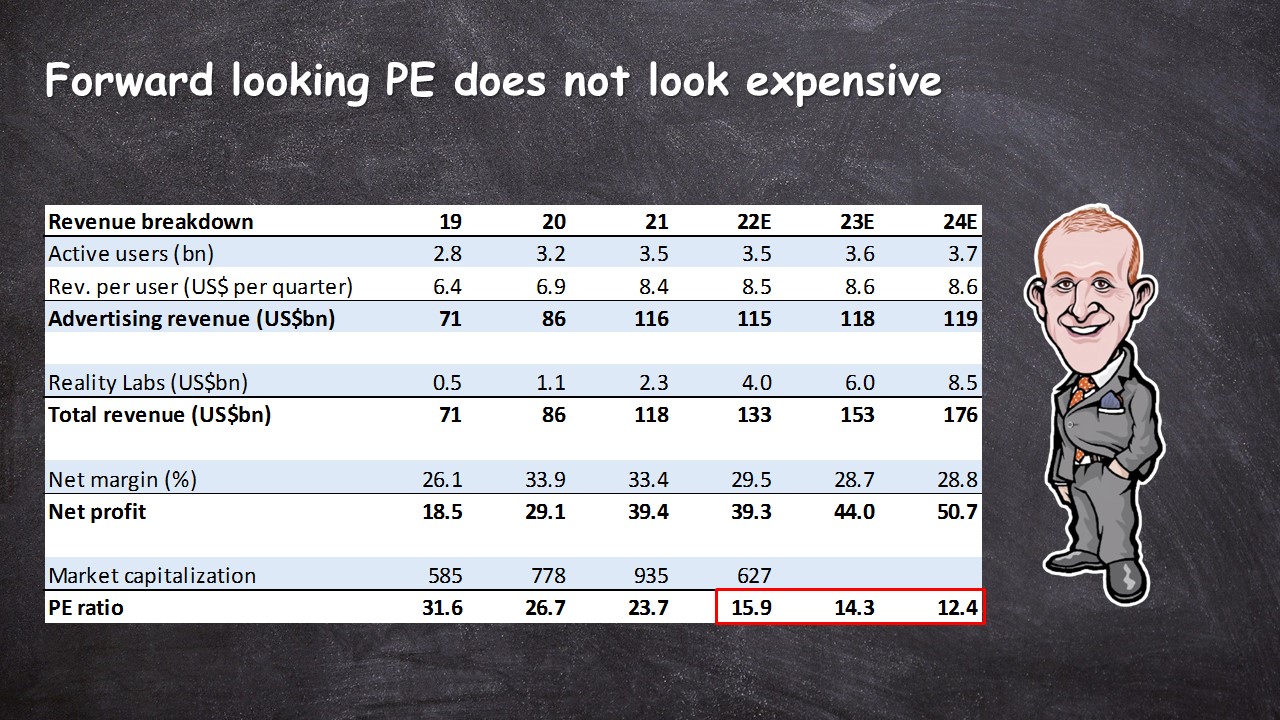 FVMR Scorecard – Meta Platforms
A stock's attractiveness relative to stocks in that country or region
Attractiveness is based on four elements

Fundamentals, Valuation, Momentum, and Risk (FVMR)

Scale from 1 (Best) to 10 (Worst)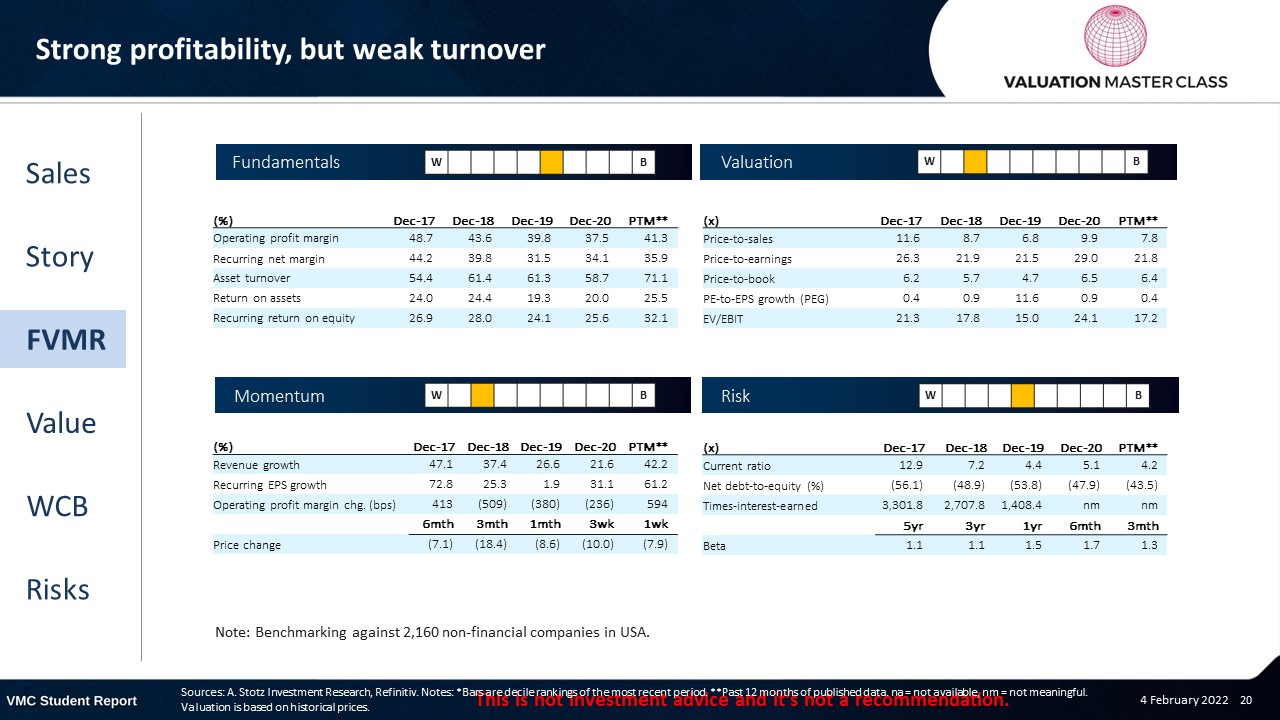 Consensus is bullish
Most analysts has a BUY recommendation, as it sees a massive potential after the share price has been beaten down
Consensus has already incorporated a significant drop in margin due to the loss-making Reality Lab business unit
---
Get financial statements and assumptions in the full report
---
P&L – Meta Platforms
In line with management forecast, I don't expect a profit growth in 22E as the Reality Labs unit could make growing losses
Balance sheet – Meta Platforms
Meta announced to continue investing heavily in data infrastructure and development of new virtual reality products
Also, it has a large, US$50bn amount of cash, equaling 1/3 of its total assets
Meta is net cash and has very low debt, which is quite typical for fast-growing companies
Ratios – Meta Platforms
Meta has a remarkable consistent  profitability, which is far above the sector average ROE of 18%
Profitability is dragged in the short run

However, in the long run, the contribution of the metaverse business could bring profitability back to its previous heights
Long-term share price performance potential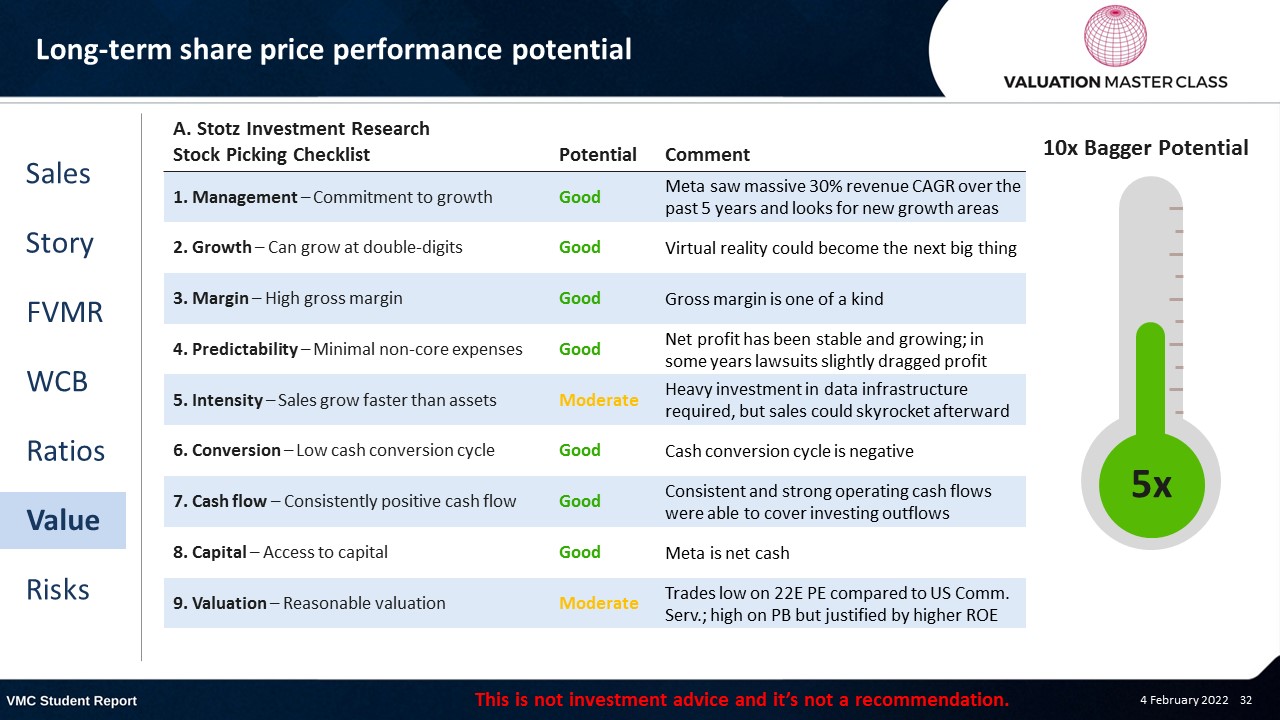 Free cash flow – Meta Platforms
Meta has delivered strongly on cash flow in the past and I expect rising FCFF in the future
Value estimate – Meta Platforms
I expect similar revenue growth compared to the consensus
However, I am a bit more optimistic with regards to the margin in the short run

Meta's ability to increase prices for ads could offset the losses from the metaverse segment better than expected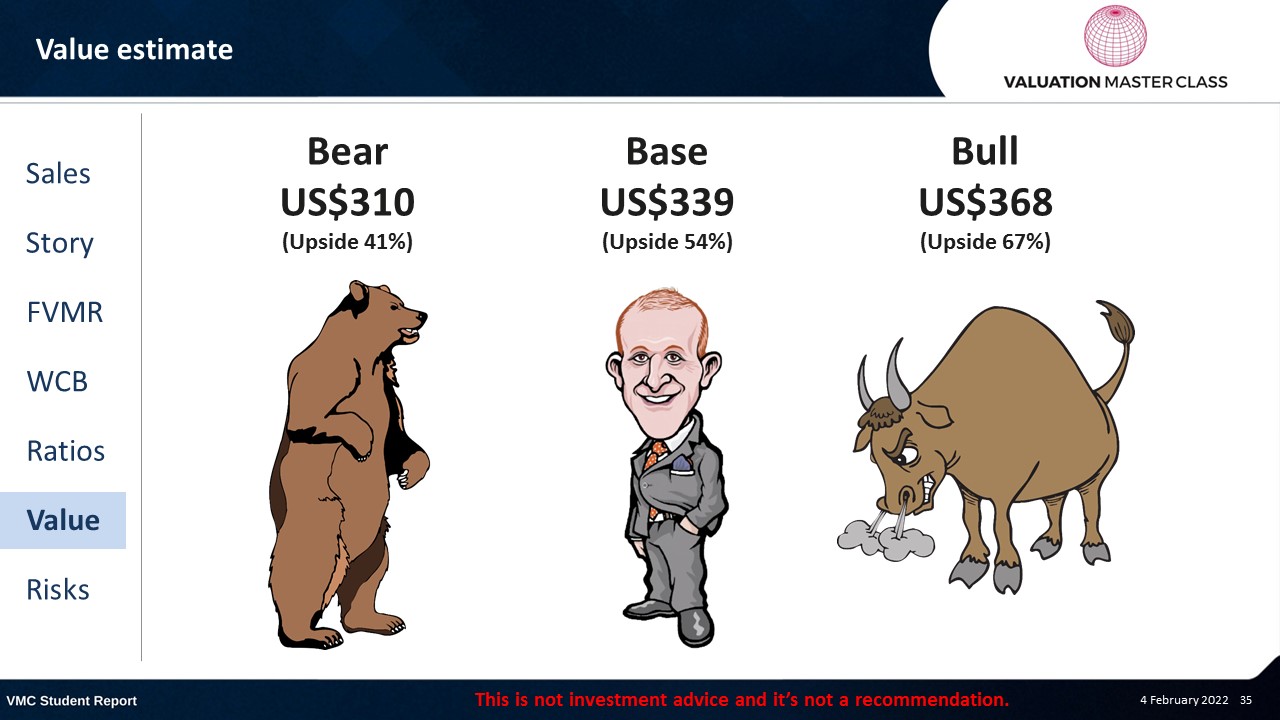 World Class Benchmarking Scorecard – Meta Platforms
Identifies a company's competitive position relative to global peers
Combined, composite rank of profitability and growth, called "Profitable Growth"
Scale from 1 (Best) to 10 (Worst)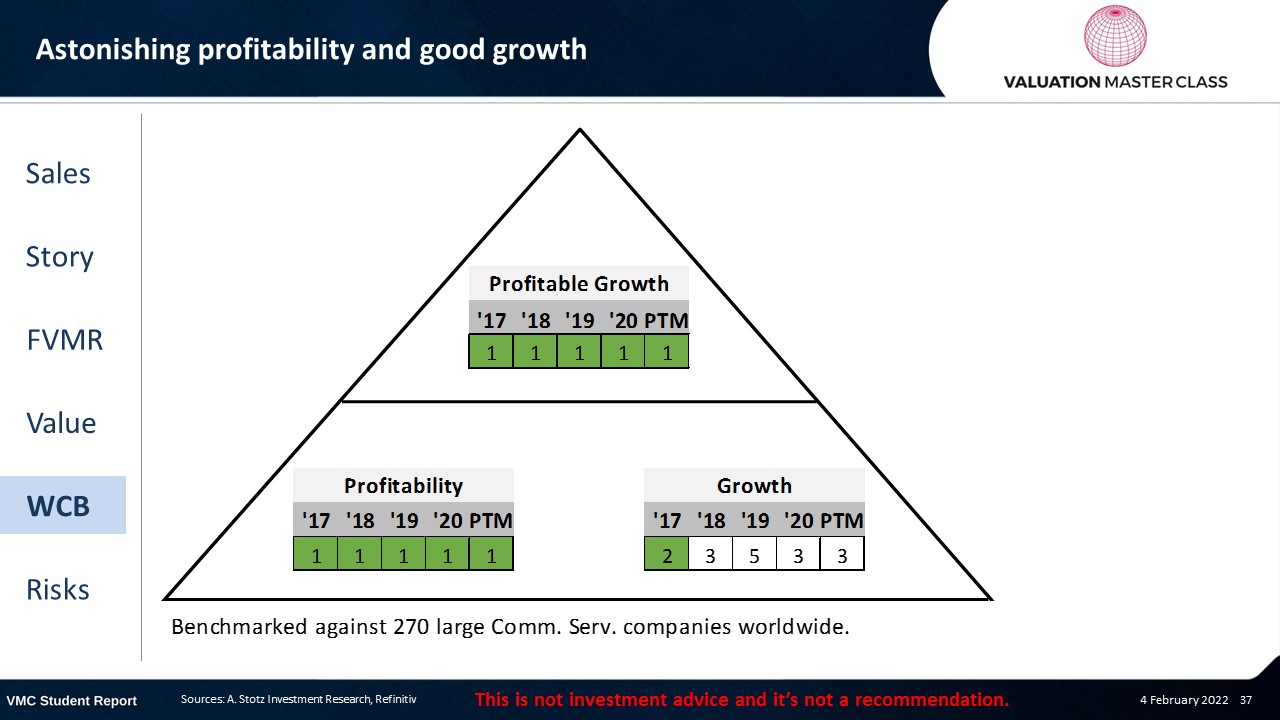 Key risk is losing active users
Failure to attract young people to its social media platforms
Rising competition that grows out of nothing
Metaverse could just be a bubble waiting to explode
Regulatory pressure
Conclusions
High pricing power could offset slowing pace of new user addition
Investment in Metaverse is risky, but could become a double-digit growth engine
Massive ROE makes it an attractive play
---
Download the full report as a PDF
---
DISCLAIMER: This content is for information purposes only. It is not intended to be investment advice. Readers should not consider statements made by the author(s) as formal recommendations and should consult their financial advisor before making any investment decisions. While the information provided is believed to be accurate, it may include errors or inaccuracies. The author(s) cannot be held liable for any actions taken as a result of reading this article.