Starbucks Helps Us Better Understand ROA and ROIC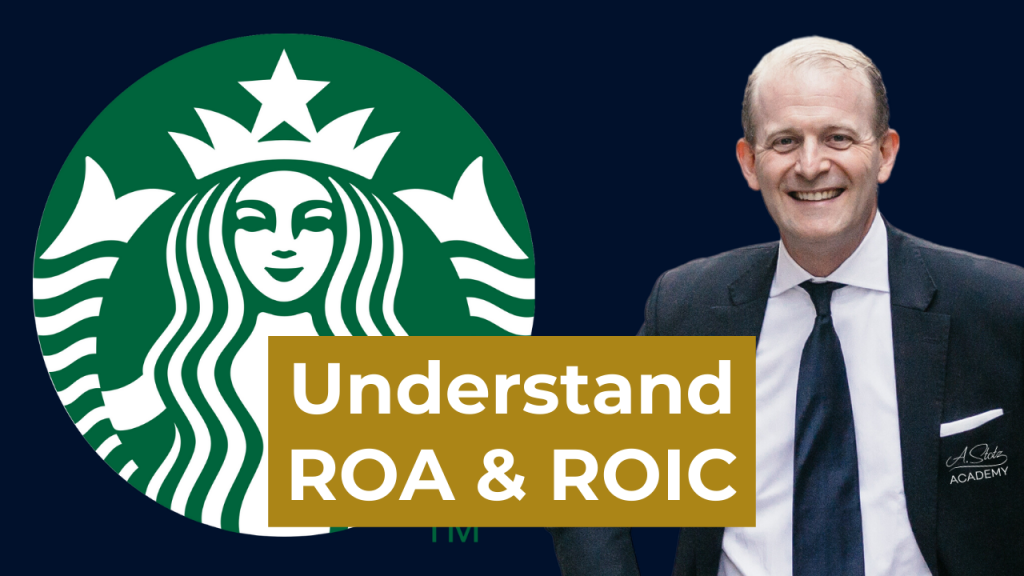 What's interesting about Starbucks is that we can use it to better understand ROA and ROIC
---
Slightly more than 50% of stores are company owned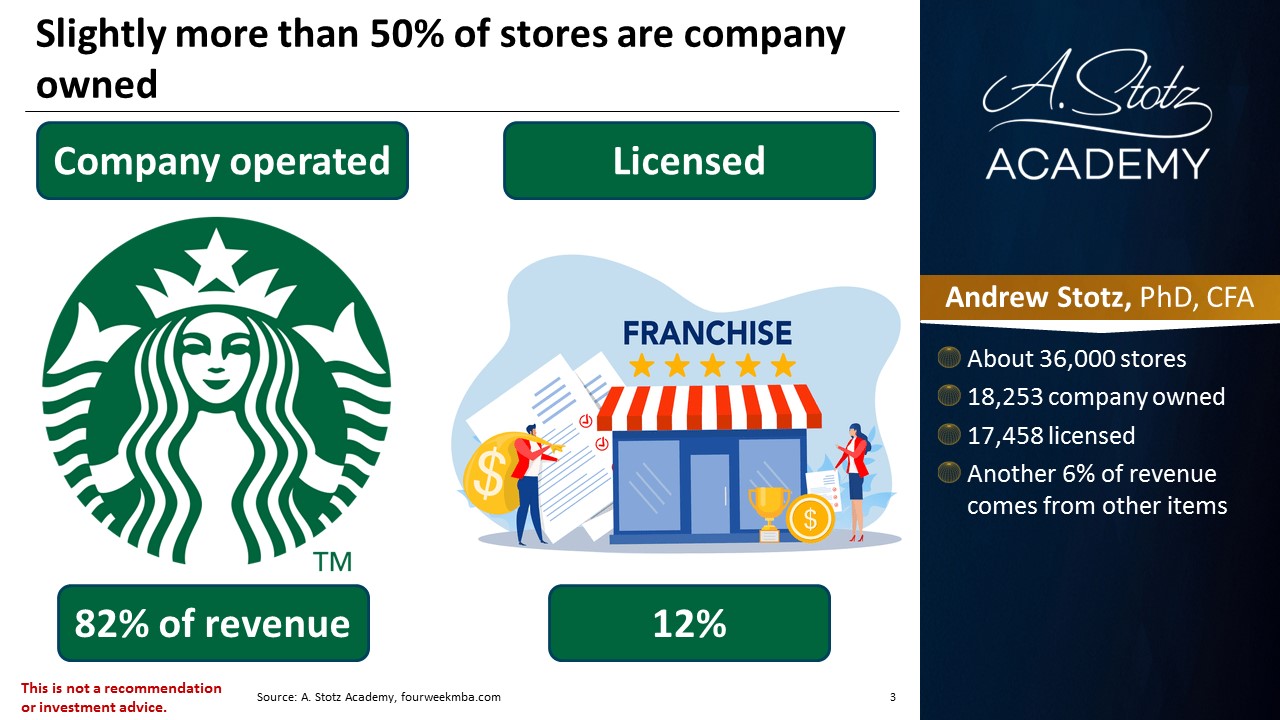 About 36,000 stores
18,253 company owned
17,458 licensed
Another 6% of revenue comes from other items
Number of stores worldwide in 2022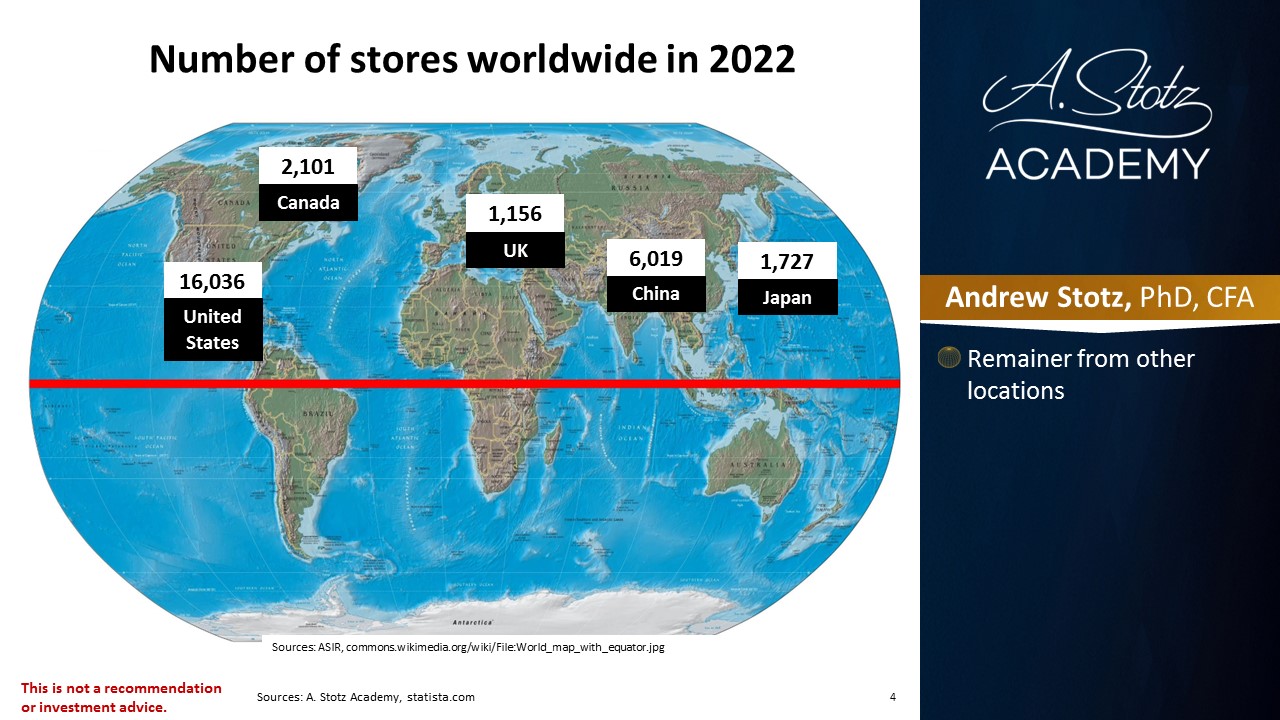 Remainer from other locations
---
Download the full report as a PDF
---
Revenue breakdown by segment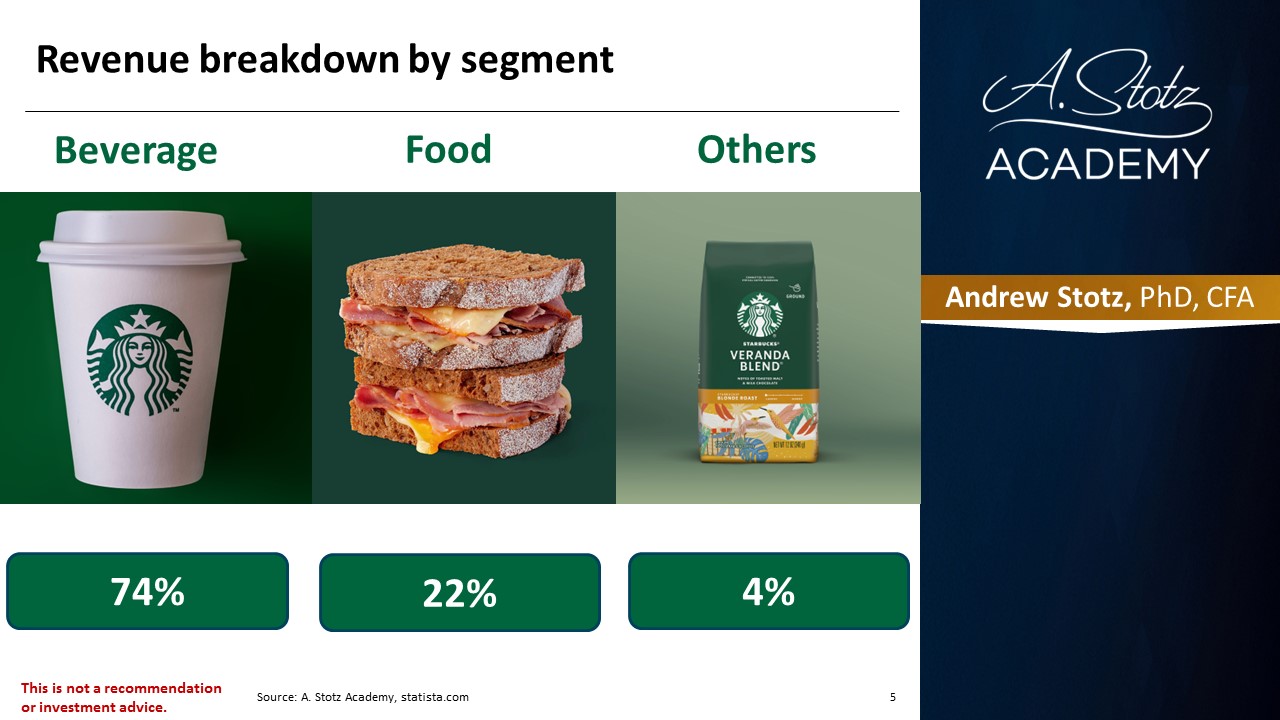 Starbucks – US – Founded 1971
Cons. Disc. sector, 402,000 employees, US$27bn revenue
Main segments/products/divisions/brands
Starbucks Coffee beverages
Frappuccino blended beverages
Starbucks Reserve Roastery and Reserve stores
Its competitive advantage
Competitive advantage through strong brand loyalty, premium coffee experience, and global expansion.
How it achieved its competitive advantage
Achieved by creating a unique coffeehouse atmosphere, focusing on high-quality beans, providing personalized customer experiences, and building a strong global presence through franchising and company-owned stores.
Howard Schultz (born 1953) Former CEO and chairman of Starbucks
Joined Starbucks in 1982 and transformed it into a global brand
Credited with popularizing the concept of the "third place" – a comfortable social gathering spot outside of home and work
Stepped down as CEO in 2000 but returned in 2008 to guide Starbucks through the global financial crisis, finally stepped down in 2022
He still owns nearly 2% of the company
The success of the Starbucks app
26% of sales from mobile apps alone
Strong loyalty program

Earn stars and redeem for free drink
Added gift card to the app

Customer convenience

Order, pay, and skip the line
Aprons colors have meaning

Green – Classic
Black – Coffee master
Pale blue  – Happy Hour
Orange – King's Day celebration in the Netherlands
A journey from teachers to a global coffee icon
Original store opened in 1971, Seattle, USA
Founders: Jerry Baldwin, Gordon Bowker, and Zev Siegl
Were teachers and a writer who all loved coffee
Quarterly results

SBUX reported FY3Q23 recurring EPS of US$1.00, which was +24.3% YoY and +25.6% QoQ
The 9M23 result was 79.5% of our full-year forecast

About 1% of its sales and 4% of its net income
Valuation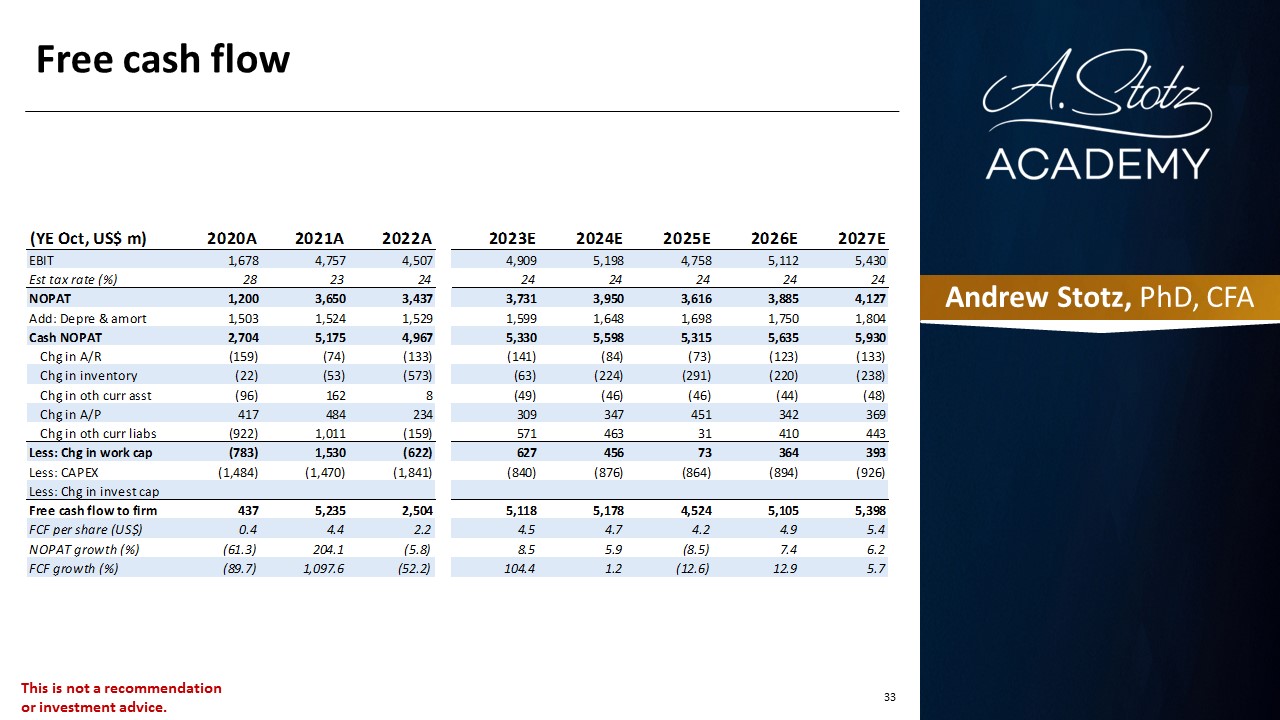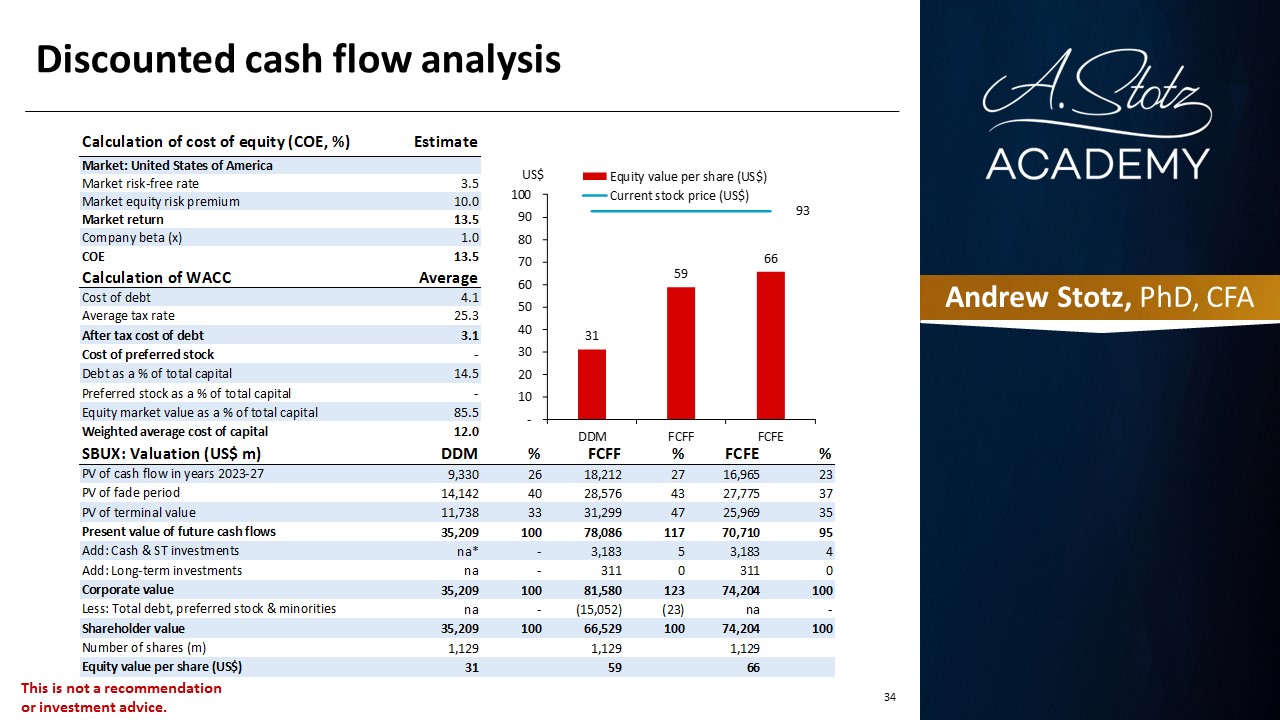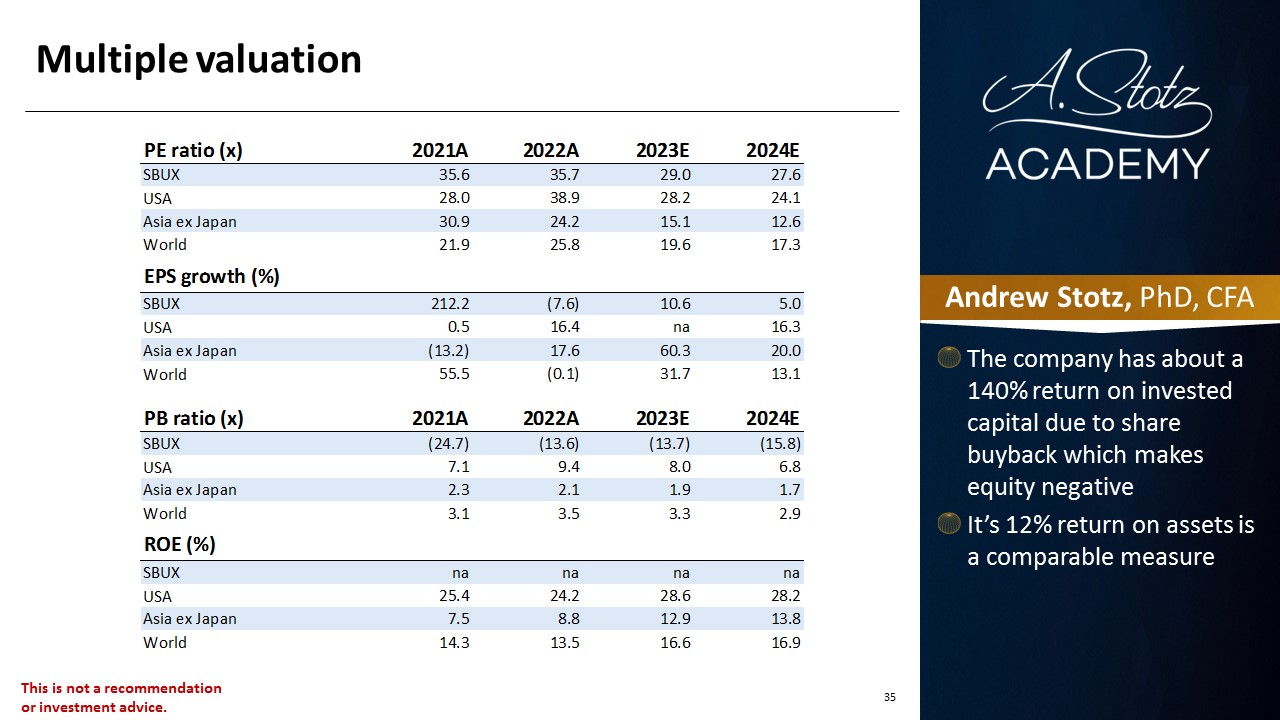 ---
Download the full report as a PDF
---
DISCLAIMER: This content is for information purposes only. It is not intended to be investment advice. Readers should not consider statements made by the author(s) as formal recommendations and should consult their financial advisor before making any investment decisions. While the information provided is believed to be accurate, it may include errors or inaccuracies. The author(s) cannot be held liable for any actions taken as a result of reading this article.