What Does It Mean to Be Financially World Class?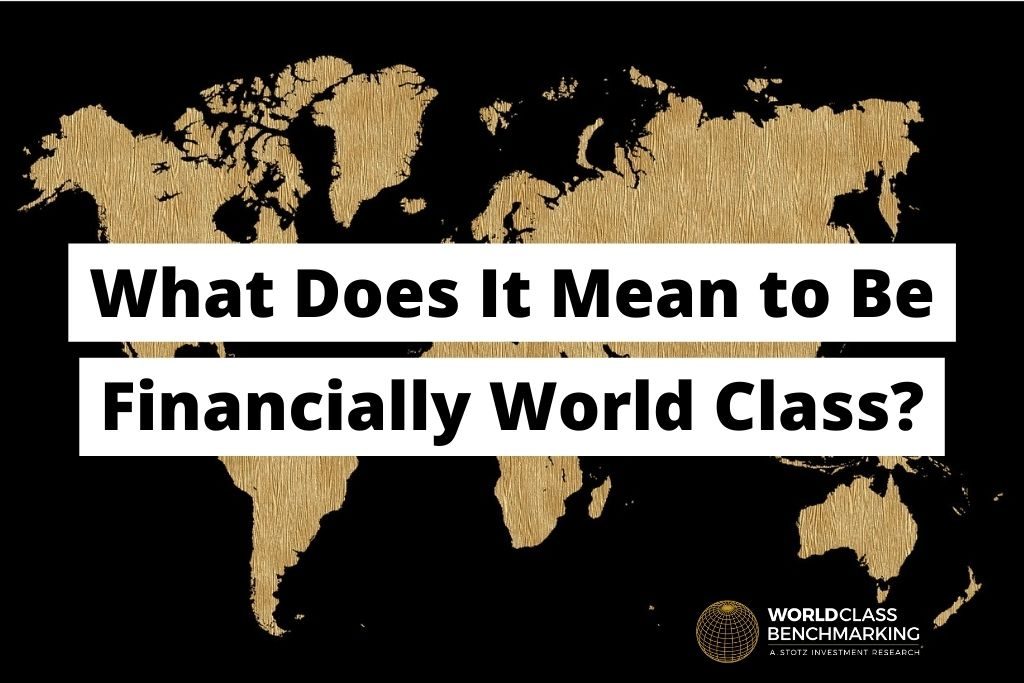 Many years ago, the management team of the business I co-own in Thailand, CoffeeWORKS, made it through the tenth year of an annual (and massive) quality audit done by one of our multinational customers. Our customer congratulated us for having World Class quality, the feeling among our management team and all employees was ecstatic. Since that time, we have maintained that World Class level of quality in CoffeeWORKS.
Is CoffeeWORKS Financially World Class?
As I drove home from the celebration at the factory, I asked myself, "How would we know if our company was Financially World Class?" I felt a bit disappointed with myself because I should have had the answer long ago. After all, as a financial analyst, I had already developed various tools to evaluate the stocks I was either recommending or owning.
Developing a measurement to meet many requirements
So at that time, I set out to develop a tool that could meet the following requirements
It had to be ONE measure that definitively assessed whether a company was Financially World Class
It had to be a measure that, if improved, could be shown to increase the value of the business
It had to be able to stand up to rigorous scrutiny from finance academics and professionals
It had to be clear whether a company was moving up or down in that ranking
It had to be able to be used by both sophisticated financial analysts as well as company managers who knew nothing about finance
It needed to be robust enough that we could use it in CoffeeWORKS for the assessment of management performance
It needed to be a financial measure that would bring the management team together instead of pitting them against each other
It needed to be able to be used for any company in the world
The World Class Benchmarking scorecard was born
About seven years ago, I developed the World Class Benchmarking scorecard that met all of the above criteria, and I rolled it out to the CoffeeWORKS management team. Now, we update it every month, and at that time, we review the company's financial performance. Though we are not Financially World Class every month, the whole management team now thoroughly understands when we are not, and as a result, they then make more informed decisions.
The World Class Benchmarking scorecard is based on science
In creating the scorecard, we did a lot of academic-style testing of various measures. From that testing, we could calculate the percent increase in the company's value from improving the ranking. This is why the scorecard is also so handy for picking stocks.
So, besides using the scorecard to help management teams, we also use it daily in A. Stotz Investment Research to evaluate the financial performance of any company in the world. We regularly perform an internal assessment of many thousands of companies worldwide, and internally we designate some as World Class Companies.
What is a World Class Company?
What follows is our internal process of identifying World Class Companies. We start with a universe of 26,000 firms worldwide across ten sectors: Communication Services, Consumer Discretionary, Consumer Staples, Energy, Health Care, Industrials, Information Technology, Materials, Real Estate, and Utilities.
To determine a World Class Company, we focus on one measure, Profitable Growth. This is a composite of two measures that matter most regarding share-price performance: Profitability and growth relative to global sector peers.
We consider the "World Class Company" status within each sector; in other words, there is no one World Class Company in the world; instead, there is only a World Class Company at the top of each sector.
Started with 26,000 companies
Only 60 companies out of 26,000 (or 0.2%) made it to this final round. The companies that constituted the universe were listed on any stock exchange during 2019-2021 and had a market capitalization of at least US$50m as of 29 May 2021.
Each company that achieved this designation has maintained itself in the top four deciles for profitability and growth relative to sector peers of similar size for at least ten quarters. These companies have also shown a net profit for the past three years on a quarterly or semi-annual basis. In addition, the winners had the highest Profitable Growth score based on their past 12 months of reported results as of 29 May 2021.
World Class Companies from around the world
The developed world hosts 41 of this group of 60 World Class companies, which is natural considering the size and maturity of developed markets. Twenty companies come from the Americas, but interestingly twenty companies also come from Asia. Eighteen of the twenty companies came from the US. Ten companies come from Asia; excluding Japan, nine came from Western Europe. Australasia and Japan each contributed six.
World Class Companies from all sectors
It is interesting to note that outside of the economic area of North America, the next largest region was the Association of Southeast Asian Nations (ASEAN) which has contributed eight. Scandinavian companies seem to do quite well, contributing five.
Nearly 17% of all 26,000 listed companies are Consumer Discretionary companies, and in our universe, the sector has produced 19 World Class companies. The Industrials sector accounts for the most number of all companies listed in stock markets worldwide, and from our universe, we have selected 13 that is World Class.
---
The Valuation Master Class is an on-demand online course that trains attendees to become company valuation experts. Graduates can confidently value any company and possess the in-demand industry skills needed to succeed as investment bankers, asset managers, equity analysts, or value investors.
Click here to learn more about Valuation Master Class Foundation.
The Valuation Master Class Boot Camp presents the Valuation Master Class Foundation material in a 6-week guided online course format. Daily live sessions, teamwork, progress tracking, and the intensive nature help guide attendees to completion. The final company valuation project and presentation is tangible evidence of the attendee's practical valuation experience and dedication to building a career in finance.