Can Walt Disney Really Hit US$100bn Revenue by 2024?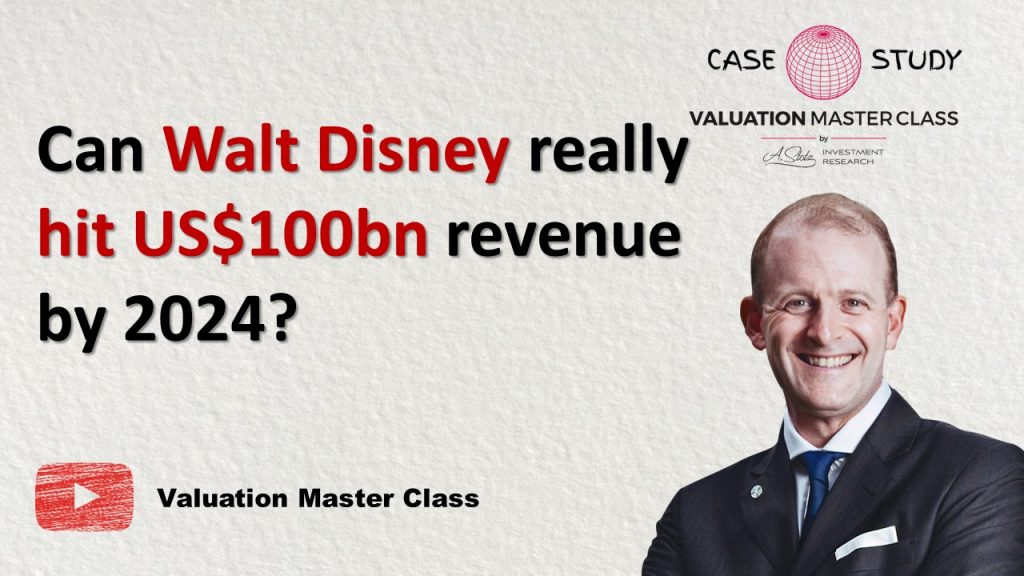 ---
Highlights:
Over the past 9 years, Disney saw a 5% CAGR revenue growth
Streaming platform Disney+ comprises new growth engine
Fast recovery of theme parks could drive revenue rebound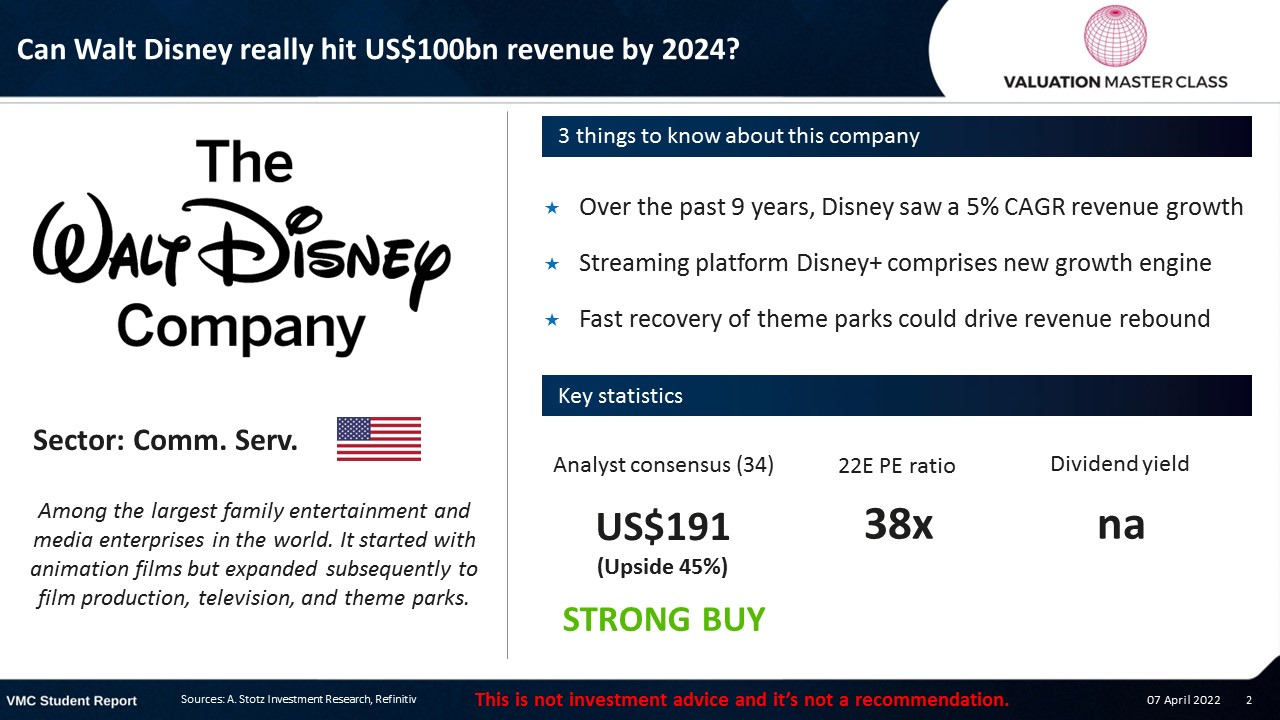 ---
Download the full report as a PDF
---
How Walt Disney actually makes money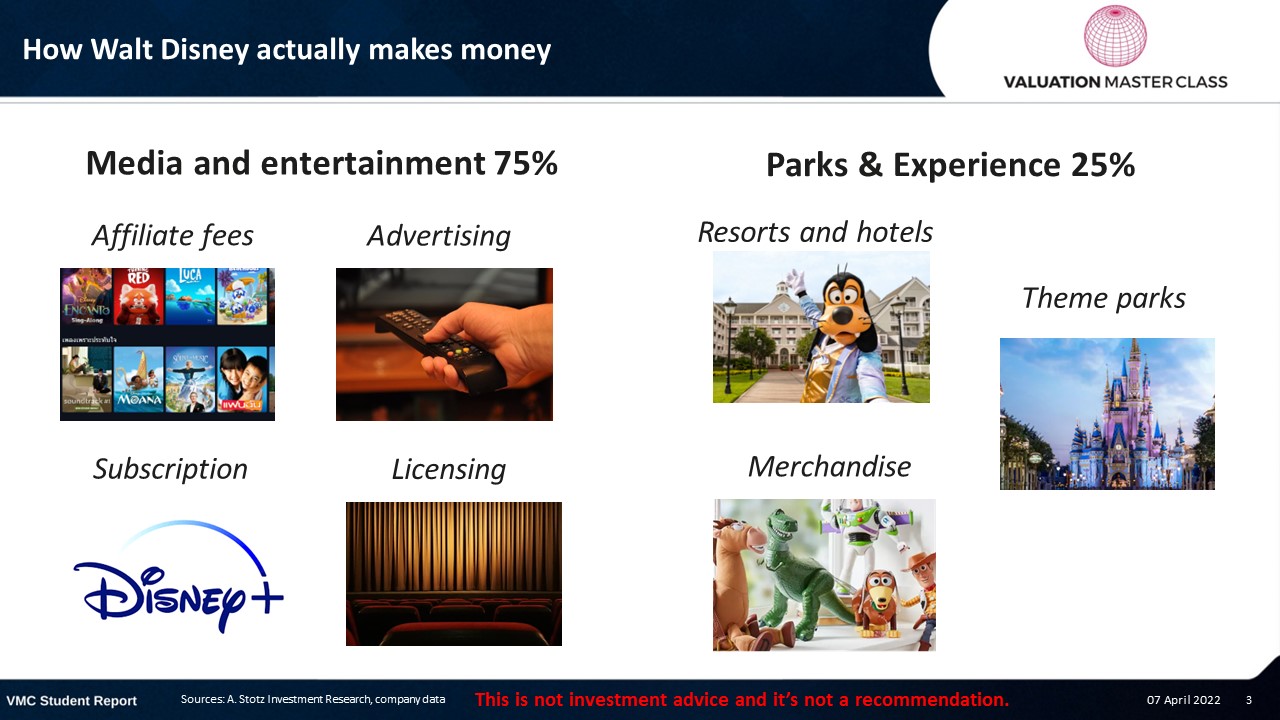 Overview of revenue over past 3-years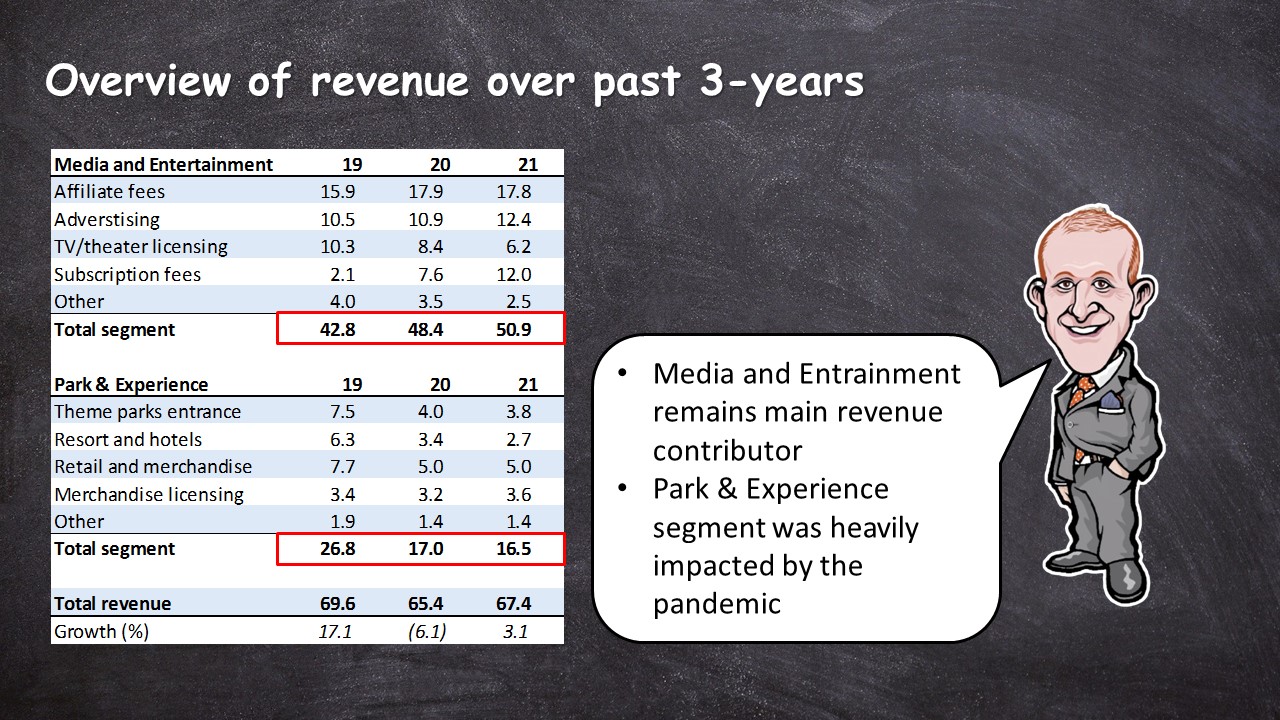 Media and Entrainment remains main revenue contributor
Park & Experience segment was heavily impacted by the pandemic
Disney's revenue continuously increased, but not exploded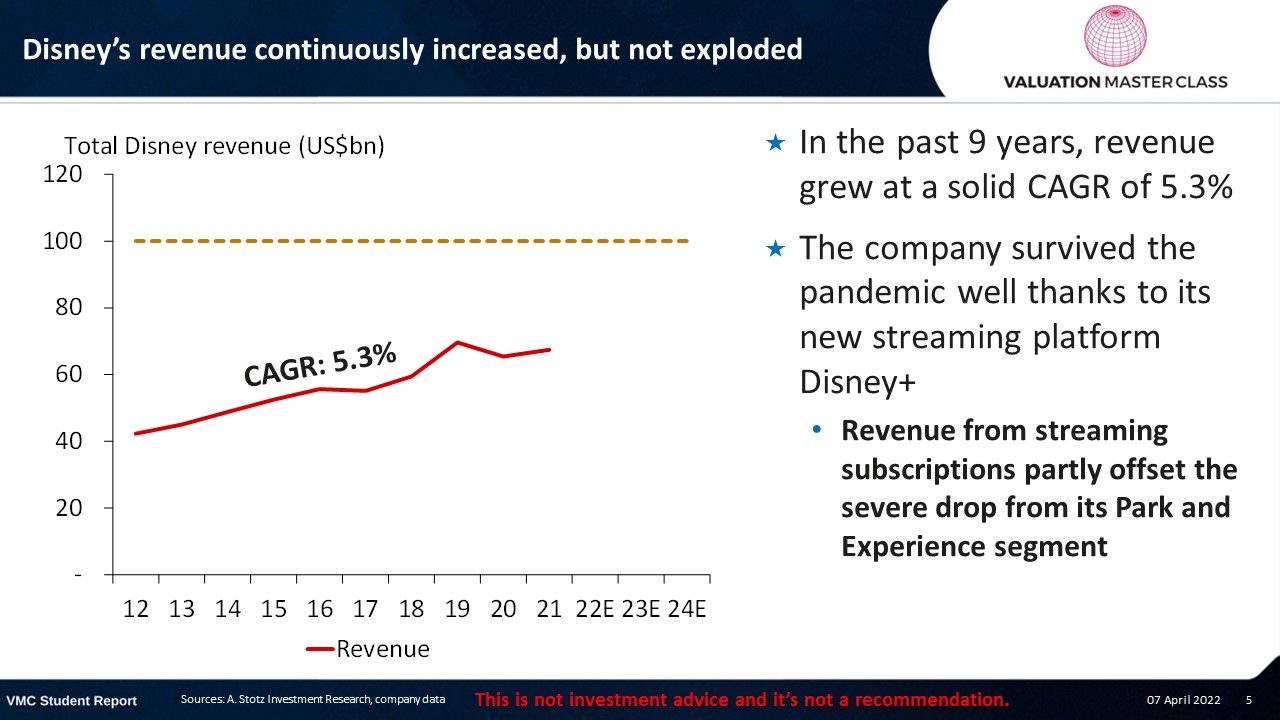 In the past 9 years, revenue grew at a solid CAGR of 5.3%
The company survived the pandemic well thanks to its new streaming platform Disney+

Revenue from streaming subscriptions partly offset the severe drop from its Park and Experience segment
But, past growth would not be enough to achieve US$100bn revenue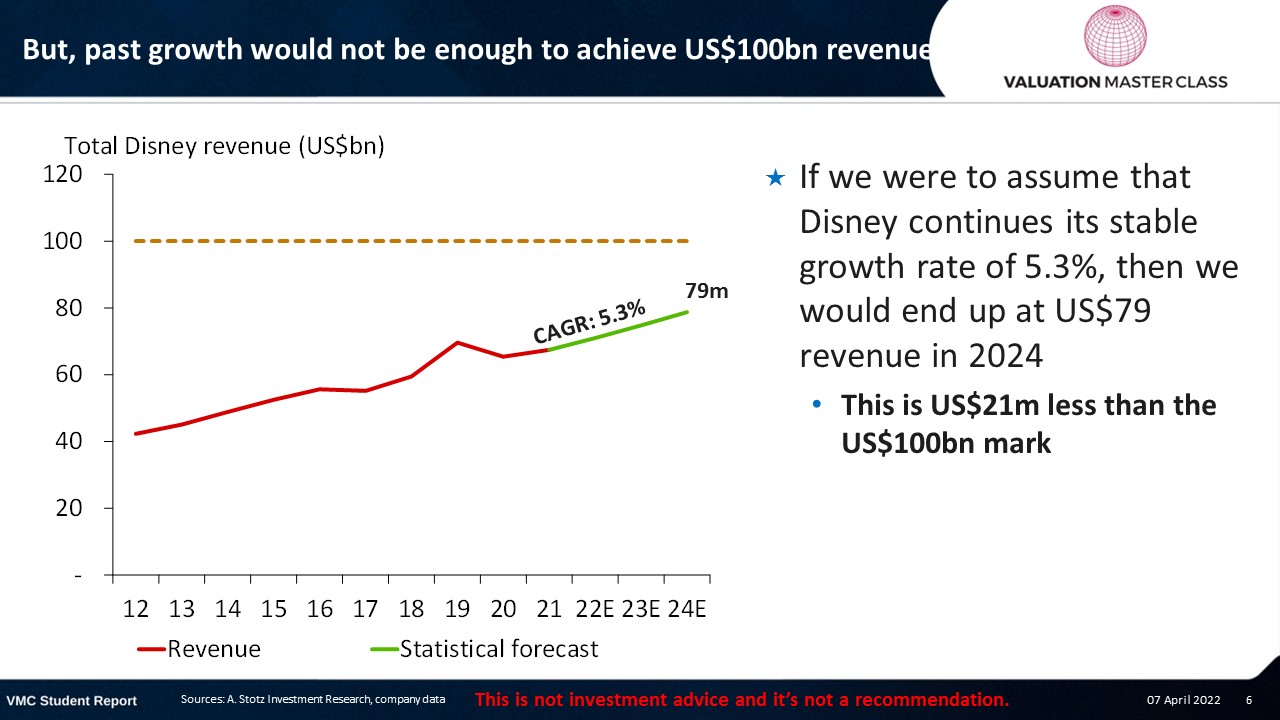 If we were to assume that Disney continues its stable growth rate of 5.3%, then we would end up at US$79 revenue in 2024

If we were to assume that Disney continues its stable growth rate of 5.3%, then we would end up at US$79 revenue in 2024
However, analyst consensus expect much higher growth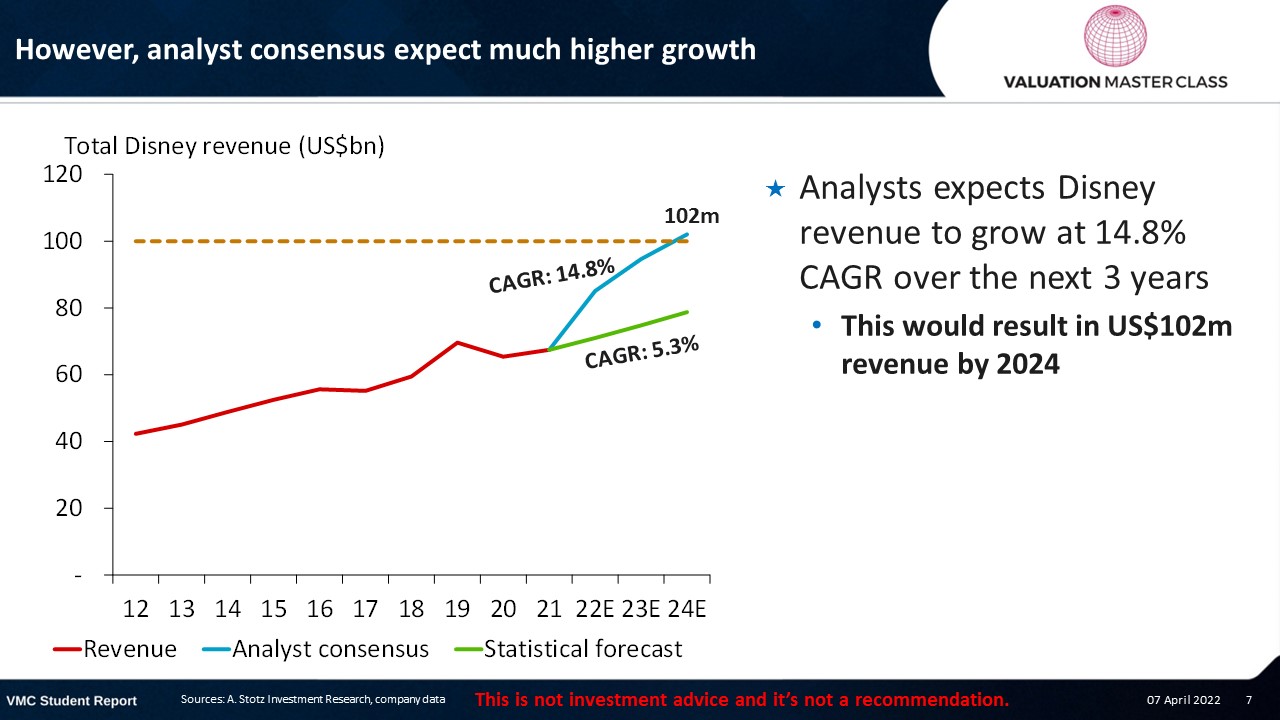 Analysts expects Disney revenue to grow at 14.8% CAGR over the next 3 years

This would result in US$102m revenue by 2024

Revenue forecast for Disney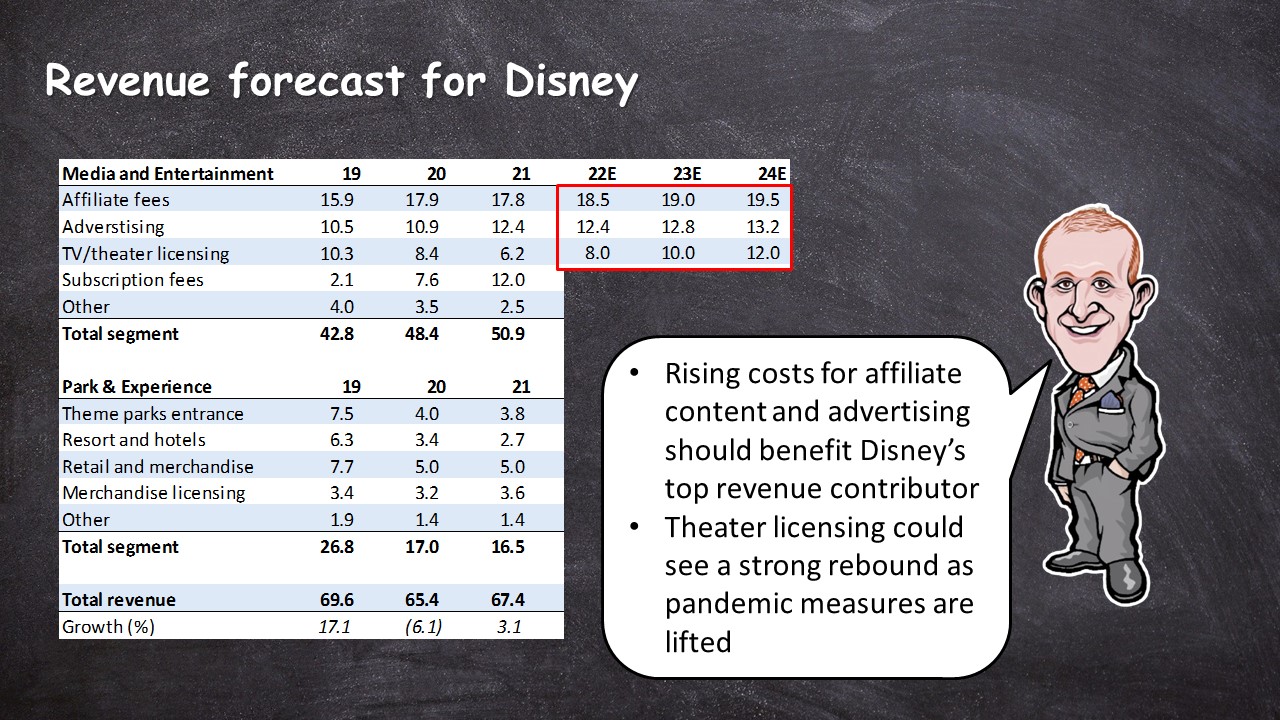 Rising costs for affiliate content and advertising should benefit Disney's top revenue contributor
Theater licensing could see a strong rebound as pandemic measures are lifted
Streaming platform Disney+ could be the main growth engine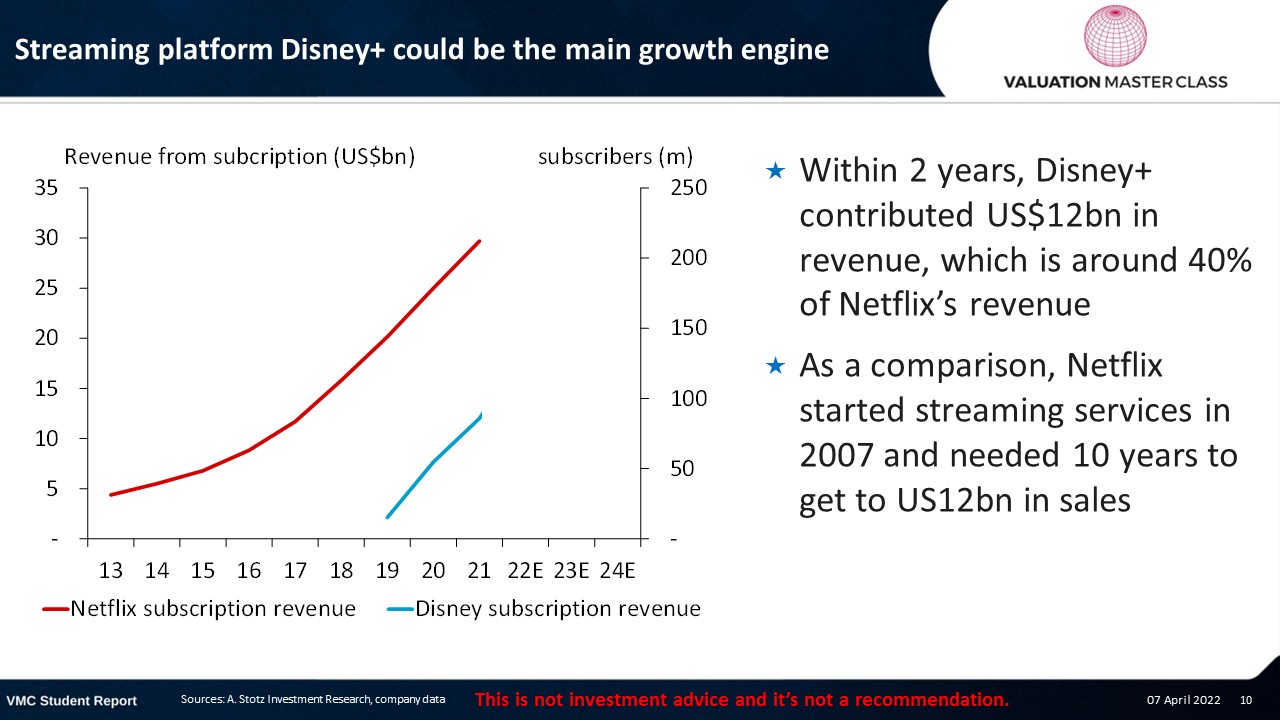 Within 2 years, Disney+ contributed US$12bn in revenue, which is around 40% of Netflix's revenue
As a comparison, Netflix started streaming services in 2007 and needed 10 years to get to US12bn in sales
Business model relies on economies of scale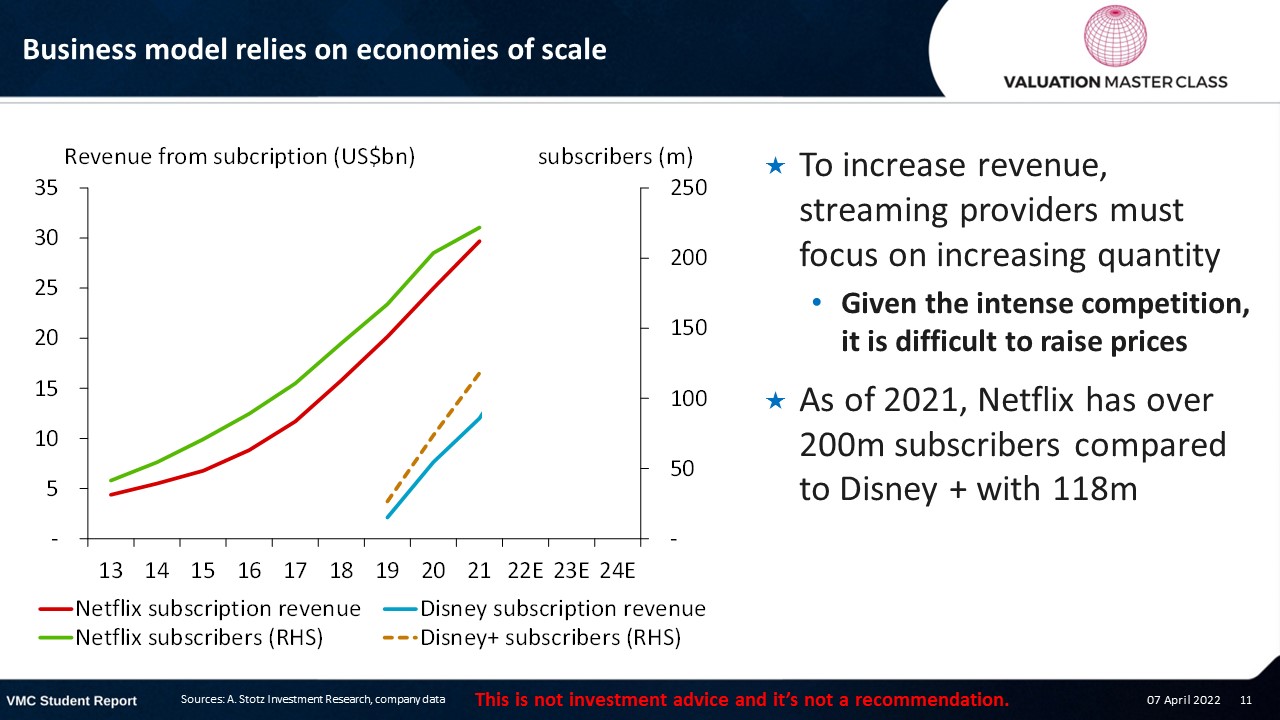 To increase revenue, streaming providers must focus on increasing quantity

Given the intense competition, it is difficult to raise prices

As of 2021, Netflix has over 200m subscribers compared to Disney + with 118m
Let's assume Disney can grow to Netflix level in 3 years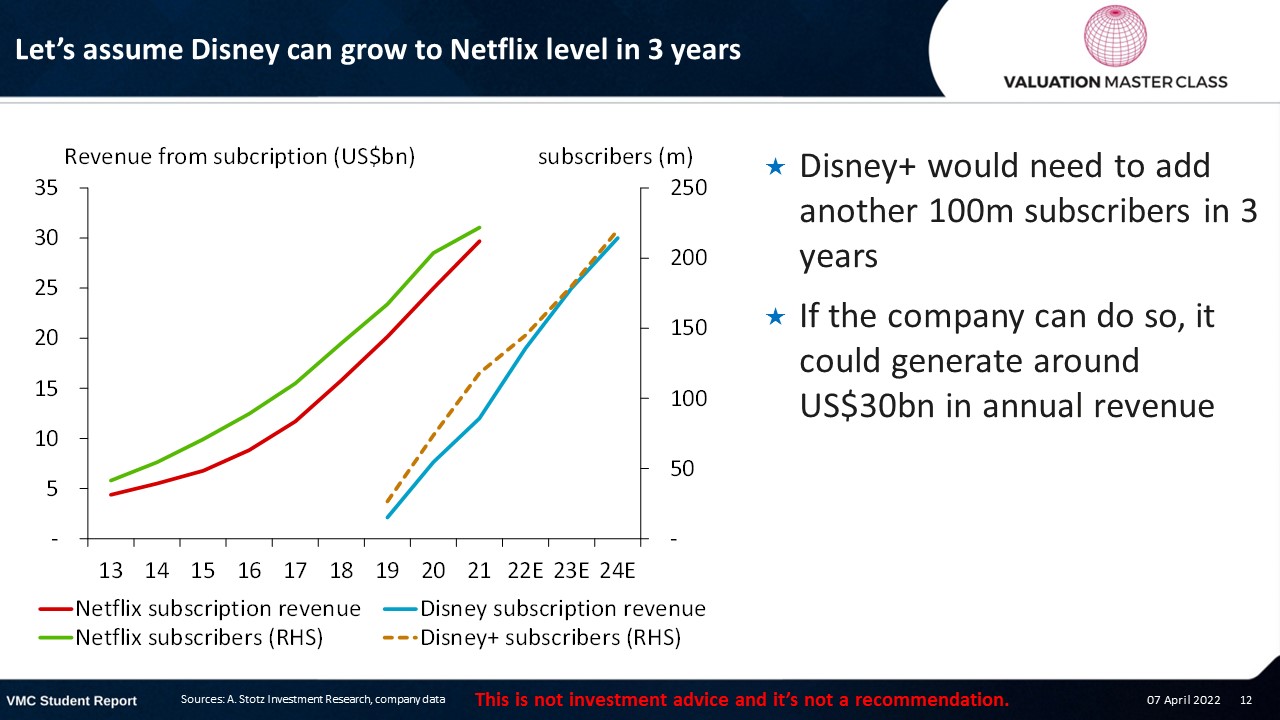 Disney+ would need to add another 100m subscribers in 3 years
If the company can do so, it could generate around US$30bn in annual revenue
How I incorporate the story into my forecast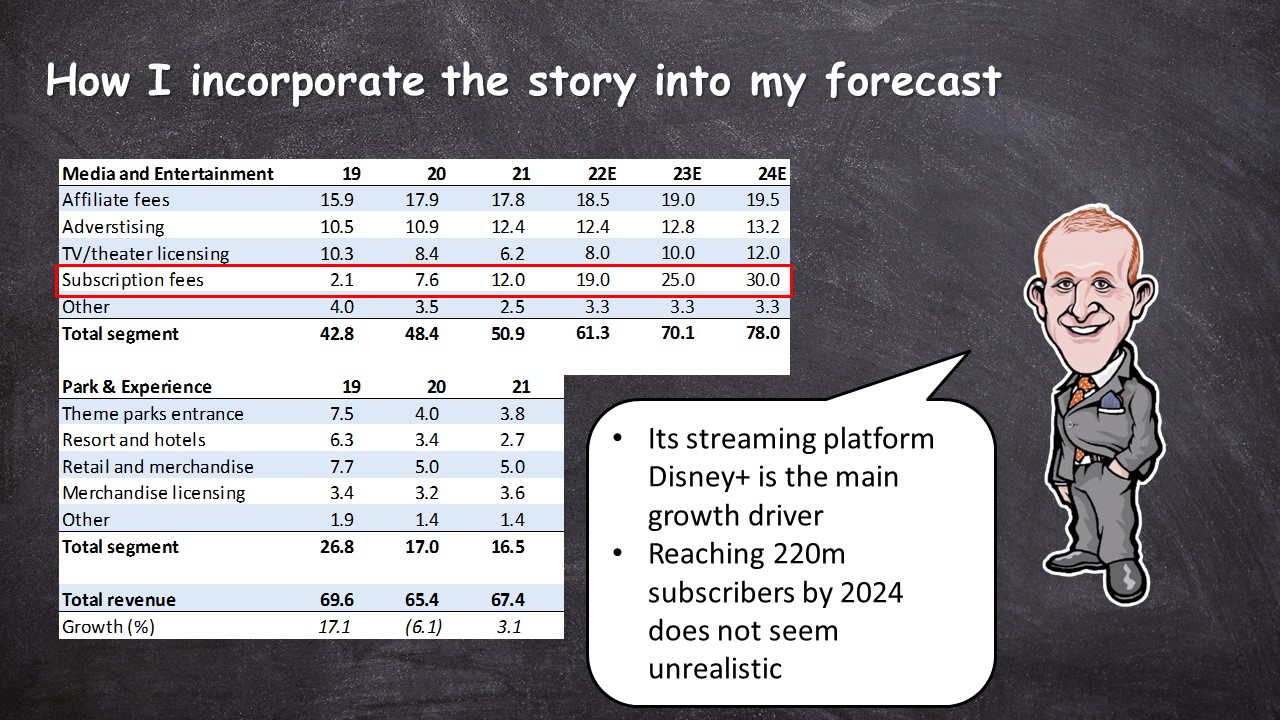 Its streaming platform Disney+ is the main growth driver
Reaching 220m subscribers by 2024 does not seem unrealistic
Parks and Experience segment could see a strong rebound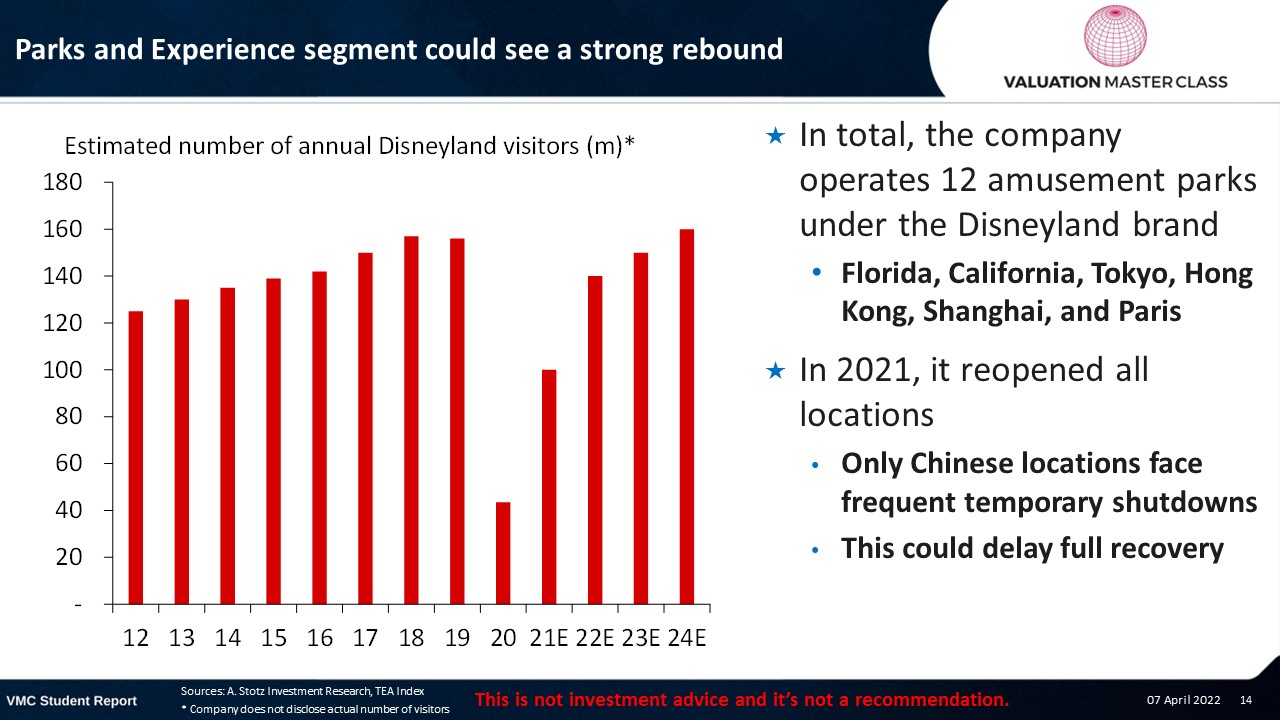 In total, the company operates 12 amusement parks under the Disneyland brand

Florida, California, Tokyo, Hong Kong, Shanghai, and Paris

In 2021, it reopened all locations

Only Chinese locations face frequent temporary shutdowns
This could delay full recovery
Revenue forecast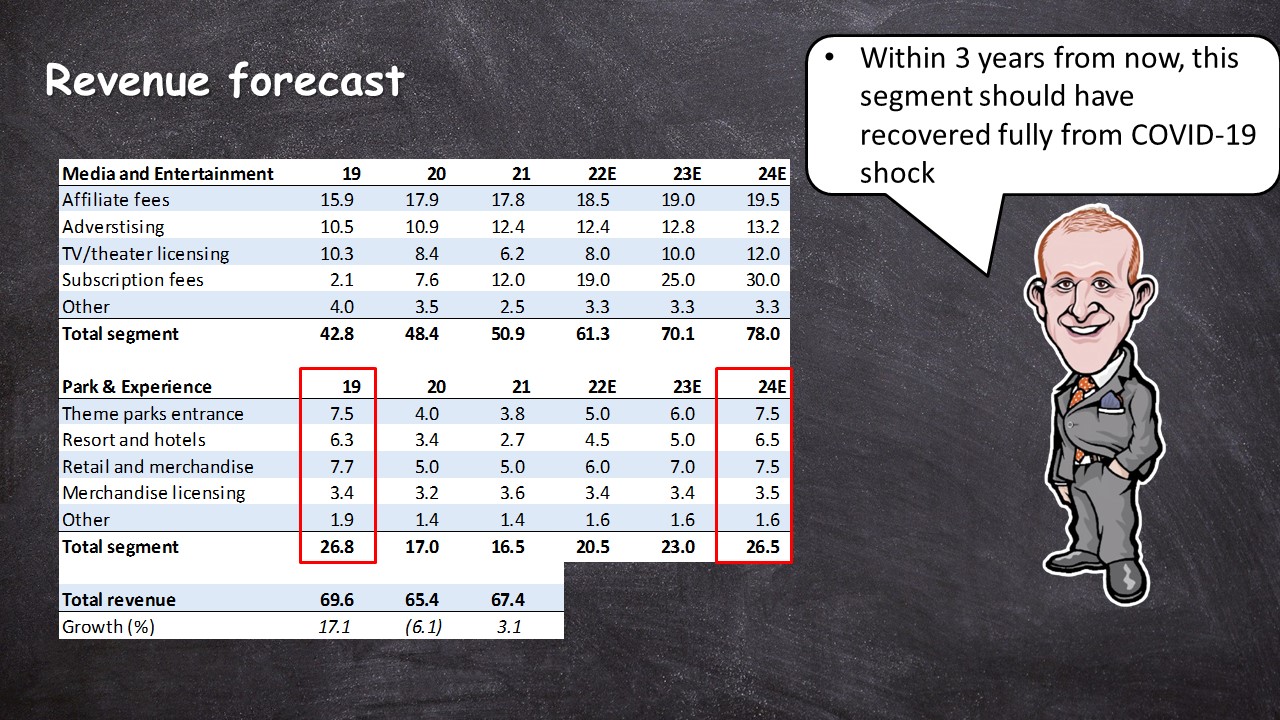 Within 3 years from now, this segment should have recovered fully from COVID-19 shock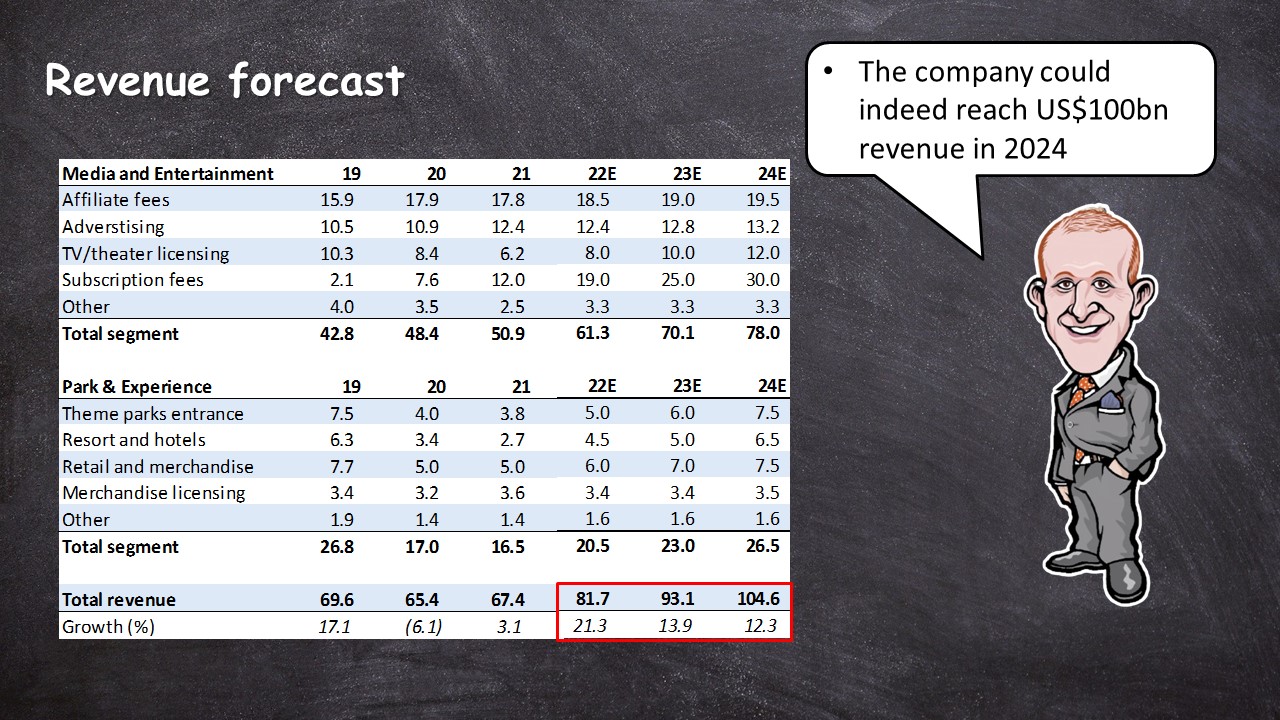 The company could indeed reach US$100bn revenue in 2024
Conclusions
We imposed two main assumptions

Full recovery of amusement parks, hotels, and merchandise revenue by 2024
Disney+ reaches more than 200m subscribers  by 2024 which is roughly equivalent to current Netflix subscribers

Under these assumptions, the US$100bn mark is possible
---
Download the full report as a PDF
---
DISCLAIMER: This content is for information purposes only. It is not intended to be investment advice. Readers should not consider statements made by the author(s) as formal recommendations and should consult their financial advisor before making any investment decisions. While the information provided is believed to be accurate, it may include errors or inaccuracies. The author(s) cannot be held liable for any actions taken as a result of reading this article.