Is Snapchat Suffering a Slow and Painful Death?
What's interesting about Snapchat is that its share price is 88% below its  Sep'21 all-time high
---
Download the full report as a PDF
---
The rise and fall of Snapchat's share price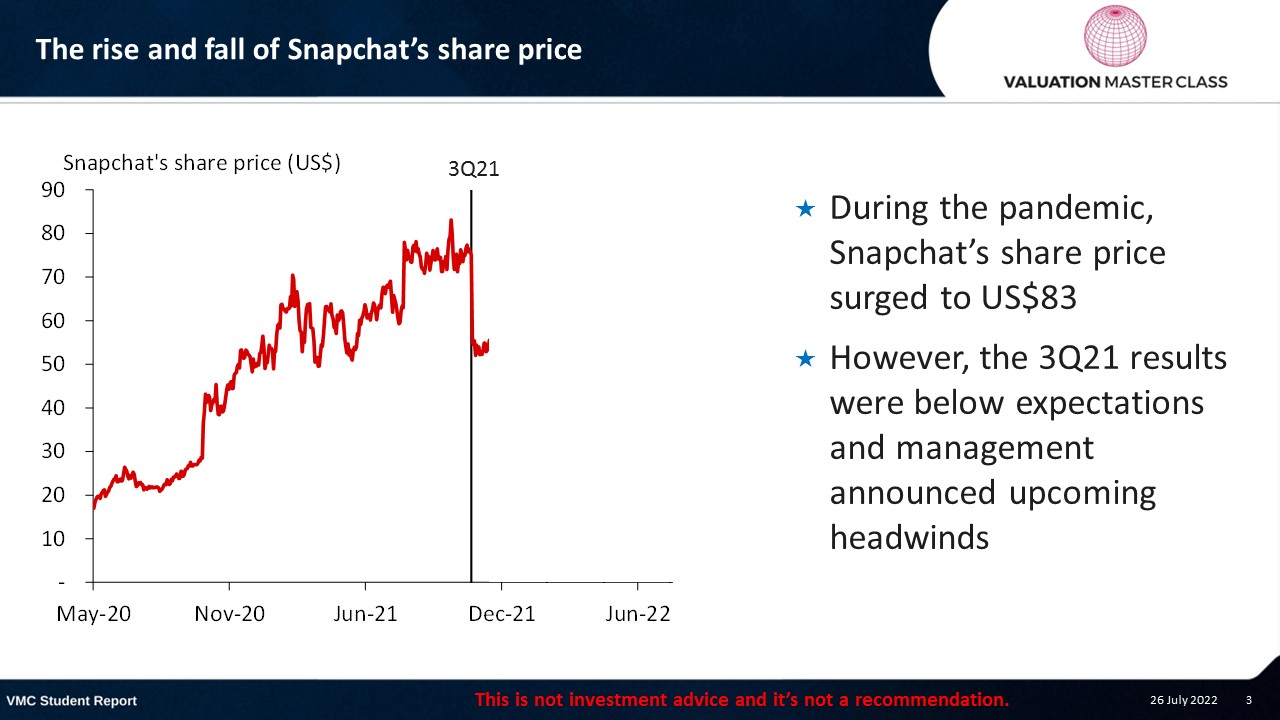 During the pandemic, Snapchat's share price surged to US$83
However, the 3Q21 results were below expectations and management announced upcoming headwinds
The rise and fall of Snapchat's share price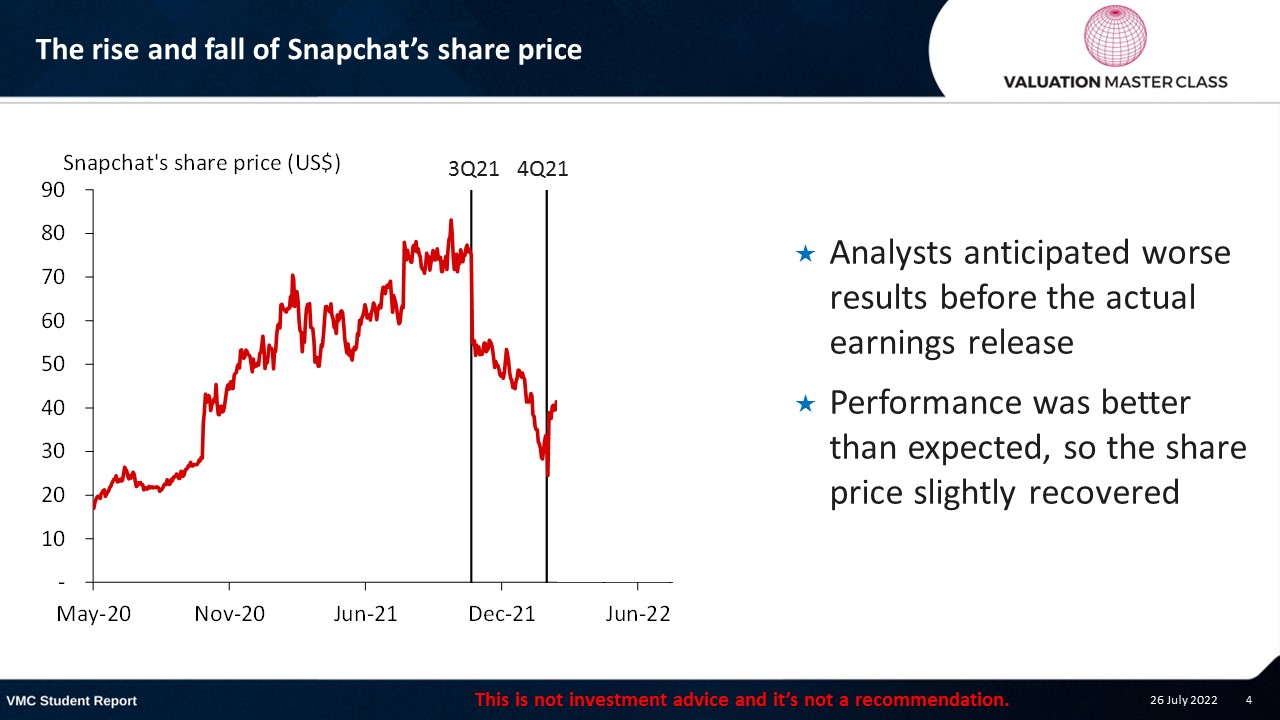 Analysts anticipated worse results before the actual earnings release
Performance was better than expected, so the share price slightly recovered
The rise and fall of Snapchat's share price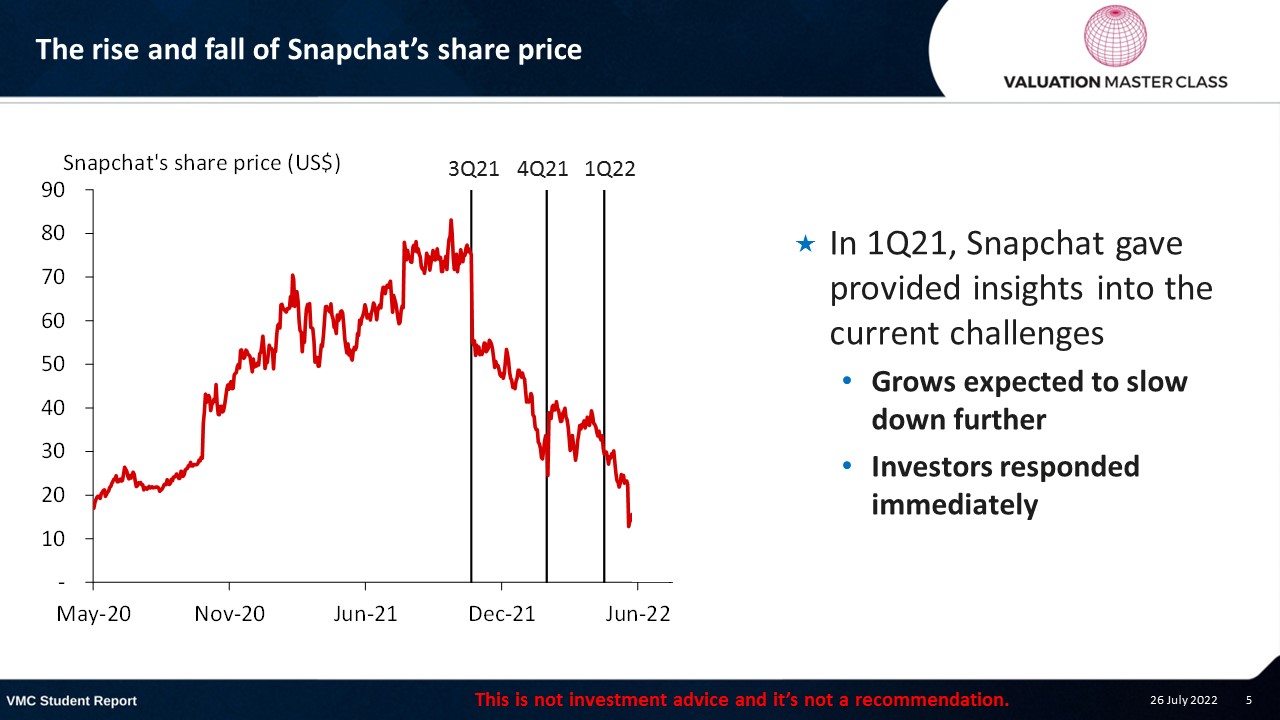 In 1Q21, Snapchat gave provided insights into the current challenges

Grows expected to slow down further
Investors responded immediately
The rise and fall of Snapchat's share price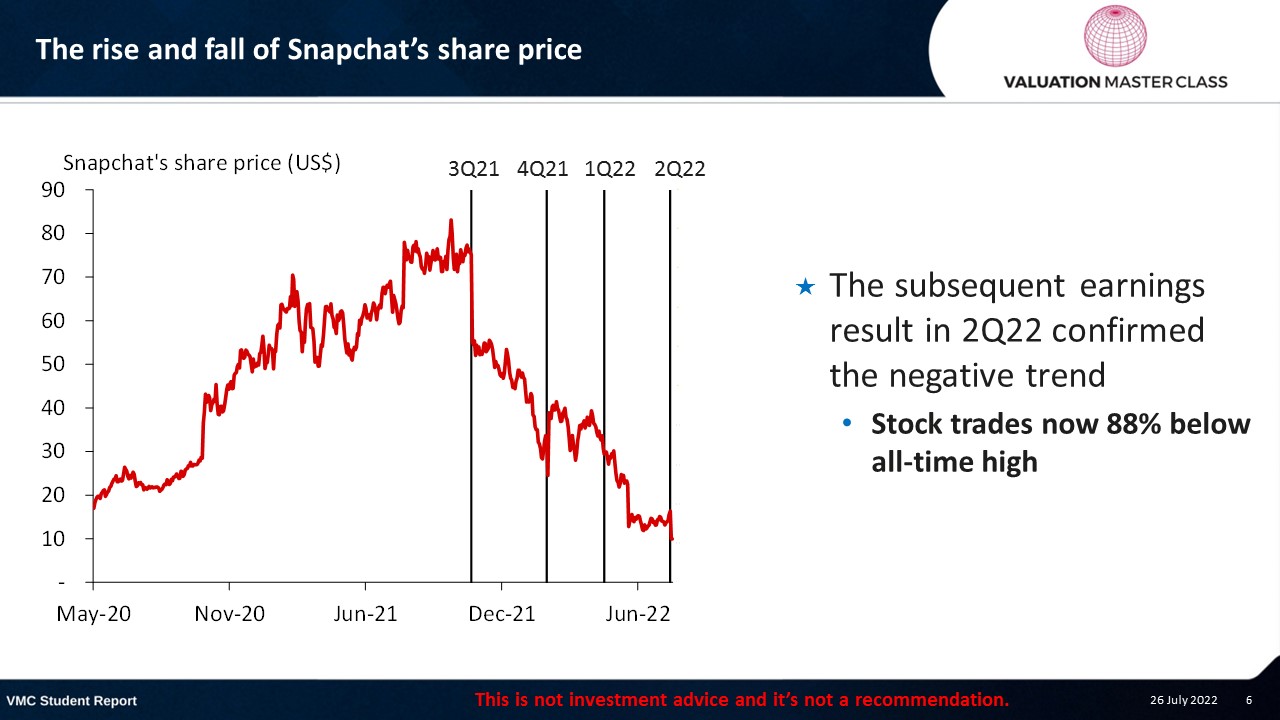 The subsequent earnings result in 2Q22 confirmed the negative trend

Stock trades now 88% below all-time high
Let's go to the latest quarterly update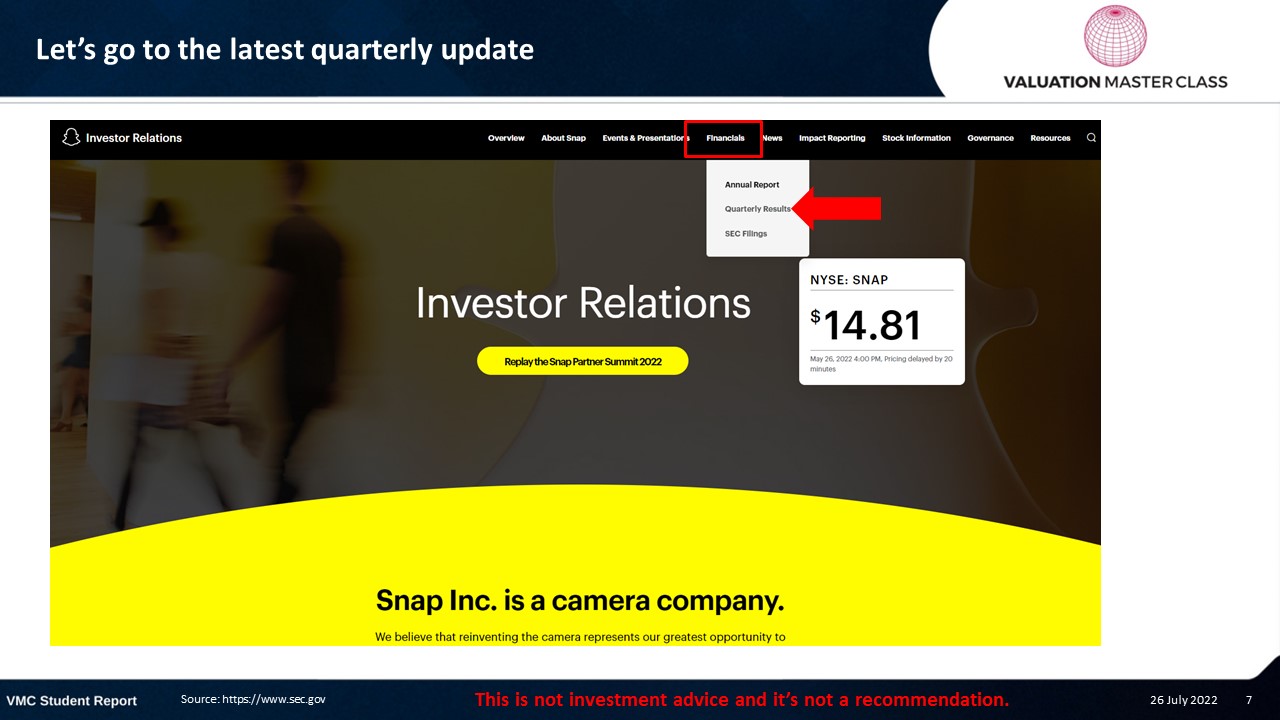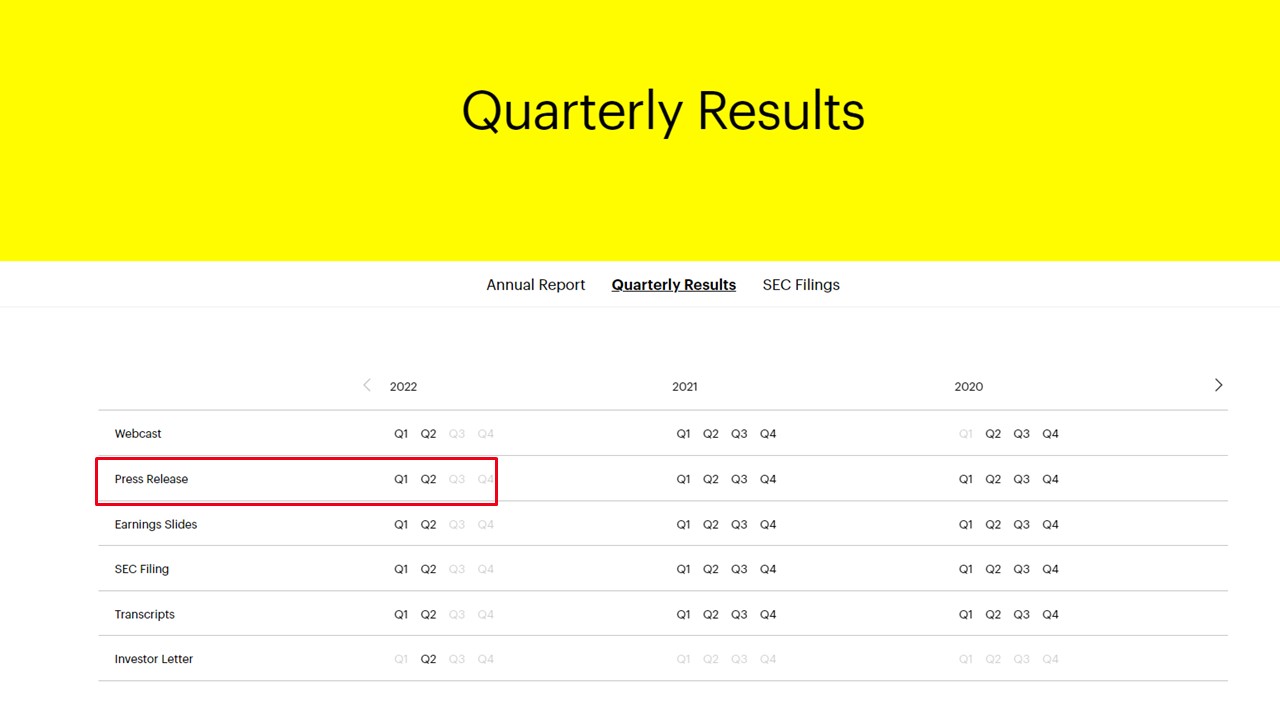 How does the management assess the situation?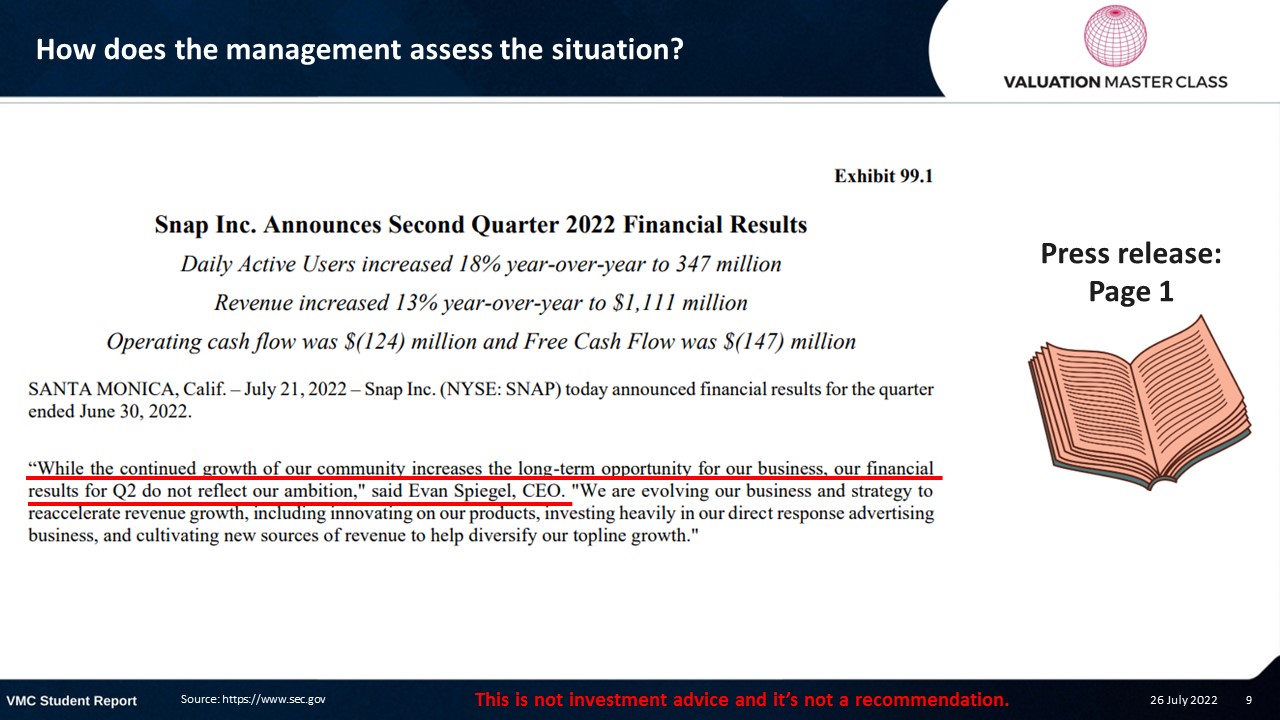 First, you need to understand the underlying drivers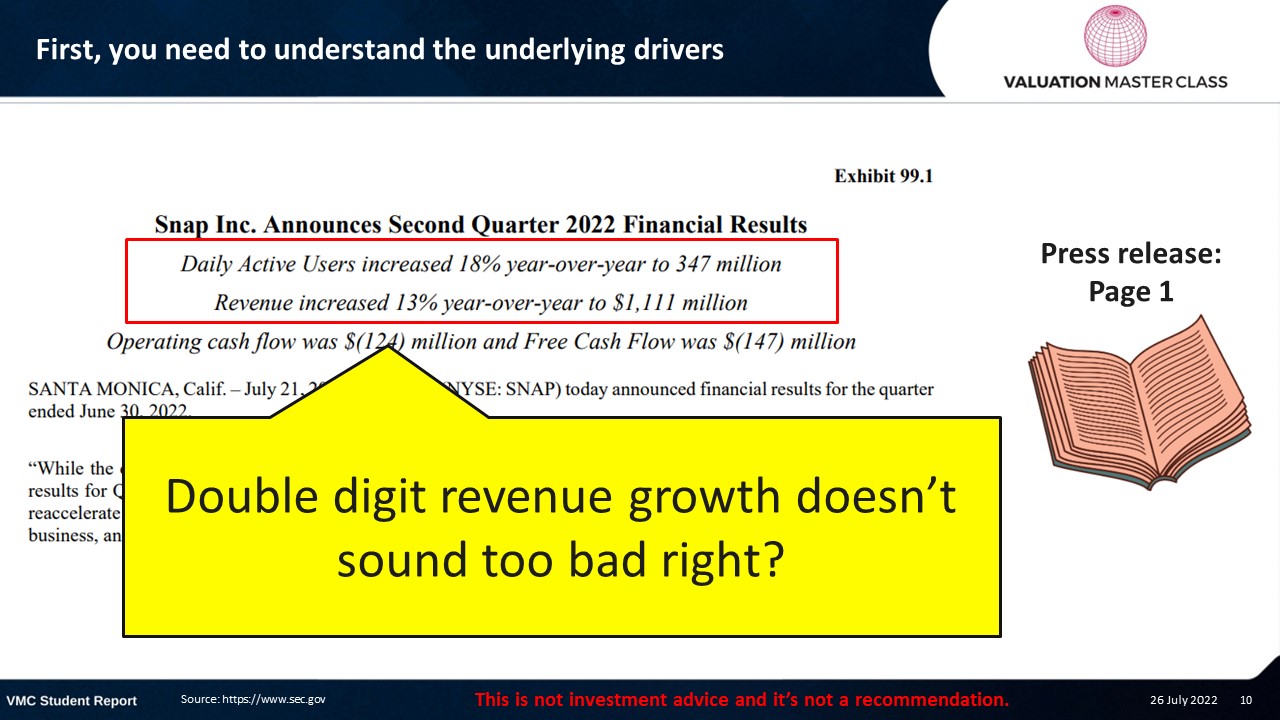 Master tip: It is always about the surprise component
Don't look at numbers in isolation

Always compare them with expectations

Only the unexpected part of an announcement impacts the share price

This is an important lesson, that many investors fail to apply
In the case of Snapchat, investors expected much higher growth than 13%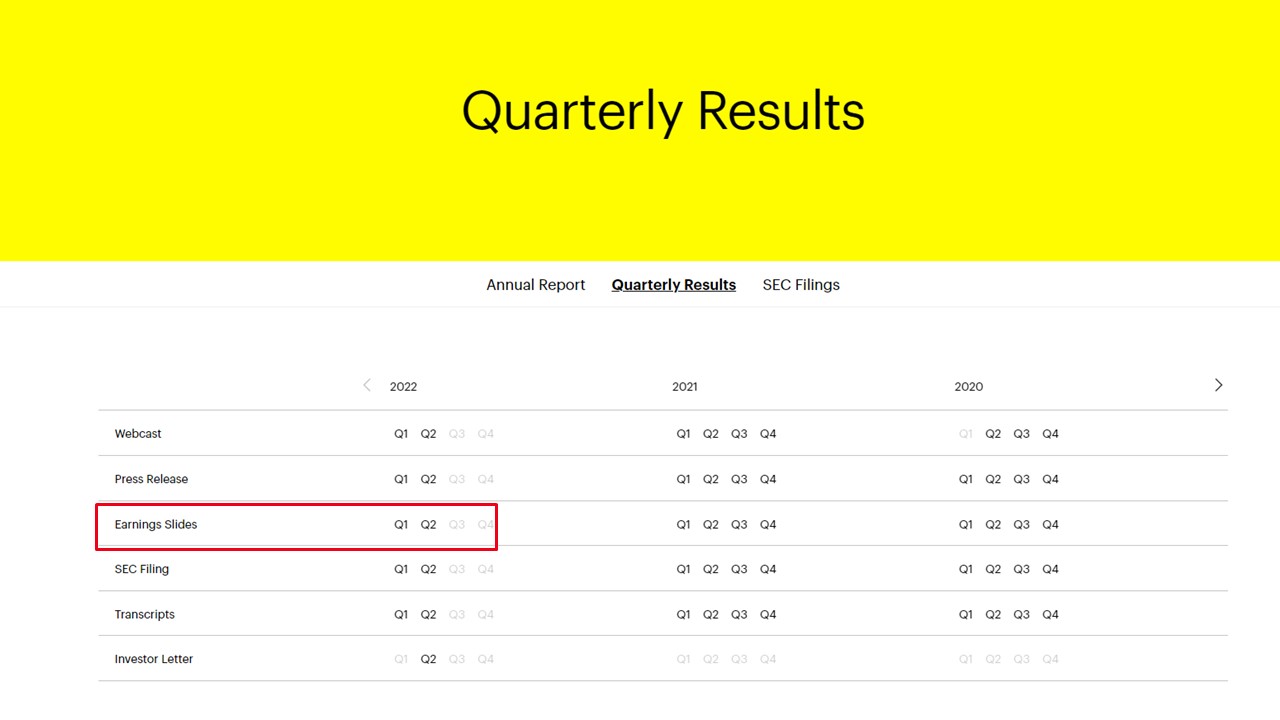 What are internal revenue drivers?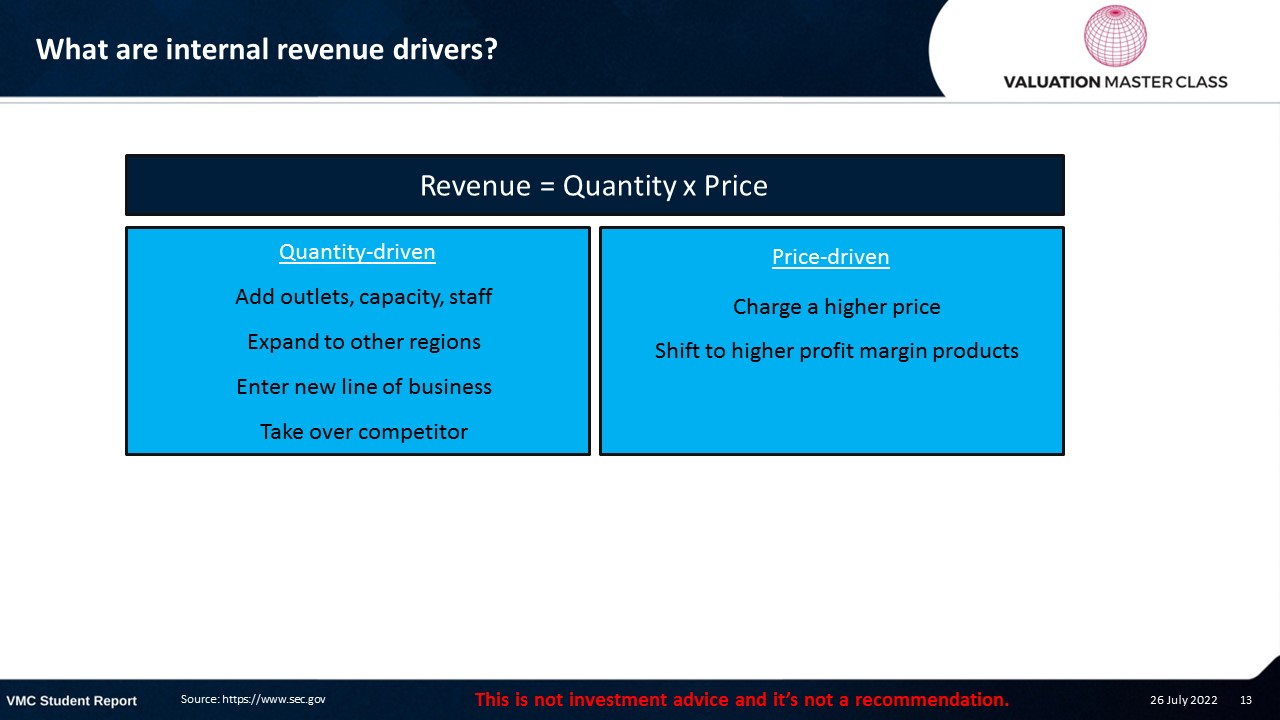 What possibilities does Snapchat have to increase revenue?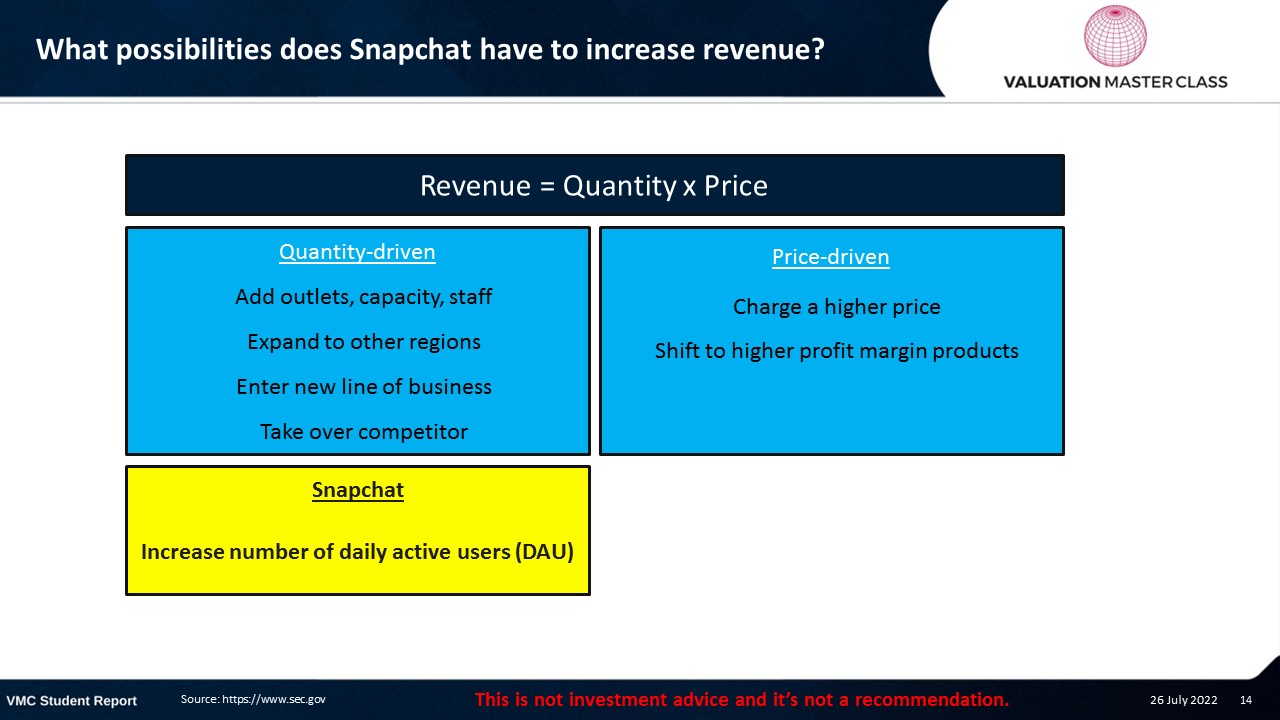 Snapchat was able to rapidly increase its users over time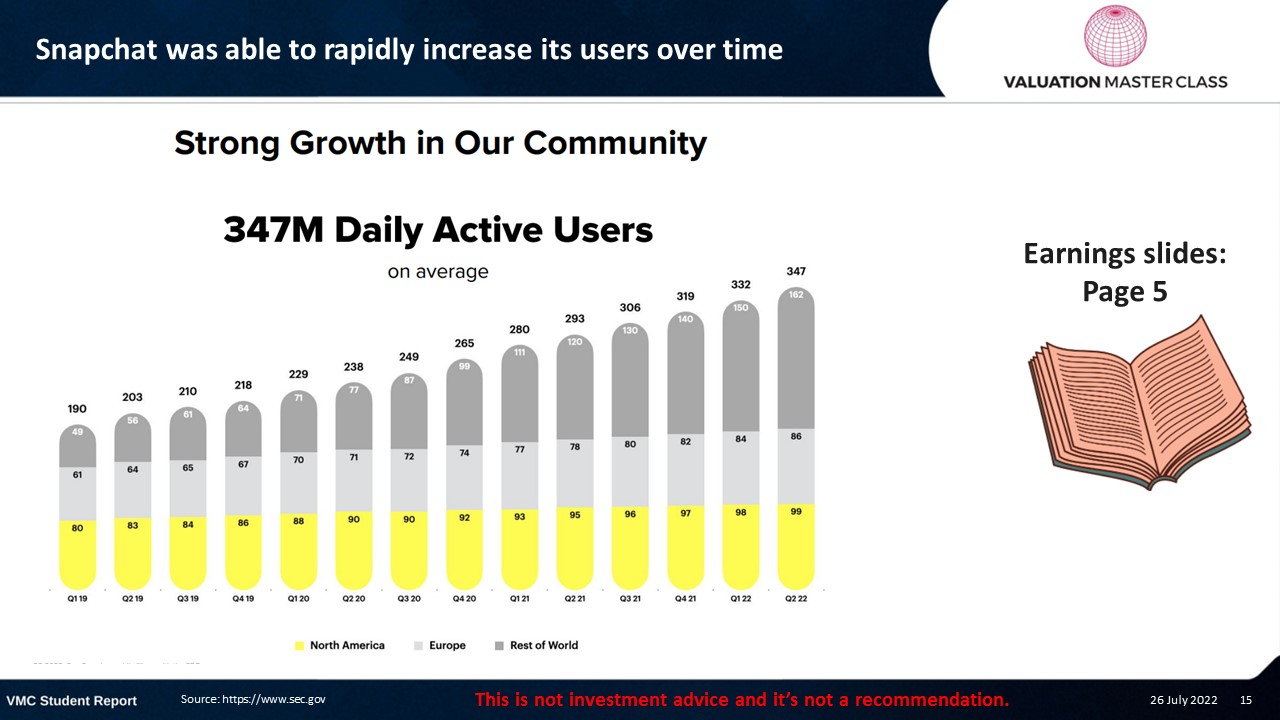 North America and Europe start maturing, Asia drives growth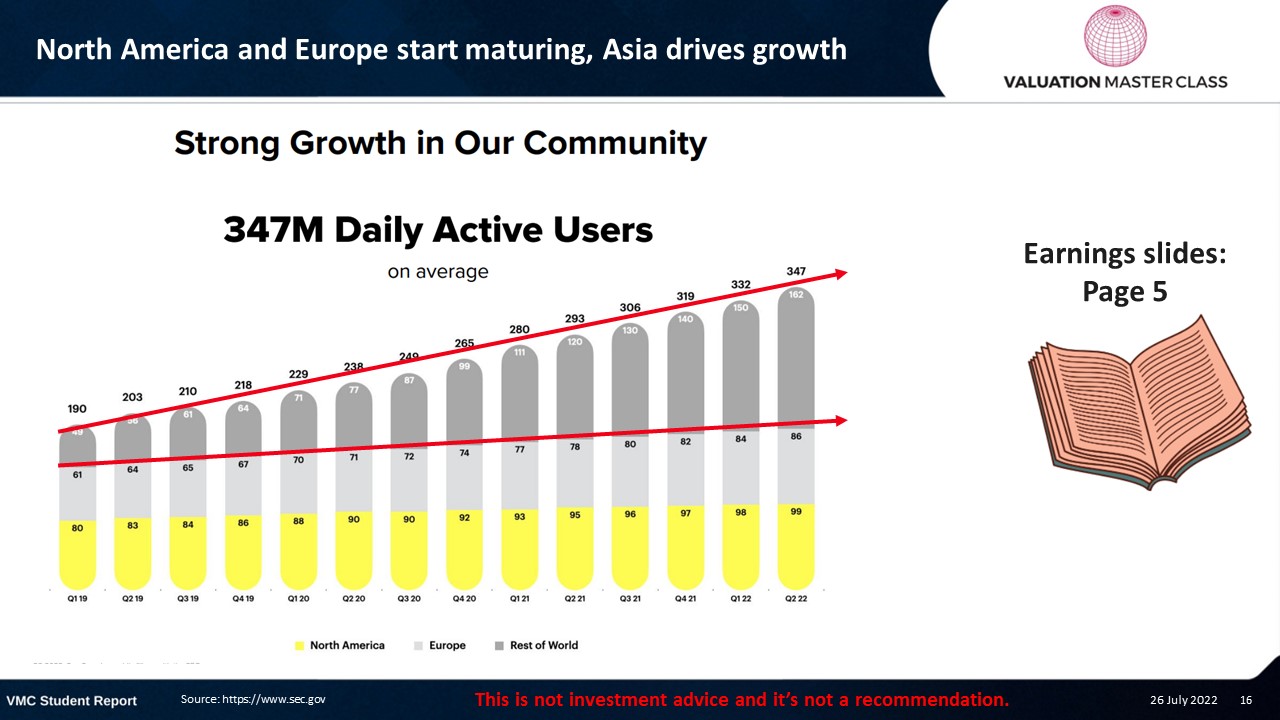 Internal revenue drivers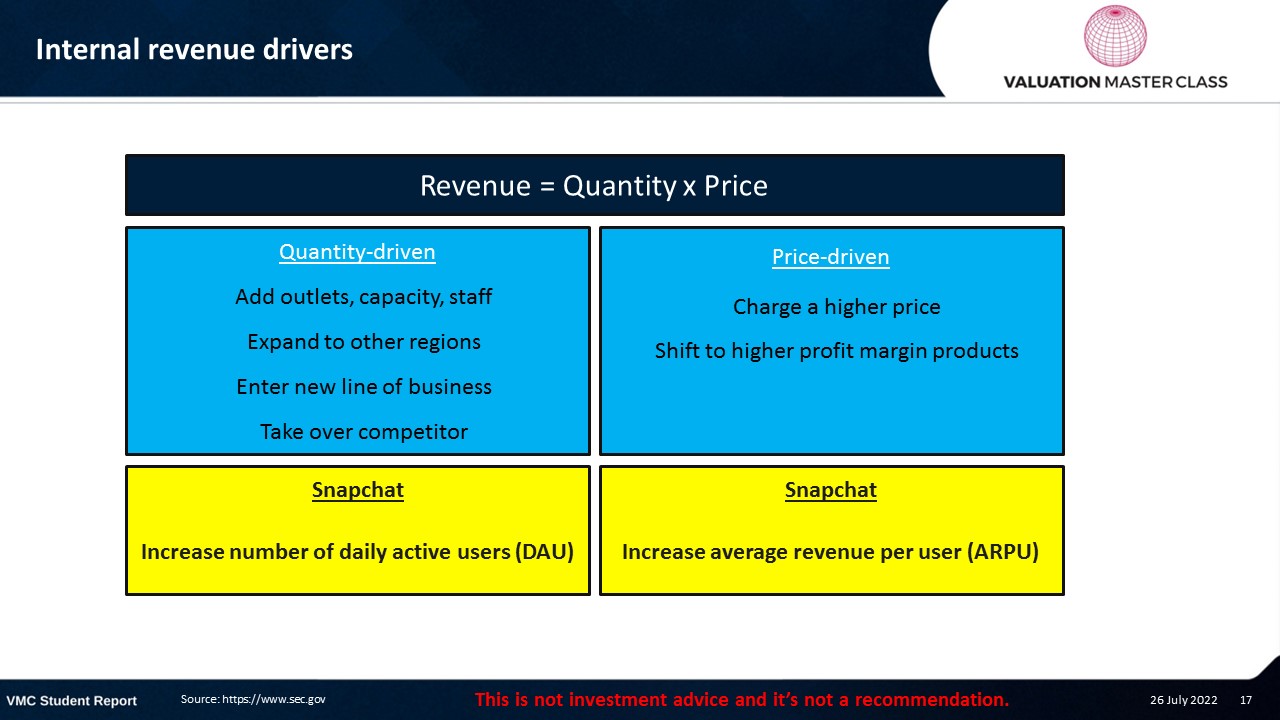 Snapchat has still difficulties monetizing its users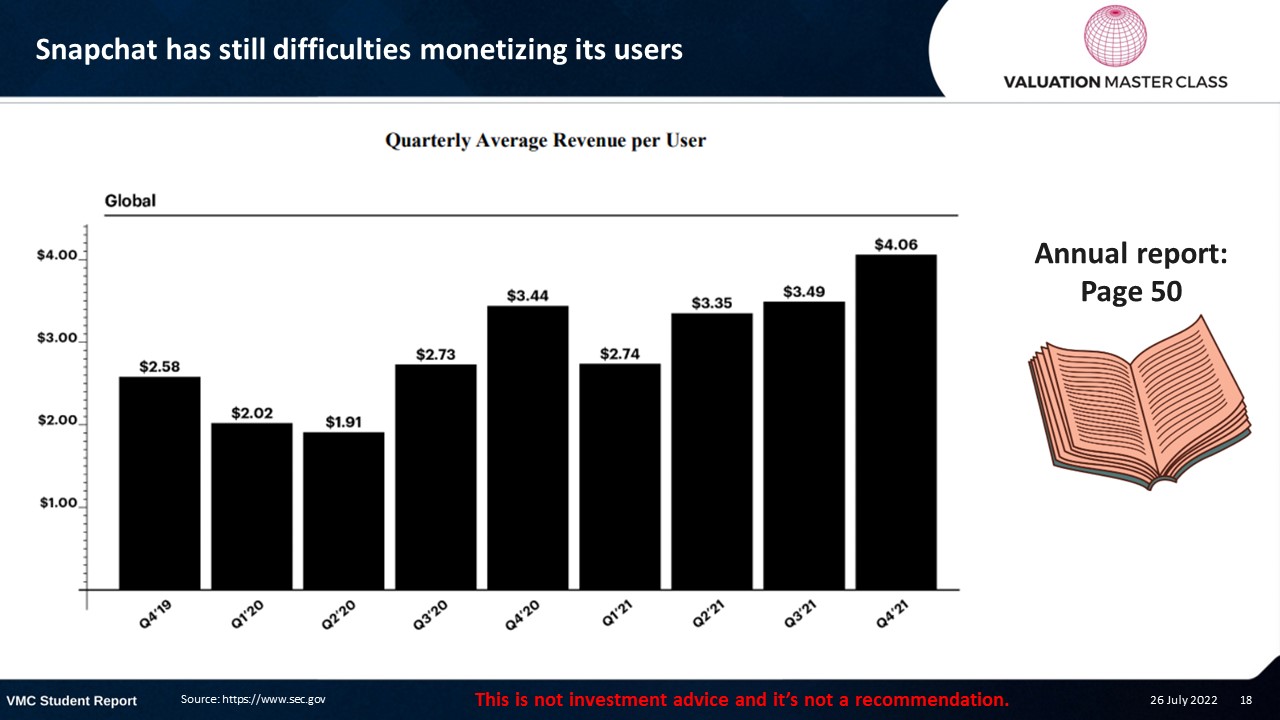 Though, it makes some progress in the US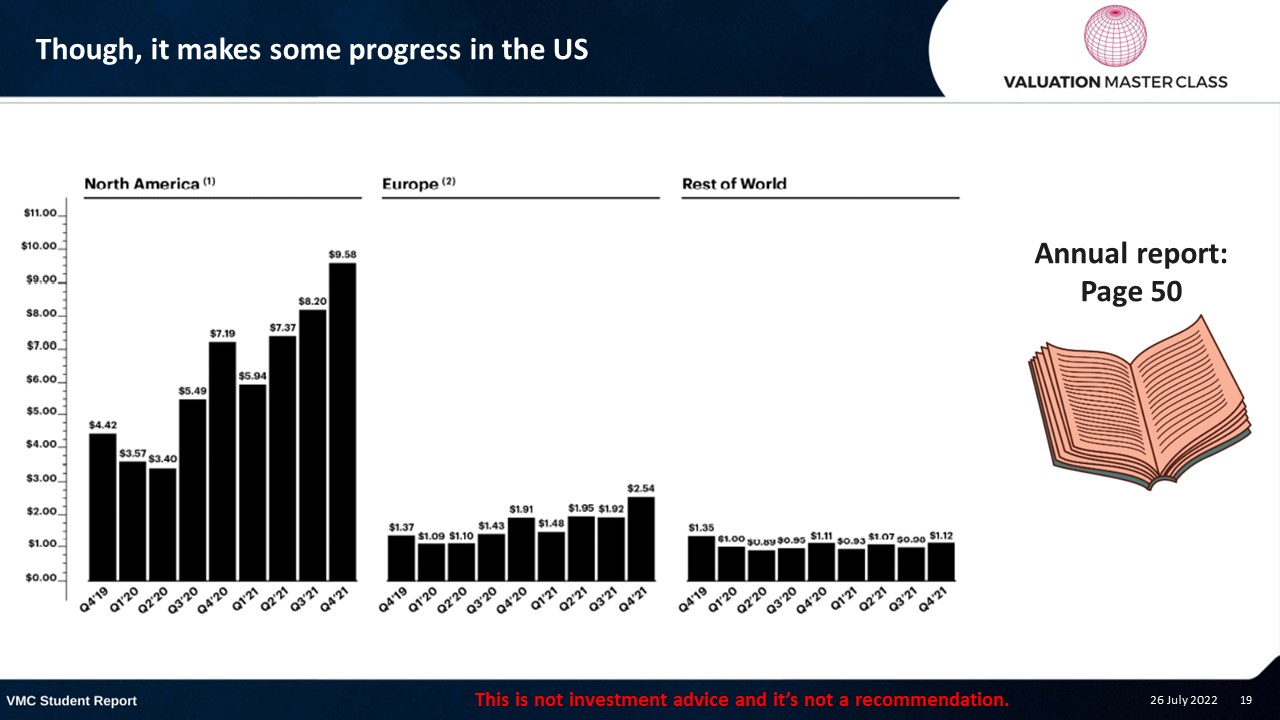 From the annual report, we extract the data for quantity and price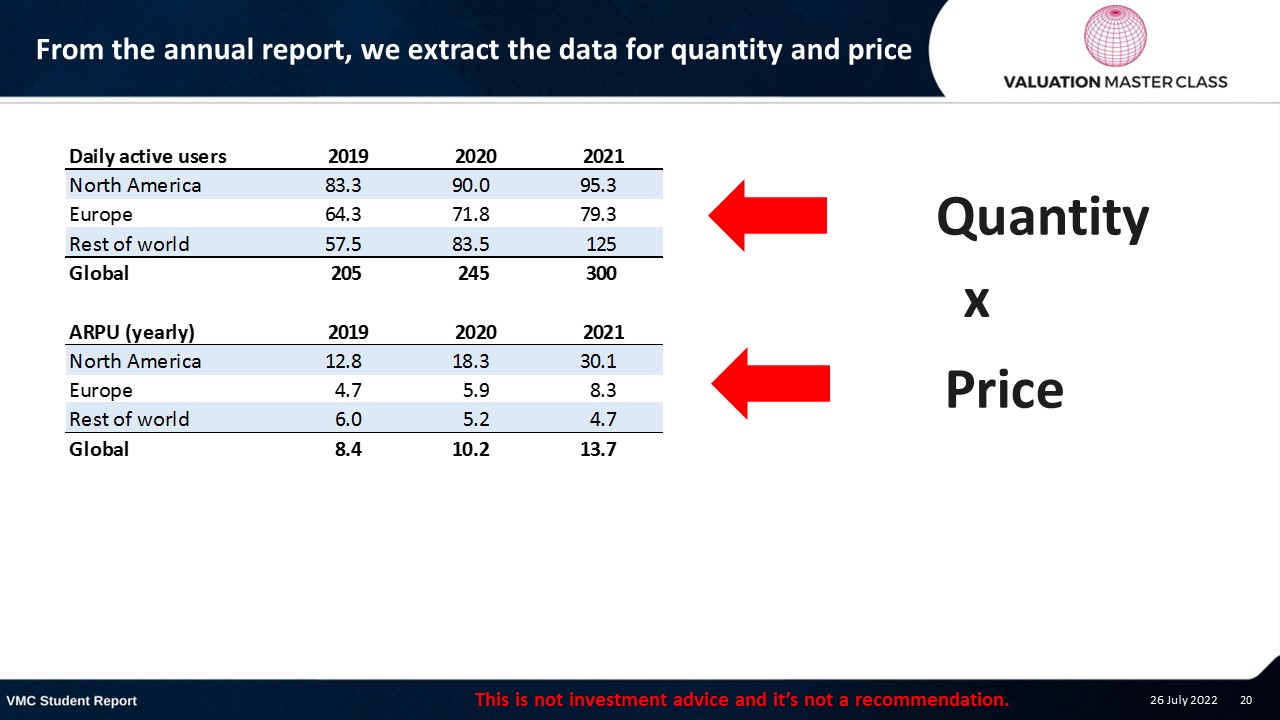 Revenue is automatically calculated by simple multiplication

Now, we have our framework for forecasting revenue

Next, we want to understand the latest business developments

Snapchat sees a massive opportunity to expand

It estimates the total addressable market to be the number of global smartphone users

That's why the penetration rate looks rather small and there seems to be a massive potential
But…
The relevant market is mainly just young generation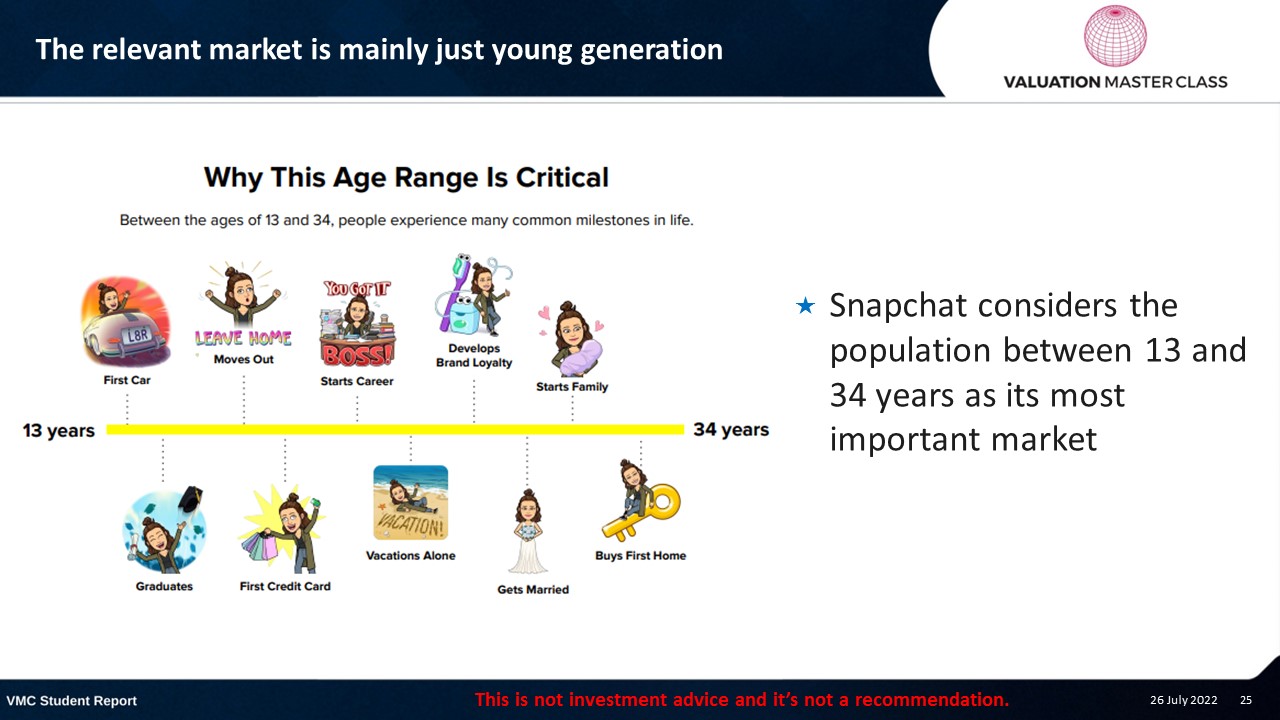 Snapchat considers the population between 13 and 34 years as its most important market
Penetration is already high for the main target group

«In developed markets, the penetration rate is close to maximum
This means that growing quantity (number of users) likely must come from emerging markets, in particular, Asia
Low growth for US and Europe, higher growth for rest of the world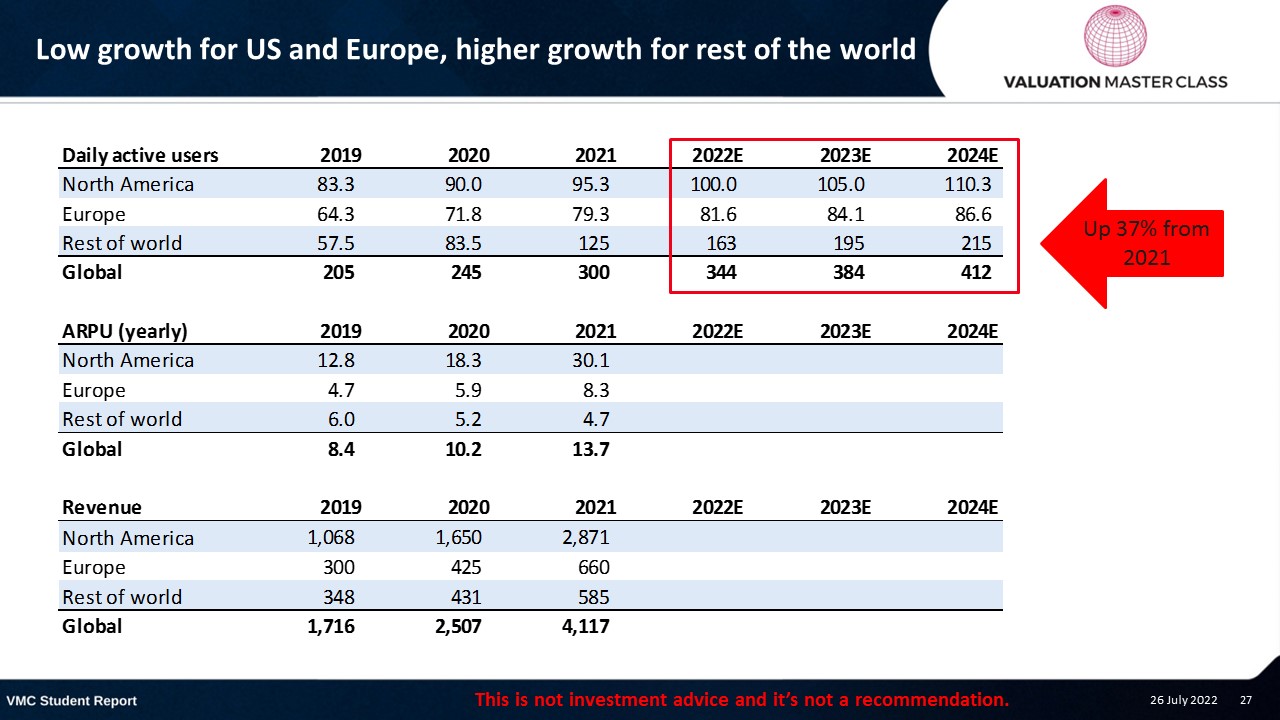 Now, we forecast the price component

How good is Snapchat in monetizing its users?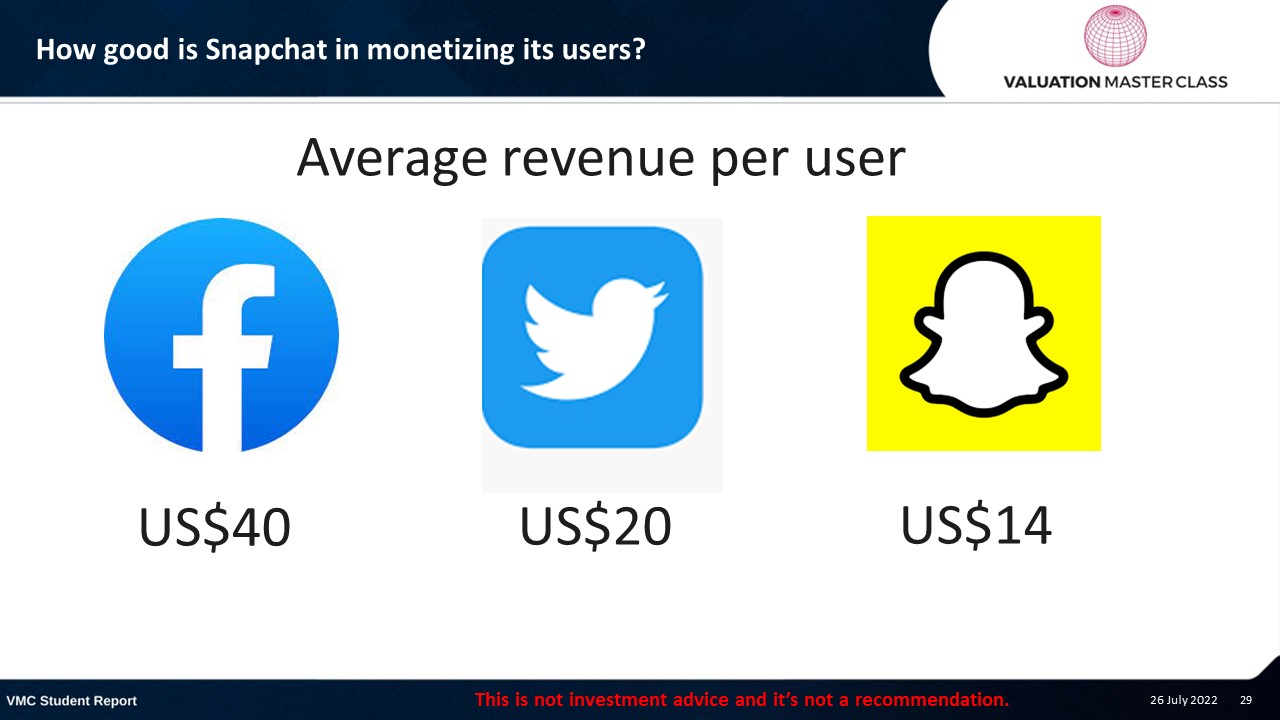 The US market seems to be the easiest one to monetize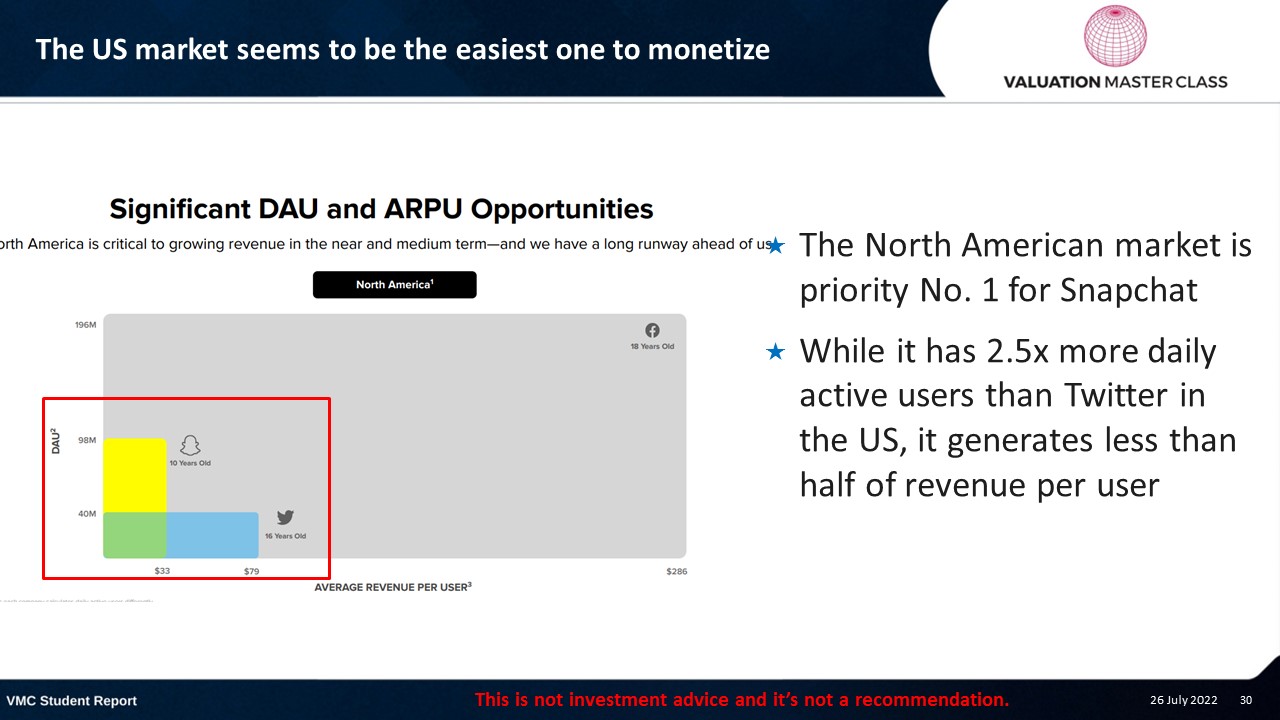 The North American market is priority No. 1 for Snapchat
While it has 2.5x more daily active users than Twitter in the US, it generates less than half of revenue per user
We don't believe that it finds a way to monetize its users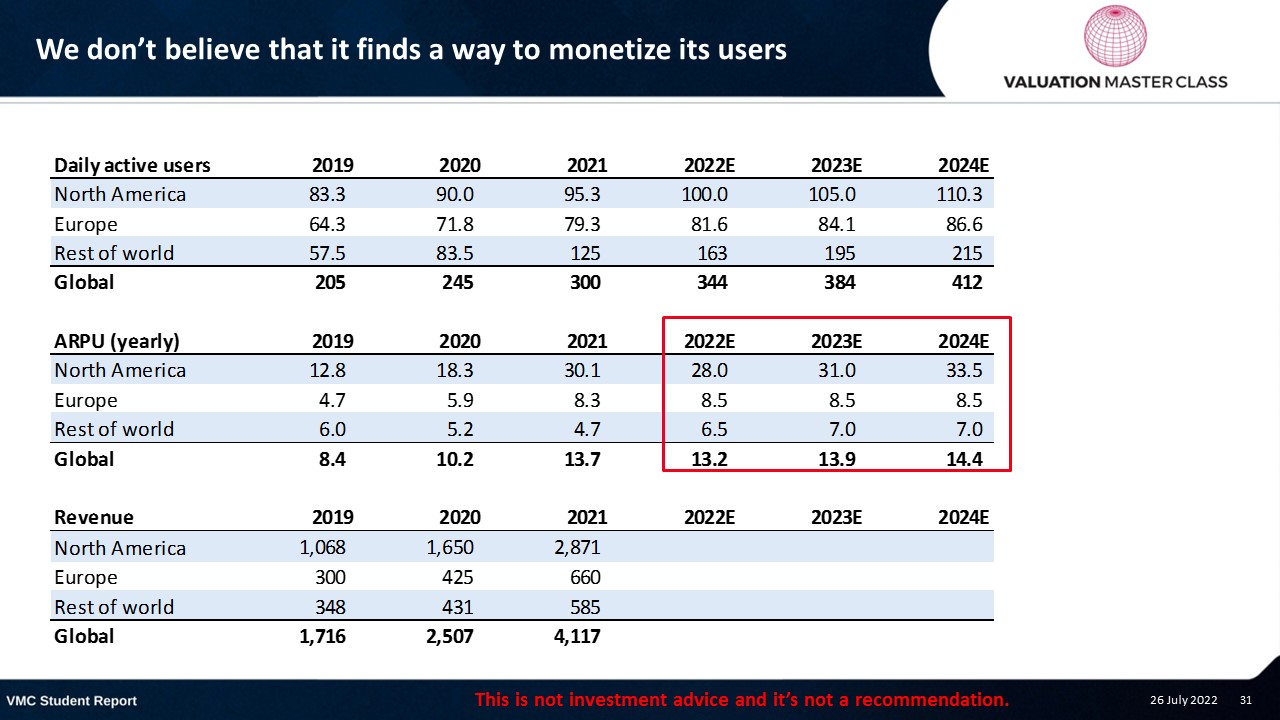 Revenue is calculated automatically; forecast is complete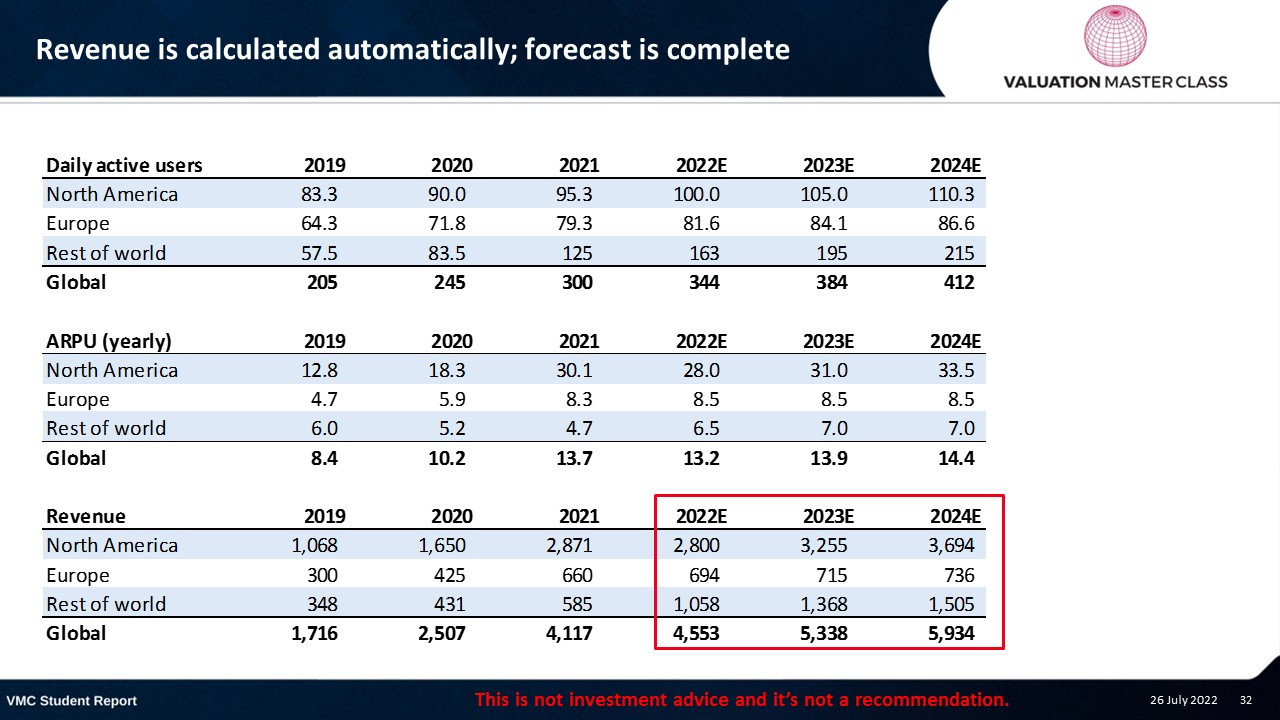 In April, Snapchat has written the following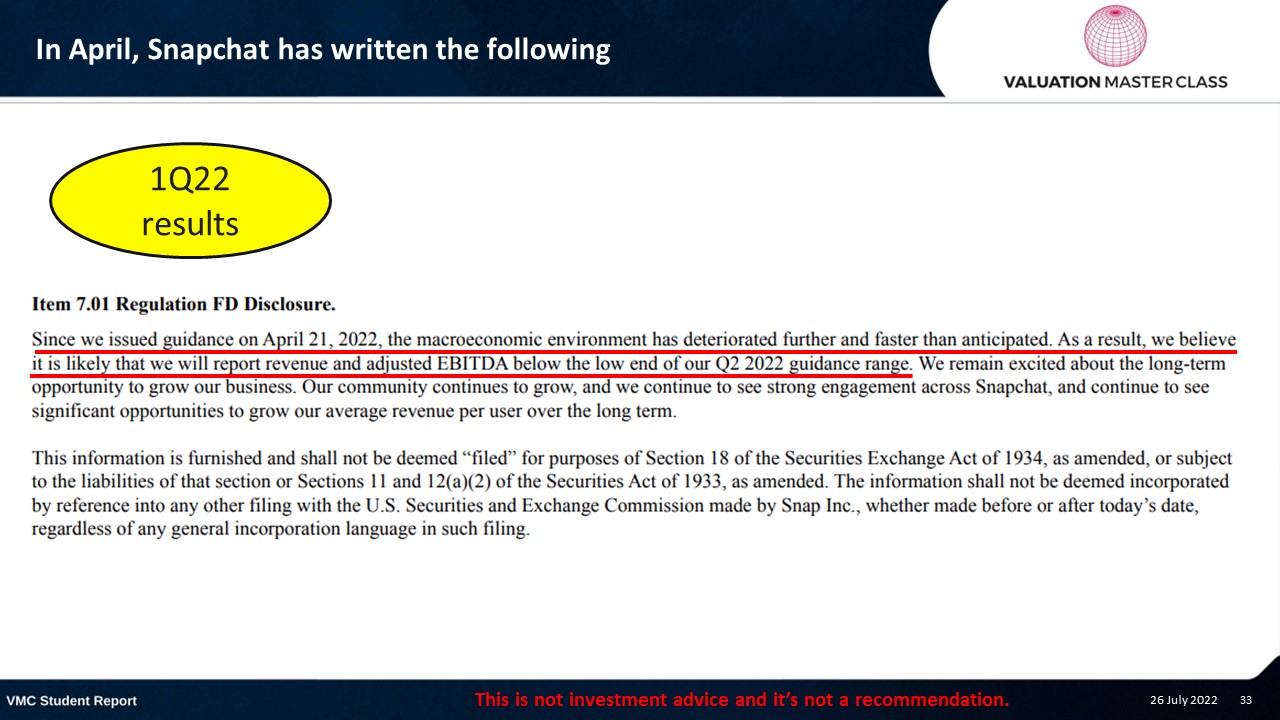 In July, the message got even worse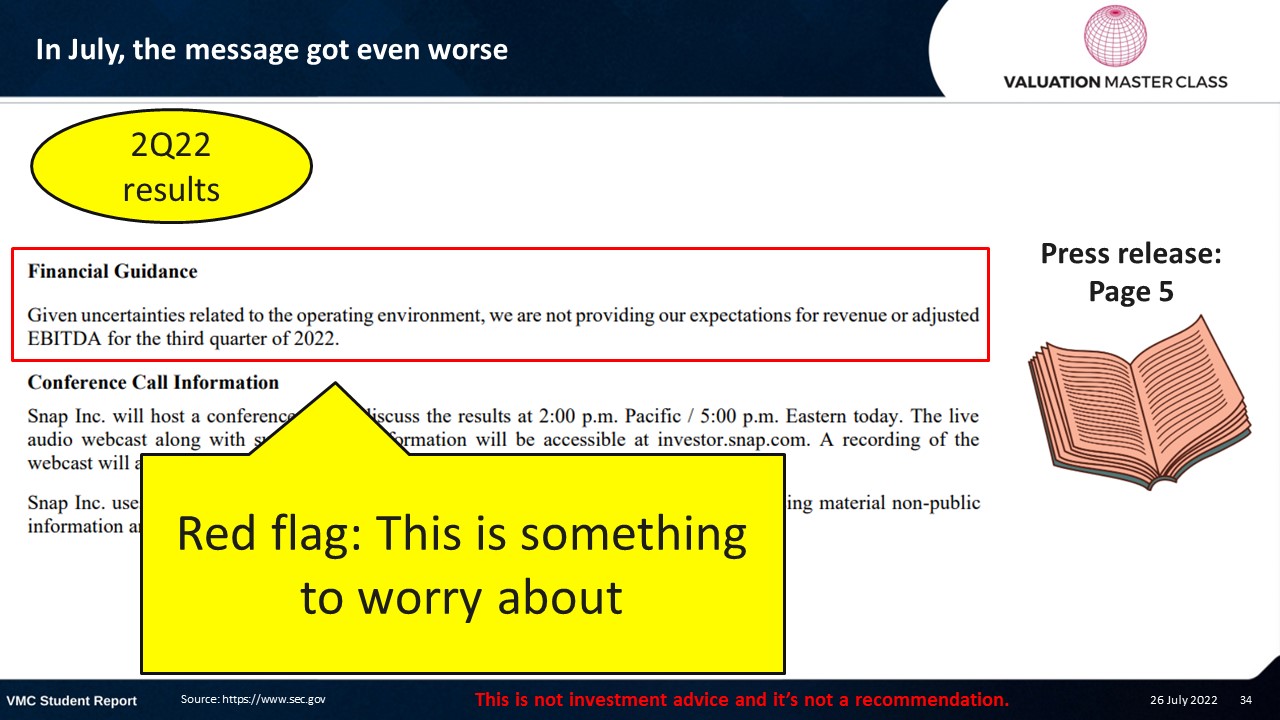 In fact, we are not that smarter than before
A company always has more information than any investor

The company did not provide any guidance on how bad the impact actually is

The only thing we can take away from the company's statement is to reconsider our revenue drivers
But if we take a look at Snapchat's fundamentals, the market correction was just a question of time…
Compare fundamentals: Gross profit margin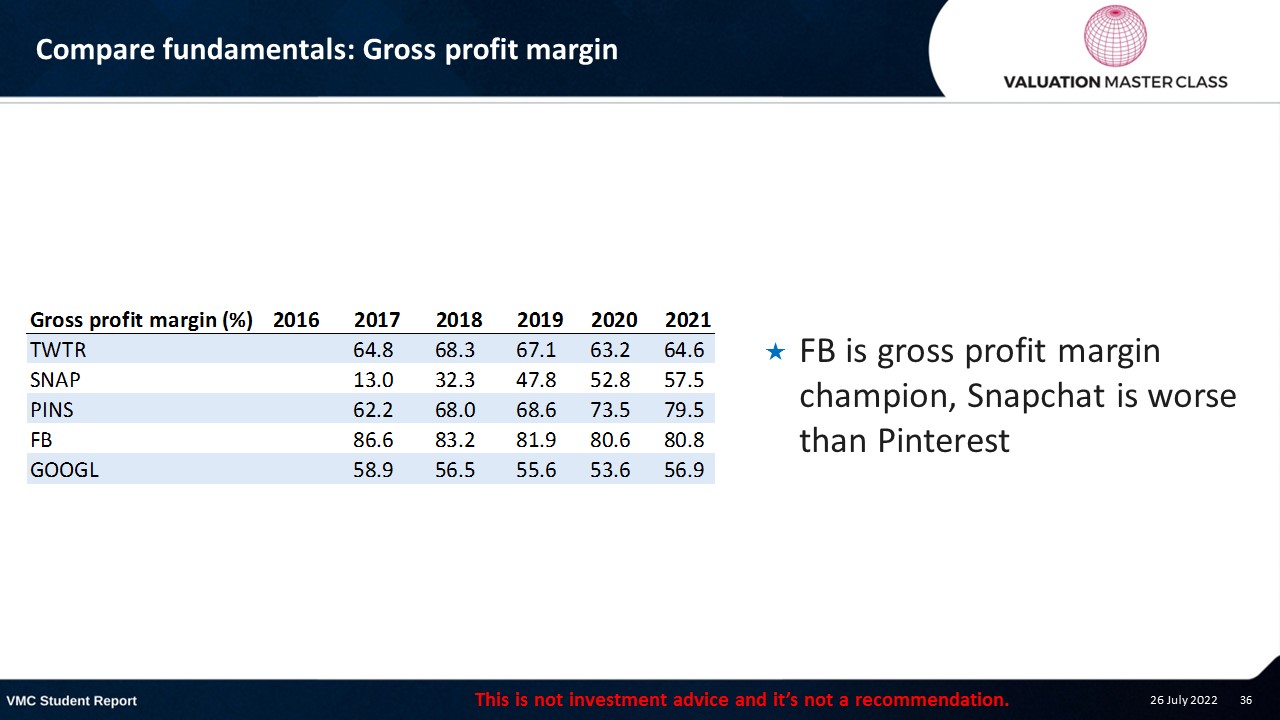 FB is gross profit margin champion, Snapchat is worse than Pinterest
Compare fundamentals: EBIT margin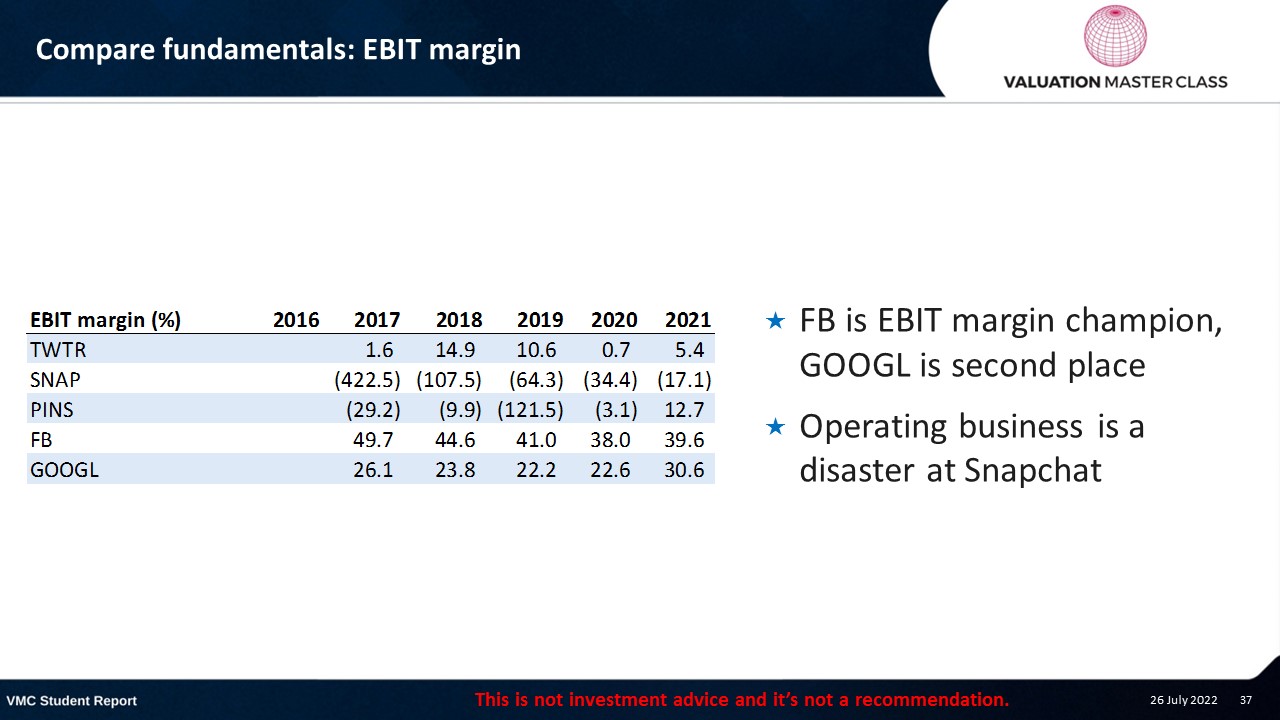 FB is EBIT margin champion, GOOGL is second place
Operating business is a disaster at Snapchat
Compare fundamentals: Net margin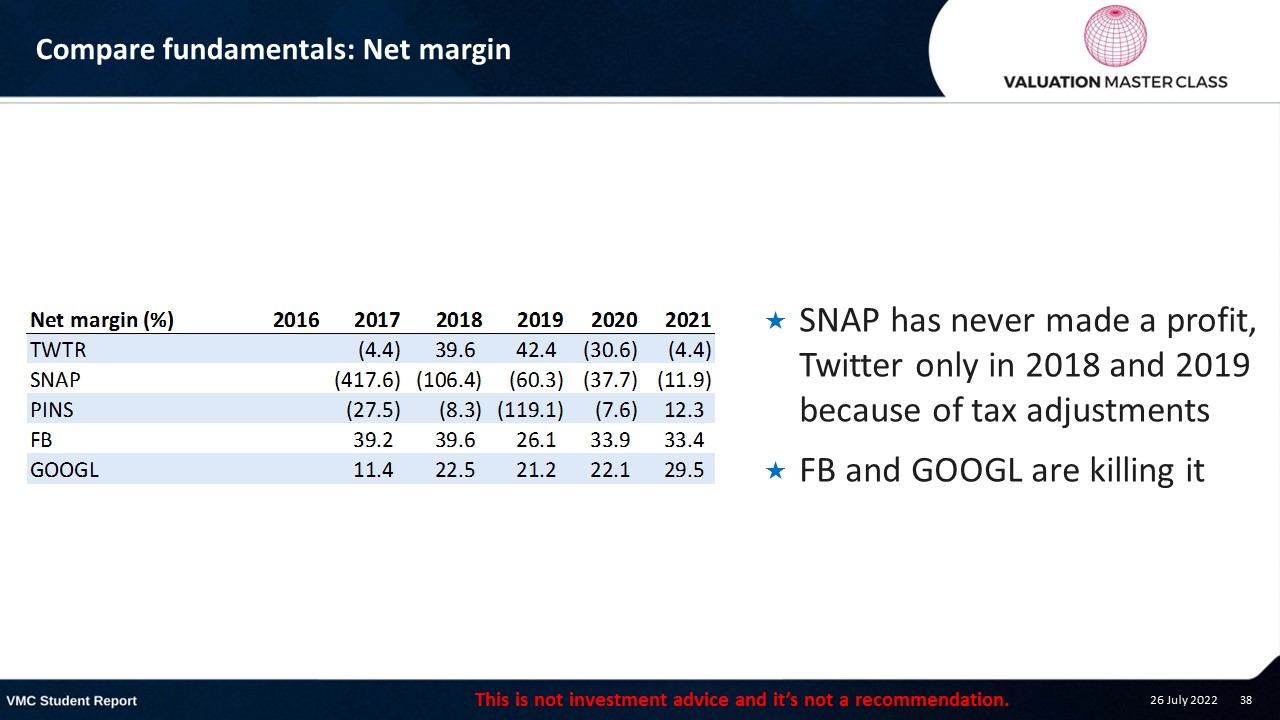 SNAP has never made a profit, Twitter only in 2018 and 2019 because of tax adjustments
FB and GOOGL are killing it
Compare fundamentals: Free cash flow to the firm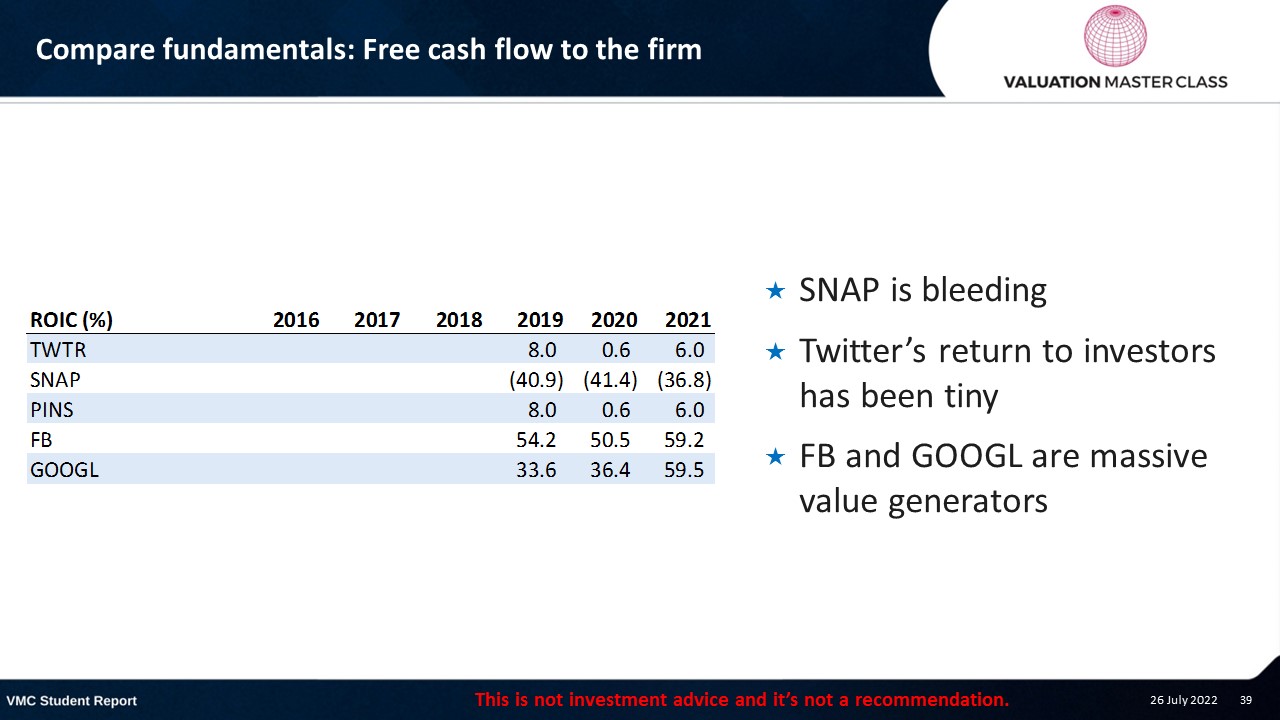 SNAP is bleeding
Twitter's return to investors has been tiny
FB and GOOGL are massive value generators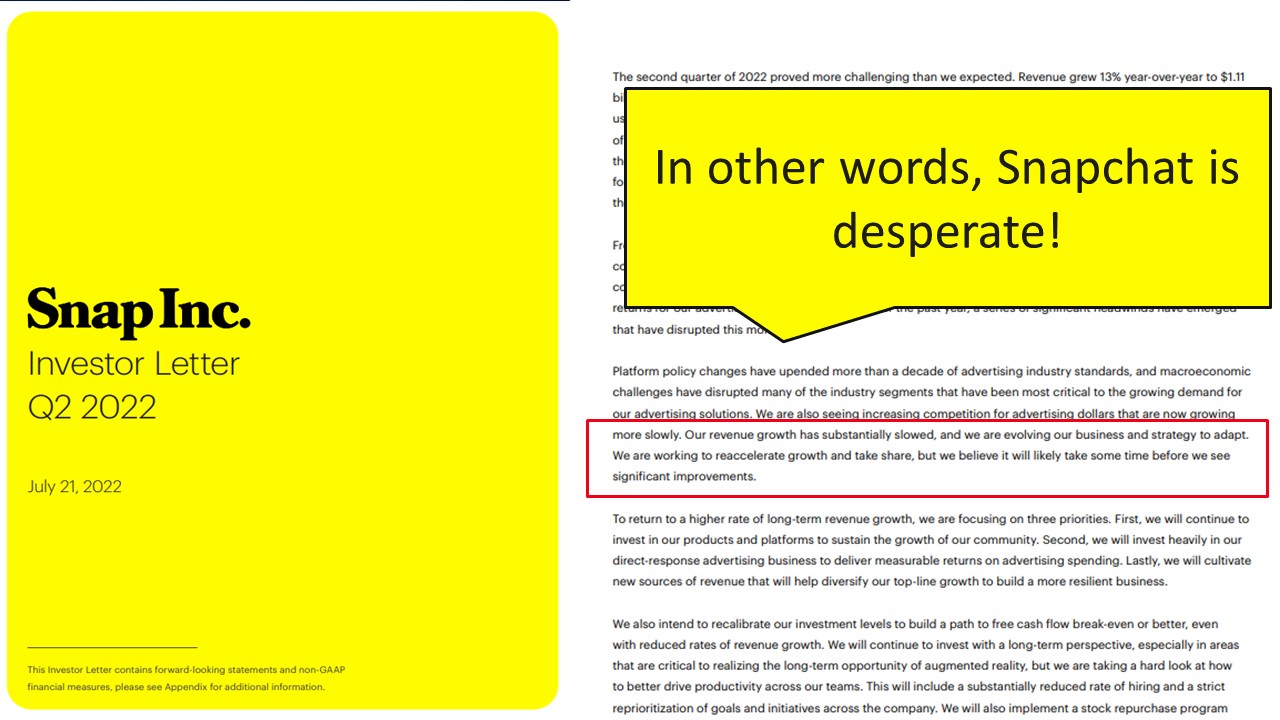 Analyst have been wrong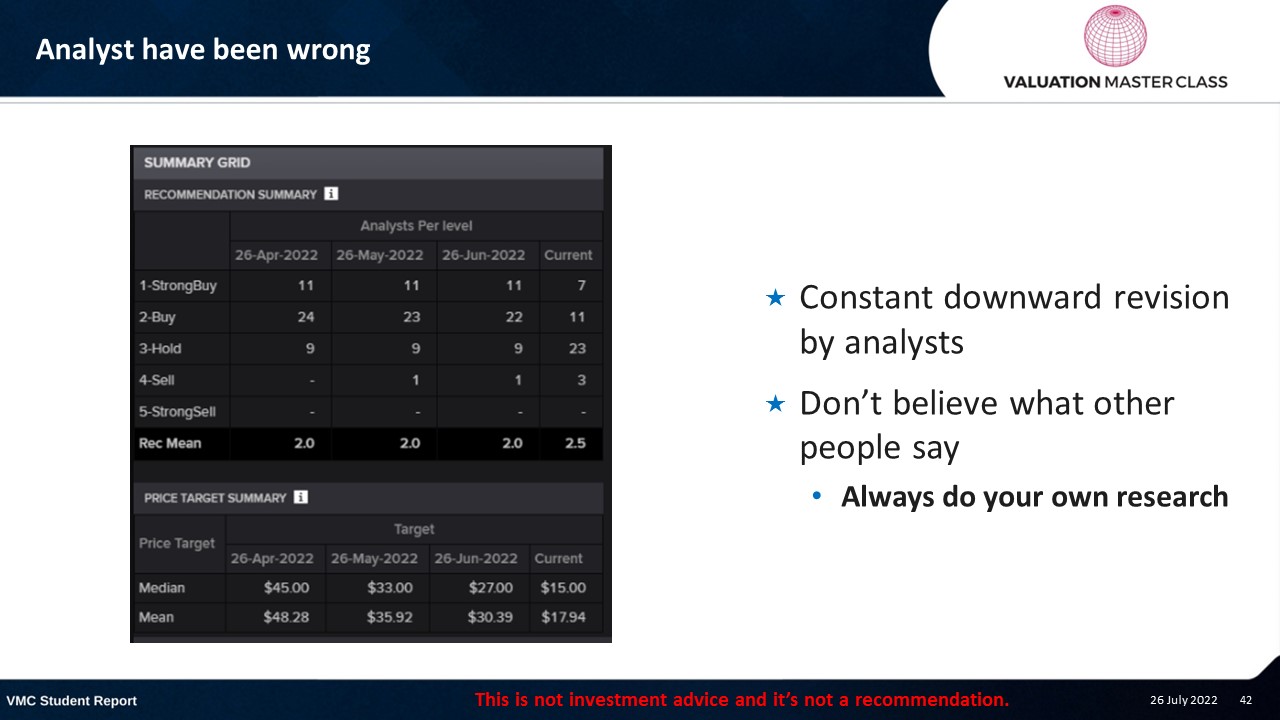 Constant downward revision by analysts
Don't believe what other people say

Always do your own research
---
Download the full report as a PDF
---
DISCLAIMER: This content is for information purposes only. It is not intended to be investment advice. Readers should not consider statements made by the author(s) as formal recommendations and should consult their financial advisor before making any investment decisions. While the information provided is believed to be accurate, it may include errors or inaccuracies. The author(s) cannot be held liable for any actions taken as a result of reading this article.