McDonald's Is a True Global Operating Machine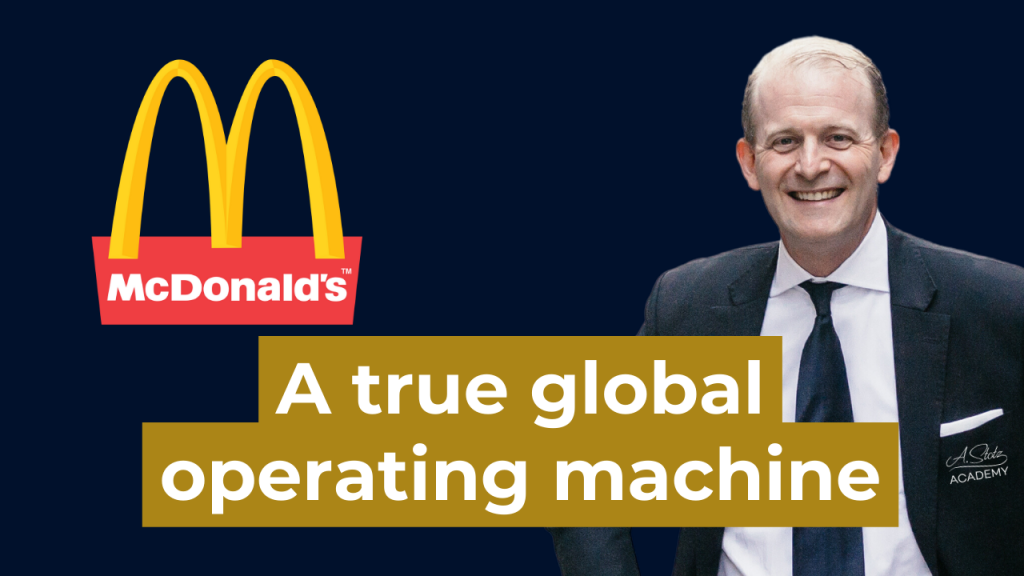 What's interesting about McDonald's is…you can not use Return on equity to assess profitability
---
McDonald's sells 9m pounds of fries everyday
Over 68m people eat McDonald's everyday
1 of 8 Americans have worked at McDonald's
McDonald's all over the world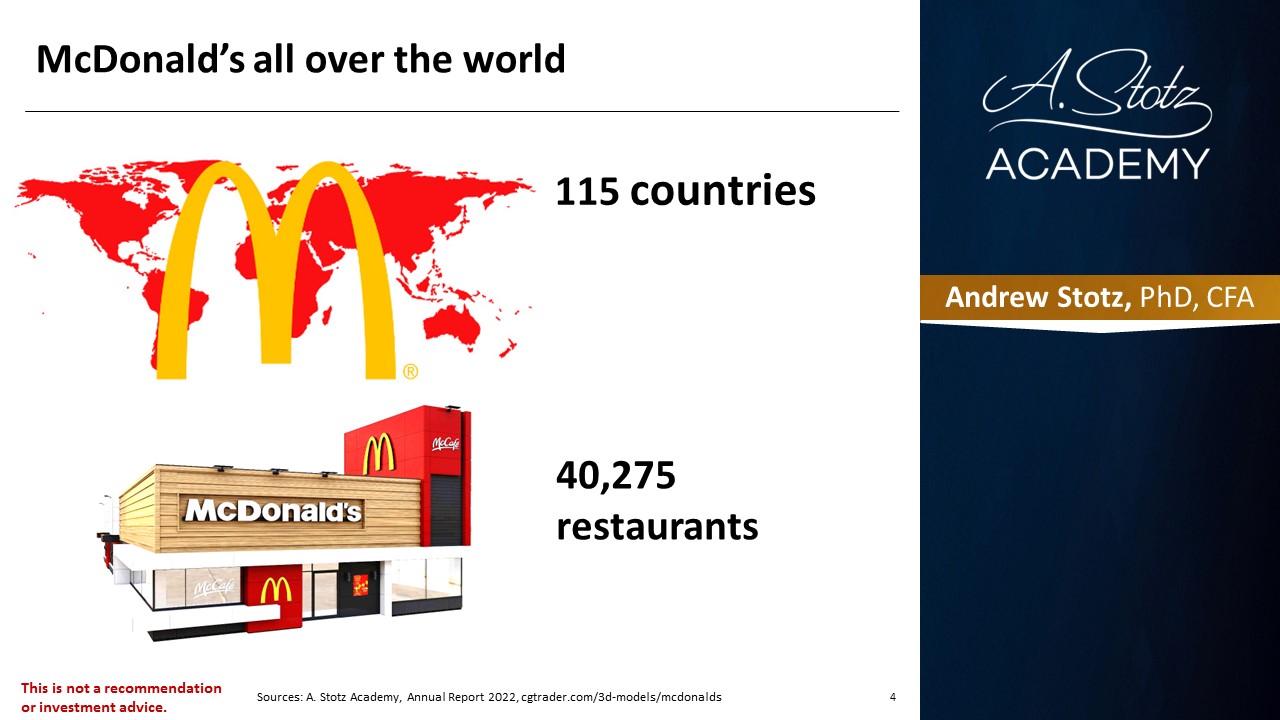 Top 3 products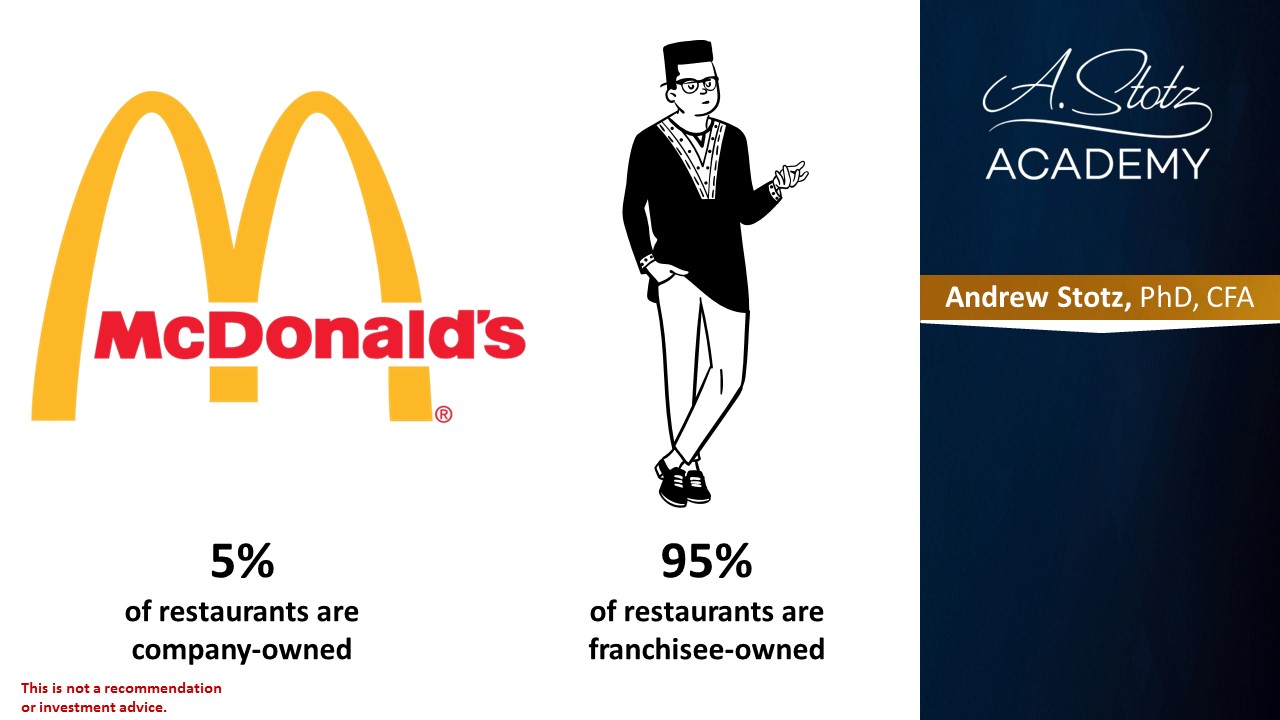 ---
Download the full report as a PDF
---
Revenue breakdown by segment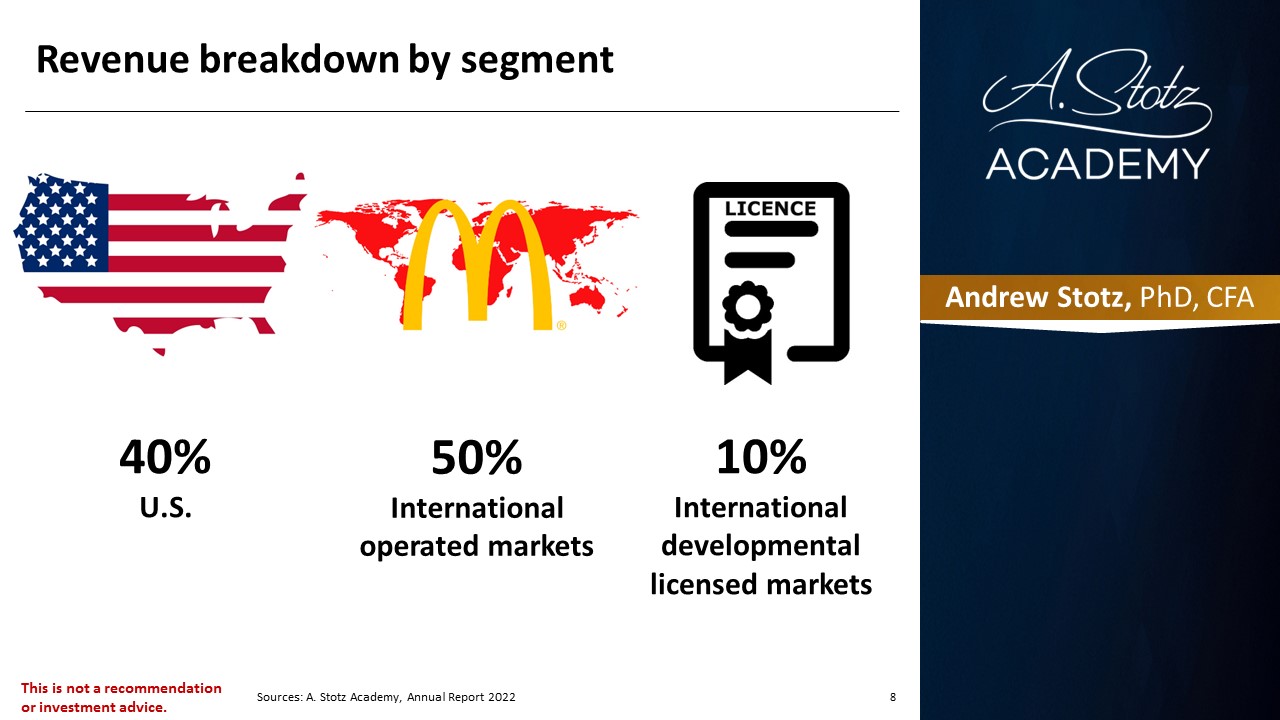 The "Big Five" international markets

McDonald's – US – Founded 1955
Cons. Disc. sector, 150,000 employees, US$23bn revenue
Main segments/products/divisions/brands
Big Mac (signature burger)
French fries (popular side item)
Happy Meal (children's meal with toy)
Its competitive advantage
Competitive advantage lies in its strong brand recognition, global presence, and efficient operations.
How it achieved its competitive advantage
It achieved this by standardizing its menu, ensuring consistent quality and service, and implementing effective supply chain and franchising systems, allowing for cost control and rapid expansion into new markets.
Ray Kroc (1902-1984) The visionary force behind McDonald's, that revolutionized the industry
From humble beginnings as a struggling milkshake machine salesman, Kroc took the helm and transformed a small burger joint into a global phenomenon
His innovative ideas, like the assembly-line system and franchising model, propelled McDonald's to unprecedented success
Kroc purchased McDonald's when he was 59 years old, proving that age is no barrier to entrepreneurial triumph
McDonald's Speedee System has had a significant impact on the fast-food industry
Richard and Maurice McDonald in the 1940s were dissatisfied with slow and erratic service common in drive-ins, they developed a methodical approach to food preparation
In 1948, the brothers streamlined operations and featured 15-cent hamburgers as a key element of the new system
McDonald's was founded on the Speedee System and has evolved into one of the world's most iconic and influential brands
Key innovations of the Speedee System
Simplified menu

Streamlined menu of limited items, only burgers, shakes, and fries, for simplicity and efficiency

Kitchen assembly line

Assembly-line production system to optimize workflow and speed up food preparation

Focus on quick service

Delivery within minutes of ordering

Meticulous standardization

Standardized operations to ensure consistency
An incredible net profit margin of 25-30%
According to my calculation, the average net profit margin of companies worldwide is 6%
McDonald's generates an incredible net profit margin of 25-30%

This is more than 2x the already high 12-17% profit margins at Starbucks

This makes the company one of the most profitable in the world

Apple is up there too, generating a massive 30% net profit margin
Quarterly results

MCD reported 2Q23 recurring EPS of US$3.13, which was +17.9% YoY and +19.7% QoQ
The 6M23 result was 51.6% of our full-year forecast

Valuation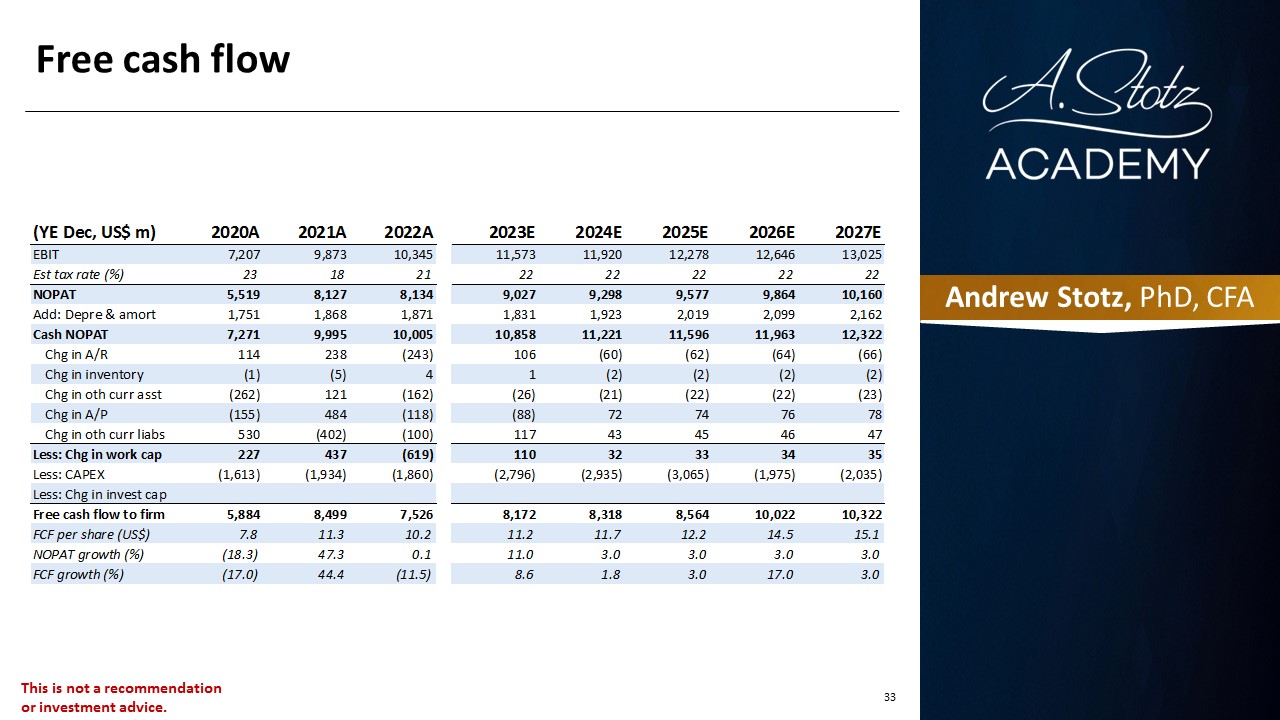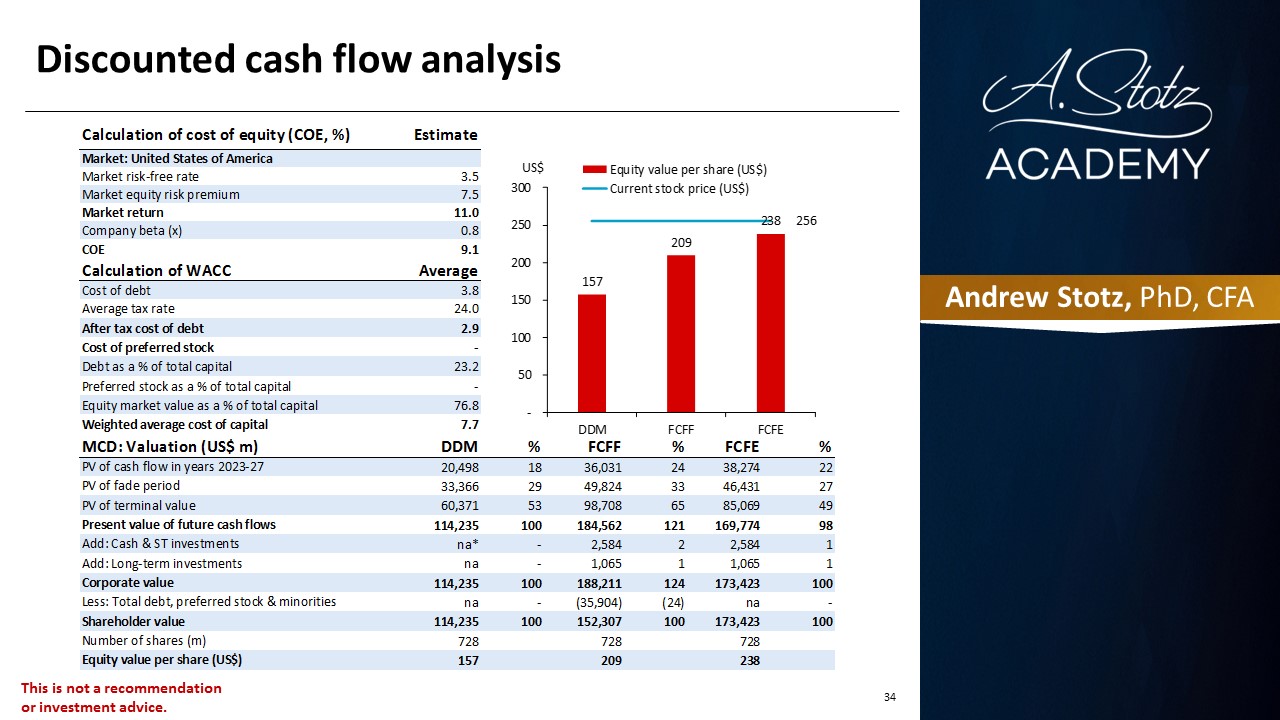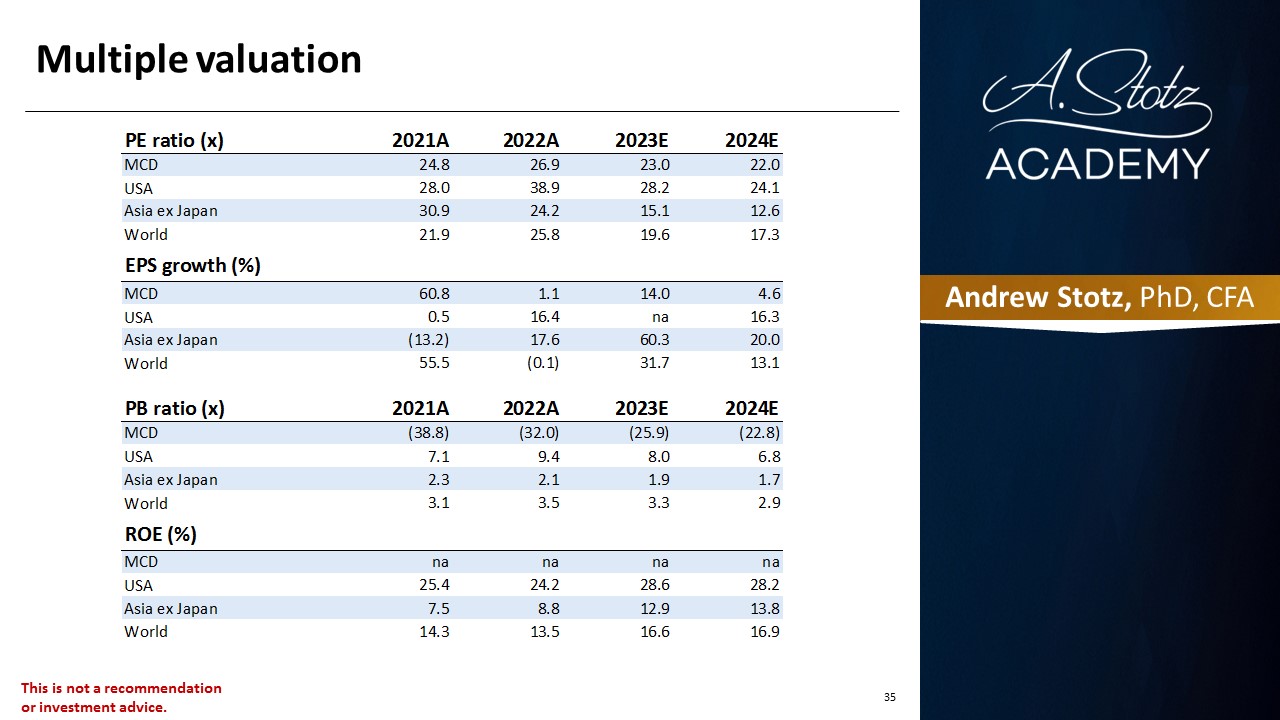 ---
Download the full report as a PDF
---
DISCLAIMER: This content is for information purposes only. It is not intended to be investment advice. Readers should not consider statements made by the author(s) as formal recommendations and should consult their financial advisor before making any investment decisions. While the information provided is believed to be accurate, it may include errors or inaccuracies. The author(s) cannot be held liable for any actions taken as a result of reading this article.