Frequently Asked Questions
Questions about the Valuemodel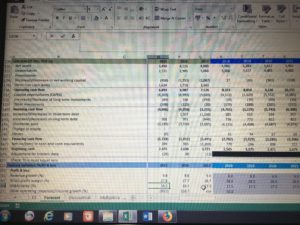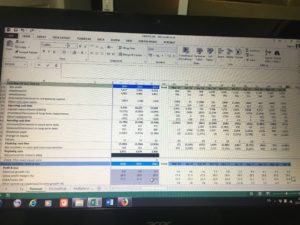 Basing on the images above, when we foreacasted how long the fade period is , The criteria to forcasted it based on which factors?
It's a judgement call. Many times you'd base it on at what stage in the life cycle a business is. If you don't have a fade, there might be an abrupt change between your discrete and terminal period. Fading can smoothen that. And may in many cases make more intuitive sense.
I think it does not make any sense, is that model wrong or do I misunderstand about this? (screenshots show different ratios between annual and interim data on SG&A/sales)It's about reporting. Companies may report less details on interim data and/or might have classified costs differently. Hence, in many cases the interim and annual data won't match. Annual data is most detailed and most reliable.
Another ratio that I am confused as well. It is other operating expenses/income growth What is the confusion? Please explain in more detail…You're forecast the other operating income or expense as a % growth from the previous period.
Is the long-term investment the same as PPE?
It's not the same. PP&E is fixed assets. LT investments are for example investments in associate companies where the company owns less than 50% of the company and don't consolidate the results. Hence the assets that generate the equity income in the P&L.
Do the cash & ST investment come from the last forecasted period that we used to calculate the Terminal value? (See screenshot)

It's the current Cash & ST investments and LT investments. Hence, the latest reported number. Now, you'll have the 3Q18 financial statements of a company so that's what you would use.
When we make the assumption for the LT debt, should we consider the capital structure that we use in WACC?
Debt is usually forecasted by looking at the requirements of capital in the business. The capital structure will be a result. However, the capital structure is also a good check. Let's say the company currently has (and it has been about the same for the past 5 yrs) 50/50 debt/equity and your LT debt forecast lead to a change in capital structure to 90/10. Is it realistic that a company would do such a big change in the capital structure? Is it realistic they even could if they wanted to? Lenders might not be willing to lend to such an indebted company for example.
Is that roic ratio is the operating cash flow to invested capital?
It's NOPAT/Invested capital. It's not the same as operating cash flow as it includes depreciation. NOPAT is a profit measure suitable as the nominator for ROIC, as the denominator is Invested capital. Invested capital doesn't include LT investments and cash (and not goodwill), hence, it's the capital used in the core operation of the business and then you want to compare it to the profit generated by the core business.
Why do we need to consider NOPAT when doing the valuation?
NOPAT is a great measure of what the core business is generating. (As it doesn't for example take into account what associate business are generating. That comes lower in the P&L as equity income).
What is the minimum pre-requisite for this course?
All you need is just basic understanding of balance sheet, Excel and a lot of interest in Valuation.
What is the Valuation Master Class course about?
The valuation Master class is a preparation designed for people with beginner to intermediate skills in stock valuation. We build competence in real world stock analysis skills that graduates of the program can use to differentiate themselves during a job search as well as apple in their job to become a much better analyst and efficient worker.
The course contains over 200 hours of lectures, assignments, quizzes, readings, and exercise designed to build practical skills in stock valuation. The material is split into 5 modules.
What is valuation?
Valuation is the process of determining a stock's value both in the present and making educated guesses about what that value will be in the future. It is used so that investors can evaluate the probability of making profit from buying and selling stocks.
How do I pay for the course? 
You are probably wondering how to pay for Valuation Master Class. Well that's easy!
Step 1. Simply click on the "Get started now" button on the main page of the website.
Step 2. Enter your name and email. Then click on the "Buy now" button.
Step 3. At the payment page, enter your info and click on "Enroll now" which takes you to the Paypal payment page. (No Paypal account needed)
Otherwise chat us up and leave your name and email and we will inbox your invoice!
How much does it cost to take this course?
Each module cost $200, you don't have to pay for all the five modules immediately. You can pay for each module as you go. We do offer discounts from time to time.
Currently the only method of payment we support is Paypal as well as direct bank transfer. If you require a bank transfer, please send us an email and we will get you set up.
How long does it take to complete each module and all five modules? 
The course contains over 200 hours of lectures, assignments, quizzes, readings, and exercise designed to build practical skills in stock valuation. The material is split into 5 modules, the approximate breakdown in terms of hours is as follows;
Module 1- 20 hours
Module 2- 30 hours
Module 3- 40 hours
Module 4- 50 hours
Module 5- 60 hours
Is there any deadline to completing the course?
We've set the deadline for Module 1 to 40 days which is more than sufficient even with unforeseen complications. That means you can manage your time by yourself as long as you stay within the deadline. If you cannot complete the module within the set deadline, you will need to pay again to resume that module. The deadline is counted from the day you start on the module.
When does the course start?
The course begins when you want it to! There's no scheduled online classes in Module 1.
Course content is delivered on-demand through a combination of video lectures, online quizzes, assignments, reports, and exercises. We'll start as soon as you're ready to begin.
After an introduction and quizzes, the course will assign you companies and we'll provide you with our ValueModel tool to perform the valuations. You will never need to build any model or collect the financial data yourself.
You will perform forecasting and valuation for the first company and we'll review it and give you feedback. You'll also get access to our knowledge base explaining the ValueModel as well as common mistakes in valuation and other related topics.
How do I get registered into the online course?
If you would like to enroll, click 'Learn more' and enter your email. We will send you instructions on how to pay via PayPal, once your payment comes through you are a registered student.
What are the course details of each module?
To see the full course details please visit our official website under the education tab we have a table summarizing all the features of each model.
You can also follow this link: https://www.astotz.com/asir-education
Do I get Certifications only at the end of completion of all Modules or at each level?
You will get a certificate at the end of every module which will be issued by A. Stotz Investment Research.
Is this course offered in English, Thai or both?
The course is only offered in English, until further notice.
Do you have any live workshops apart from the online course?
Yes we do! Check out our live class schedule here: https://www.astotz.com/valuation-master-class-live
Click on the "Register now" button to register.
Will I be connected with other people who are at various stages in the program? or simply watch video lectures and turn in assignments?
The complete course has over 200 hours of video lectures, quizzes, assignments, and tons of practical exercises to give you firsthand knowledge of valuation.
During the course you will get the opportunity to interact with other students in live debates and chats.
Can this course be done at a staggered time or it needs to be done in continuity for maximum benefit out of the course?
The entire course is self-directed and delivered via online lectures, quizzes, assignments, research projects, etc. However, we deliver content as fast or as slow as you can learn. You can take this course at your own pace.
Are there pre-recorded lectures or I need to be available at certain periods of time to complete lectures?
The course contains over 200 hours of pre-recorded lectures, assignments, quizzes, readings, and exercise designed to build practical skills in stock valuation. During the course you will have the chance to chat with Andrew as the course gets more advanced there will be need for more interactions.
Will there be any face-to-face (IRL) interactions with Andrew and other students?
The first two modules consist of pre-existing video content and assignments until you grasp the fundamentals. In later modules, Andrew will review your models and will also be active in the chat for the Valuation Master Class. Andrew becomes more involved as the class gets more advanced.
This is currently only applicable if you are in (or can go to) Bangkok: We have class meetings for dinner from time to time to welcome students, give them a better understanding of the course and meet other students.
In Module 3, we have a visit scheduled where you can visit Andrew's coffee company in person and see how the various elements of valuation manifest in a real business setting.
Do I need to do module 1 first?
You can't become an expert without doing the basics first 🙂
Is valuation a marketable skill for freelancers?
This course is an excellent way to build your skills in valuation for freelancing.
Equity research teams are getting smaller and their budgets are shrinking. Independent research providers are growing, especially in the West. This means there is a growing demand for temporary resources that are both available and knowledgeable to support in research and/or deliver on-demand research.
We know this to be true because our company is one of them!
There are also company owners that want to know the value of their business but don't have the knowledge and/or the resources to accurately do so.
Futhermore, there's a lot of demand for freelancing content writers on pretty much every topic you can imagine. Investment writing is one of them and you can create more valuable content if you're knowledgeable in the field.
Can someone with no financial background take this course?
We designed the course for anyone looking to improve their skills in financial valuation. This includes finance people as well as non-finance people. For example, we have many individual investors who take the course to improve their ability to perform equity valuations on companies from around the world.
The Valuation Master Class is designed for beginners to intermediates. If you are just starting out in valuation, I recommend taking the first module. If you like it, you can continue forward with the rest.
Besides equity analysts, will this course help me as a consultant or maybe investment banking?
Any type of work where the valuation of (mainly listed) equities is meriting.
Most of our students are university students, CFA candidates or charter holders, business analysts, equity analysts, and fund managers.
Being a management consultant, I already have some valuation experience. Will this course complement my knowledge, or will it be redundant?
We're quite confident that it will complement and extend your knowledge as the ValueModel that you will work in is also a framework that differs from most traditional models.
Also, this course focuses on forecasting and valuation assumptions rather than building models.
I am a finance graduate and these days I am searching for some those courses which will be helpful for me to build a good career in very short period of time. is it right for me?
The Valuation Masterclass is an extensive preparation course designed to take recent financial graduates from classroom learning into the world of professional results. We build competence in real world skills that graduates of the program can use to differentiate themselves during a job search as well as apply in their job to become a much better analyst and efficient worker.
So yes! Most of the 80+ students we have in the valuation Master Class are MBA students, people studying for the CFA exam, or are early career finance professionals looking to build the skills that will advance then in their career.
The course is designed to build professional skills for our students. We teach the hard analytical skills like valuation and financial modeling, and the later modules introduce 'soft' skills like debating, presentations, and how to persuade people to buy and sell stocks.
Do you offer any discounts for CFA charter holders?
All CFA candidates receive a 50% discount on all 5 modules
Do you run a full CFA class?
Unfortunately we do not run a full CFA course. The valuation Master Class is designed only to build skills in equity valuation and associated career skills like persuasive research, debate technique, and presentation skills.